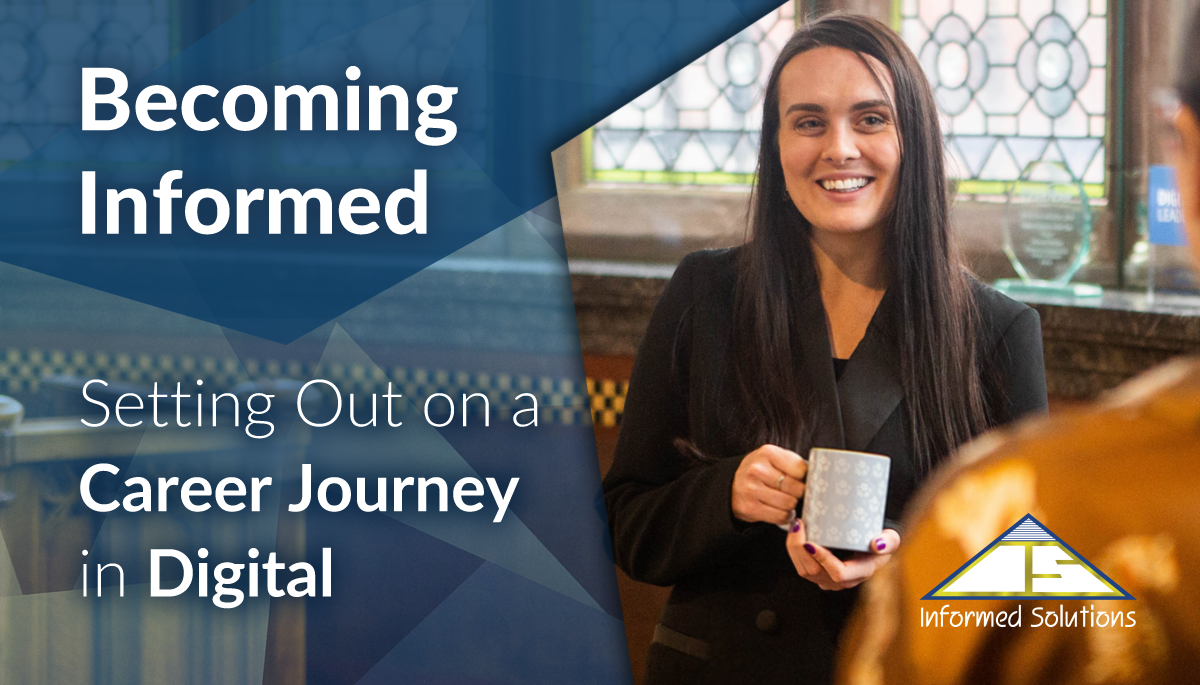 Informed Solutions Agile Delivery Manager Shannon Donoghue shares her experience of taking on challenging and varied role in a leading international digital transformation consultancy. Here she talks about how the experience and support of colleagues has made her experience enjoyable, challenging and rewarding – even through the toughest of times.
Starting Out
I would like to share some personal insights into my journey through an early career within the IT industry. I hope that this blog post can go some way to encouraging other young females exploring their early career options to take the step and experience the excitement, challenge and reward of working in the rapidly evolving digital sector.
Challenging my Perception of Tech
Growing up and studying through secondary school, I had a vision in my mind that my career might at some stage resemble glamorous and not altogether realistic scenes from the film 'The Devil wears Prada'. At the point of choosing a University, I had never considered a technical career path and held a view (probably like so many other young women) that tech was both boring and extremely male dominated.
It was not until being accepted to join Manchester university to study IT Management for Business that I began to understand the almost endless possibilities and career paths that would be available to me if I was to pursue a career in digital. Added to this, I was pleasantly surprised that University allowed me to connect with other enthusiastic, like-minded females aspiring to a career in tech.
Early Influences
All through my time in education I was extremely fortunate to learn from inspirational teachers and advisers who helped open my eyes to the different career options available for University leavers, which still exist, despite at the time of writing the current economic and health-related challenges brought by COVID-19.
I did not come from a technical background but setting my mind to a tech career journey has been the best decision I have made – it's such an incredible sector and its value to every other industry sector and the economy increases by the week. There is so much to learn and so many opportunities to follow different and varied development paths.
Breaking into the IT industry
During my second year of University, I prepared myself for challenging and competitive placement interviews and was given the opportunity to work at a leading international digital transformation consultancy, Informed Solutions, where I spent my industrial placement. At Informed I was able to experience a range of different client-facing and internal business support roles.
After completing my University degree, I was offered the opportunity to return to Informed to pursue a career in Delivery Management. Delivery Management is a much broader scale of project management where a manager is accountable for the delivery of products and services. As such it involves a significant amount of collaboration, team management and client interaction.
It's a very challenging role and I am constantly learning new skills and have been given the opportunity to take on additional responsibilities outside of my day-to-day work, including Informed business improvement initiatives working alongside a growing number of young women in tech at Informed. With over 60% of our graduate consultants being women, working with open-minded colleagues at a company that values and demonstrates its commitment to diversity has been a real motivating factor.
Overcoming Early Career Challenges
The things that I found the most challenging when starting out, are those that have been the most rewarding to overcome. One such personal challenge related to entering a new workplace and putting myself under pressure to quickly become a valued member of a well-established team. Getting up-to-speed with new projects and learning different skills, whilst trying to finding your feet from a professional perspective is a challenge – you've also got to get on with the people you work with and establish trusted working relationships (and friendships). There is also a huge benefit to working alongside colleagues with diverse skills and personalities, but who all share a similar commitment to collaboration and teamwork as a keystone for success and which made my early challenges easier to overcome.
Developing During Lock-Down
One of my growing areas of responsibility revolves around managing teams to deliver digital services for our clients. At the best of times, managing people can stretch young professionals but the national lock-down in March 2020 elevated this challenge with regard to the sudden, added complexity of project and people management with fully distributed, remote teams.
At first the lockdown period seemed immensely daunting from healthcare, personal and family wellbeing and professional perspectives, however my senior colleagues, managers and mentors at Informed enjoy deep experience regarding distributed working, having led international projects over the past two decades and more. They have also experienced several economic downturns and crises, so having calm, experienced heads advising, guiding, and mentoring the teams both eased our nerves and added to an accelerated development chapter for many of us.
The important things I have learned through this period and from the different working experiences we have shared, relate to maintaining composure in challenging circumstances and developing resilience and perseverance in order to come through the toughest of times.
Overall, the first couple of years of your career can be tricky as you navigate many different personal development challenges - I think many of us can vouch for that. Getting to a 'good place' both with regards to professional development and enjoying your early career requires hard work, reflection and self-motivation.
I have found that a key ingredient in my development has been to be true to myself, to make time for life beyond work, to surround myself with people that I respect and who respect and support me. Ultimately, I have learned that if I work hard, develop new skills, recognise that colleagues and friends are there to help and collaborate on projects - I can work through some pretty big challenges.
The Importance of Giving back
A final thing I would like the stress is the importance of passing forward what we have learned to those about to enter the workplace. Having travelled through 2020 with great colleagues and mentors I am very much looking forward to using my experience and learning to help new team members develop and create an environment where they can flourish.
###
Informed Solutions is looking for great talent to join our expanding teams. If you are excited about using digital technology to make a real difference to people's lives – get in touch - we'd love to chat www.informed.com/careers