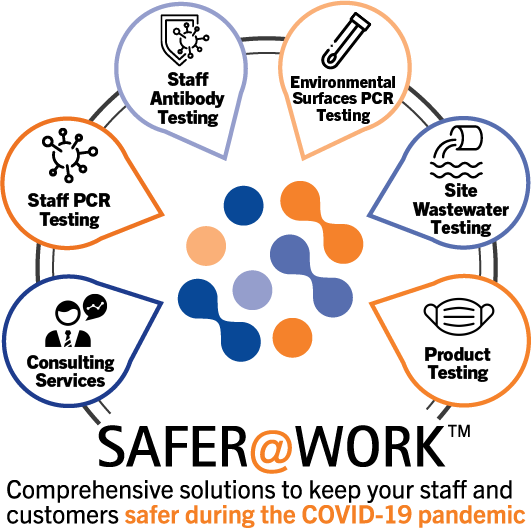 As a world leader in the provision of clinical diagnostics, forensic, pharmaceutical, food and environmental laboratory testing services, Eurofins has been able to draw on its scientific experience to develop a range of SARS-CoV-2 tests in response to the Coronavirus pandemic.
As we look to getting back to work, or continuing business as usual, proactive solutions to contribute to the safety of our staff, our customers and indirectly their families is a top priority for all businesses. The Eurofins SAFER@WORK™ programme is designed to help you to set up advanced risk management protocols to contribute to limiting the impact of COVID-19 on your workplace. Eurofins SAFER@WORK™ programmes are designed and implemented by our experts and consulting partners, and testing is carried out in Eurofins government licensed clinical laboratories, in compliance with local regulations. By combining workplace surfaces and wastewater testing together with risk-based clinical testing, as well as relevant consultative, audit, and assurance services, Eurofins SAFER@WORK™ programmes allow for a focus on human clinical testing where virus presence is likelier. This approach reduces cost and supports health authorities to allocate capacity constrained human COVID-19 testing where it is most needed.

Eurofins solutions include:
Testing of employees, when needed and as decided by a qualified physician, within the guidelines of healthcare authorities in each country (with a range of modalities including PCR testing and/or serology testing for various antibodies);
Testing for the virus on all types of environmental surfaces in the workplace to detect potential risks early and monitor the effectiveness of cleaning protocols;
Designing and auditing of COVID-19 related sampling and testing protocols as well as action plans;
Detecting the potential presence of the virus within teams on a site or in a given community through wastewater testing;
An array of other solutions ranging from assurance and consultative services, relevant product testing, and self-assessment or e-learning tools.
Eurofins SAFER@WORK™ programmes can make use of big data and AI technologies as well as specific algorithms applied in real time to public data and Eurofins anonymised testing result databases to assist in targeting and informing testing locations and setting frequency of testing and associated risk management measures.
A leader in all aspects of testing, Eurofins can support a multifaceted view on COVID-19 infections and infection vectors. SAFER@WORK™ programmes are well supported by both internal Eurofins resources and consulting partners across the world to deliver a coordinated service tailored to each client. Indeed, each business requires a different approach and the programme comprises a number of service offerings, or an individually customised service, dependent on each business' needs, to ensure it receives the best mix of testing and associated services required for its staff and customers to be SAFER@WORK™.
If you would like more information about these services, please email contact@edgetesting.co.uk.