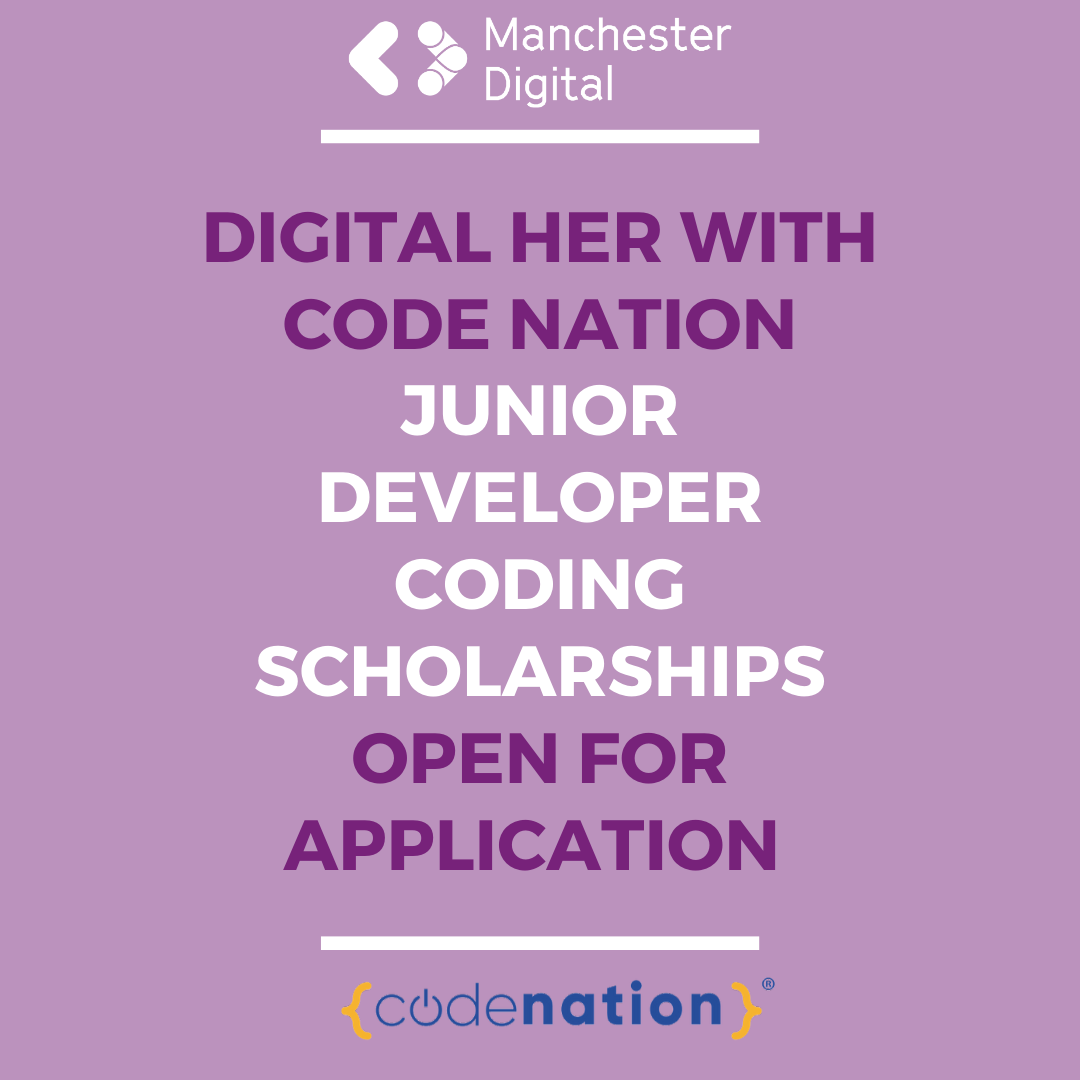 Where much of industry, commerce and life as we know it has stalled or paused - it's still Digital Her's priority to ensure training and development opportunities for women are accessible and secure. That's why we remain committed to delivering our planned Digital Her with Code Nation 'Women In Tech' scholarships from this April 2020.
Our partnership with Code Nation will pave the way for new and agile ways of educating, with four fully-funded coding scholarships for women now launching in their virtual learning environment. The virtual bootcamp follows the same full-time structure as the classroom-based courses, and learners receive end to end support, 1-to-1 time with instructors and interview preparation with Code Nation's in-house experts. This way, we can keep everyone safe during COVID-19 while they are taking part in this unique training opportunity and preparing for careers in the digital and tech sector.
There are four places available throughout 2020, with the first opportunity taking place on Code Nation's 12-week bootcamp starting on April 20th. The winners will join Code Nation's industry-driven bootcamp, taking on full-stack software development with expert tutoring, mastering built-in commercial readiness and access to Code Nation's and Manchester Digital's network of employers.
The virtual learning will take place in their VLE using Moodle Cloud and BigBlueButton, and students will be connected with their cohort and Code Nation's team using Zoom, Teams, Slack, Facetime and Hangouts.
We really welcome applications from women of a diverse background and prior coding knowledge is not required to apply! Especially needed are women from diverse backgrounds and educational pathways that may not otherwise have an opportunity to break into the digital and tech sector. This sector that, now more than ever, will need diverse talent, fresh perspectives and new ideas to lead the way amidst this current climate of COVID-19 - bridging distanced workforces, driving medical innovation, and keeping loved ones connected.
The dates for the programme are:
20th April 2020 (deadline 30th March)
18th May 2020 (deadline 27th April)
29th June 2020 (deadline 8th June)
20th July 2020 (deadline 29th June)
All Digital Her scholars will receive a fast track guaranteed place at the Manchester Digital Software Development Apprenticeship Programme assessment day, where you will get the opportunity to meet tech employers looking to hire.
If you think you want to change to course of your career, apply now using this link -
https://forms.gle/hb5HuT3nn4Pf1Y5T8