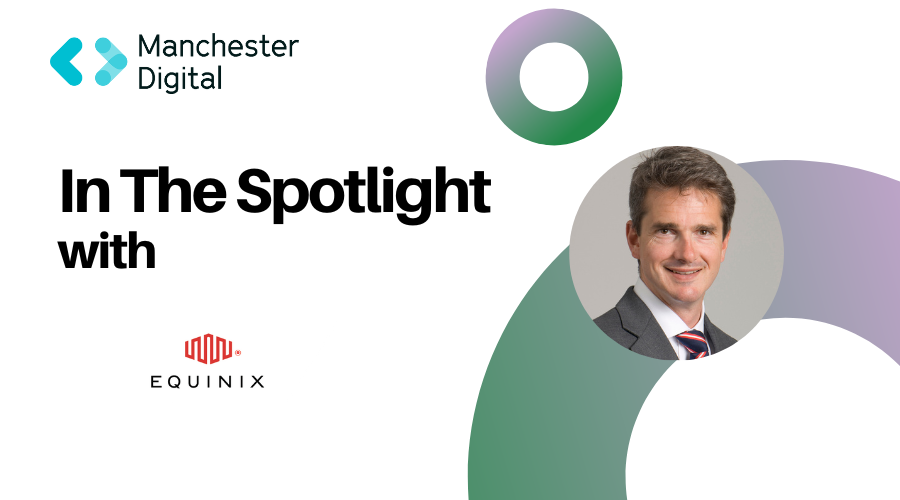 At Manchester Digital, we like to interview our members to find out a bit more about what they do and their work in the Greater Manchester digital and technology sphere. This week we're speaking with Russell Poole, Managing Director at Equinix.
What does your organisation do?
Equinix (Nasdaq: EQIX) is the world's digital infrastructure company, enabling digital leaders to harness a trusted platform to bring together and interconnect the foundational infrastructure that powers their success. Our International Business Exchange™ (IBX®) data centres host content, media, financial services and multicloud ecosystems with abundant capacity for high density deployments. We enable today's businesses to scale with agility and speed to power the latest digital services, deliver world-class experiences and multiply their value.
Our UK ecosystem in Manchester and London supports more than 1,500 companies, including 250+ networks, 460+ cloud and IT service providers, 350+ financial services firms and 100+ content and digital media businesses. Globally, Equinix has more than 10,000 customers in 32 countries across six continents.
What do you think is currently the biggest issue facing the tech industry?
While technology undoubtedly helps businesses build a better tomorrow, with innovation across industries providing solutions and bringing positive change, it contributes to our carbon footprint. Many tech organisations are switching to green energy sources to reduce carbon emissions; however, the industry is still largely driven by fossil-fuel. As the world's largest global data centre Real Estate Investment Trust (REIT), we have the opportunity to enable our customers and partners to scale their digital transformations sustainably. Our global goal to be climate-neutral by 2030, led by science-based targets, embeds decarbonisation actions across our business and our supply chain. Commitment to sustainability is vital to business growth and future stability. Indeed, findings from our Equinix 2022 Global Tech Trends Survey reveal 65% of businesses globally will only work with IT partners who can meet key carbon reduction targets, with 69% citing sustainability as one of their organisation's most important drivers.
Another challenge faced by the industry is the impending skills gap. As the tech industry continues to advance at pace, the industry will find it harder to source the skills needed to power that evolution. Penetration of cloud services and 5G networks has catalysed a new wave of digital transformation and increased the need for specialised skill sets. The skills shortage is set to be further exacerbated by the realisation of the Metaverse and the arrival of Web 3. According to the Uptime Institute, the number of staff needed to run the world's data centres will grow from around two million to nearly 2.3 million by 2025 (reference). Its research also showed that 50% of IT and data centre managers were having difficulty finding qualified candidates to fill open positions in 2020 (reference).
The scalability of digital infrastructure will also be critical as businesses manage the impacts of globalisation, customer demand and the relentless evolution of technology. To prepare, many businesses are accelerating their digital transformation efforts and prioritising the adoption of hybrid multicloud solutions. To accommodate this rapid shift, Equinix is investing in the UK's interconnection capabilities to help organisations adopt future-proof digital strategies and expand their global opportunities. To date, Equinix has invested more than £1 billion in the UK's digital infrastructure.
What is your organisation's biggest achievement?
We are proud of our global footprint that delivers the world's most secure and sustainable data centre platform. Equinix owns and operates a network of more than 240 International Business Exchange™ (IBX®) data centres, located in ~70 major metros around the world, to deliver interconnection to customers anywhere in the world, regardless of size and industry sector.
We see our employees as our most valuable asset. Our company culture puts our employees first by delivering a working environment that helps to maintain their physical and mental wellbeing. To that end, we have hired our first Director of Global Wellbeing and our global Employee Assistance Program (EAP) ensures all our staff and their immediate families have access to a range of resources, including wellbeing support, legal support, financial resources, and mental health counselling in times of need. In addition, our Employee Connection Networks (EECNs) bring together communities and allies within the company, including the Equinix Women Leaders Network (EWLN), PrideConnect, BlackConnect, interASIANconnect and FaithConnect.
What would you consider to be your organisation's biggest challenge?
The sustainable expansion and operation of data centres is a priority for Equinix as digitisation and climate protection go together. We have set ourselves an ambitious challenge to achieve climate-neutrality by 2030 and, to do this, we are continuously investing in efficiency upgrades and new technologies. In 2020, more than 90% of energy used within our data centres was renewable, up from 34% in 2015. By colocating in data centres, our customers save on their own hardware, reduce operating costs and improve the energy efficiency of their digital infrastructure, so impacting their own sustainability targets.
A further challenge is the necessity to expand our geographic reach to match the exponential growth in demand for interconnectivity. We continue to increase our global footprint, with new data centres recently announced in Europe and for the first time, Africa. As we grow, a key priority is unlocking new capabilities with software-defined connectivity to deliver higher performance at a lower cost. Equinix Fabric™ directly, securely, and dynamically connects distributed infrastructure and digital ecosystems on Platform Equinix® via global, software-defined interconnection.
What do you think the future looks like for Manchester's tech sector?
The future looks bright for Manchester. It is the UK's third largest city and the biggest economy in Northern England. It is also Europe's second largest creative, digital and media hub, and home to MediaCity UK and the BBC's headquarters. The city is heralded as one of the UK's fast-growing technology hubs, noted for eCommerce and an emerging start-up ecosystem.
Equinix is investing in the expansion of its portfolio of data centres across Greater Manchester. In fact, we've just opened a new one – MA5. The facilities provide low-latency connectivity on network routes to London and Europe, and onwards to the USA using international subsea cables via Ireland and the West of England. Manchester's digital capabilities further positions it as a leading hub for technology and innovation and is a city where businesses can compete on a global scale.
Tell us something that we might not know about your company?
Equinix was founded in Silicon Valley in 1998 as a vendor-neutral multi-tenant data centre provider where competing networks could securely connect and share data traffic. The name was selected to reflect the company's focus on EQUality, Neutrality and Internet eXchange. As the saying goes, 'mighty oaks from little acorns grow'. Today we have more than 240 data centres in ~70 markets, spanning six continents. We connect enterprises, networks, services and innovators from Mumbai to Dublin, Singapore to Chicago, and Helsinki to San José. Today, the $6B+ company underpins our daily lives; just look at the apps on your phone – most of them call Equinix home!
Thank you Russell!
To find out more about Equinix, click here.
Want to raise your business's profile? If you're a member, contact thom@manchesterdigital.com to discuss featuring your content on our site, social media or newsletter. If you're not a member, get in touch today to discuss the benefits of membership.