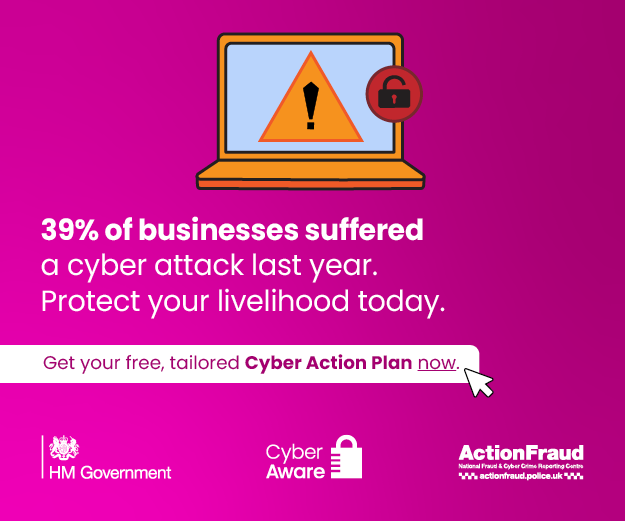 National Cyber Security Centre urges Manchester's small businesses to make use of its new services after survey finds almost half suffered an online attack last year
Cyber Action Plan and Check Your Cyber Security tools launched as part of NCSC's nationwide Cyber Aware campaign targeting small businesses
Figures revealed as National Cyber Security Centre – which is part of GCHQ - launches latest phase of its Cyber Aware campaign urging organisations to utilise its Cyber Action Plan and Check Your Cyber Security tools
THE UK'S cyber security experts have urged small businesses in Manchester to make use of its latest online services after data released today (Tuesday) revealed that almost half suffered an online attack in 2022.
The National Cyber Security Centre – a part of GCHQ – urged small businesses to take action after the data – which was collected as part of the government's 2022 Cyber Breaches Survey - revealed that 44% of small businesses in Manchester suffered a cyber incident. This compares to 39% for all of the UK.
The survey also found that small businesses in Manchester are less likely than those in the rest of the UK to have a cyber incident response plan in place and are also less likely to have conducted staff training on cyber security.
The range of attacks against small businesses can vary widely, from business email compromise to denial of service and ransomware attacks.
To help small businesses, microbusinesses and sole traders improve their defences the NCSC has launched the Cyber Action Plan, which they can complete online in under 5 minutes to get tailored advice on how they can improve their cyber security.
A second service called Check your Cyber Security – which is accessible via the Cyber Action Plan – can be used by any small organisation including schools and charities and enables non-tech users to identify and fix cyber security issues within their businesses.
Lindy Cameron, NCSC CEO said:
"Manchester has a thriving community of small businesses, but we know that that cyber criminals pose a serious threat to them.
"That's why the NCSC has created the Cyber Action Plan and Check Your Cyber Security to help them boost their online defences in a matter of minutes.
"I strongly encourage all the city's small businesses to use these tools today to keep the cyber criminals out and their operations on track."
The Cyber Action Plan and Check Your Cyber Security are among the tools within the NCSC's Active Cyber Defence services, which help to protect the UK from millions of cyber attacks each year.
The NCSC continues to offer a wide range of support to small businesses, including its Small Business Guide.
Case study
"It's something I see a lot of people in the business community talking about nowadays, and it's something I really want people to consider." Aiden Ryan of Loaf Manchester – who himself suffered a cyber attack – discusses the importance of raising cyber security awareness among the city's small business community.
With my cake and coffee brand, Loaf Mcr, I am an active a part of Manchester's thriving small business community. The business grew during lockdown from making cakes to raise money for the NHS to supplying his bakes to Selfridges and 13 different cafes cross Manchester.
Over the course of lockdown I began to notice that more fellow small business owners seemed to be falling victim to cyber attacks. Lots of businesses across Manchester were having their social media accounts hacked and I spotted that the small business community was rallying together to promote cyber security advice.
In lockdown there seemed to be a heightened awareness of the importance of cyber security as a result of some prolific Manchester accounts in the food business sharing stories about being hacked. You'd often see Instagram Stories where you'd know the account had been compromised, or big social media accounts would share stories of businesses who'd been attacked, explaining they'd lost accounts and followers. That had a big impact. After that, I know that lots of businesses starting to use 2SV (2-Step Verification) and think about their cyber security.
Before starting Loaf, my personal Twitter account was hacked and completely taken over, after a leak of log ins and email addresses was posted to a hacker sharing site. The hacker cleared all evidence of me off the account and changed my password and the account email address so I couldn't get back in.
Years later when I set up my business, I took this incident into account and prioritised my cyber security from the get-go. From the start I used 2-Step Verification on all my social media accounts and set up an entirely new email address.
That was a lesson learned. When I set up the brand, I took cyber security steps immediately. It's one thing when it happens to your personal accounts where you speak to friends and family, and quite another when it's a business account with following of 14 K and two to three years of work behind it.
Often, people have paid money to grow those followings; they've spent on social media marketing tools, and agency advice. So, when something happens they lose the money they've invested as well as the future business.
It's something I see a lot of people in the business community talking about nowadays, and it's something I really wants people to consider.
I think ever since I started using 2SV, I felt more confident. I don't feel scared it's going to happen to me but I do know that you can always do more.
Loaf was built through community. It was an underdog story - people want to see good things happen. Which is why I feel so passionate about this too; I want to help others in the business community recognise that this matters. Businesses are built through community and they thrive through community.
Notes to editors
More information about getting a personalised Cyber Action Plan can be found on the NCSC website, along with the Check Your Cyber Security tool and further information about the NCSC's Cyber Aware campaign.
If you've received an email, you're not sure about forward it to the Suspicious Email Reporting Service (SERS) at report@phishing.gov.uk. If you've received a suspicious text message, forward it to 7726 (free of charge).
The NCSC is the UK's lead technical authority on cyber security and offers unrivalled real-time threat analysis, defence against national cyber attacks and tailored advice to victims when incidents do happen.