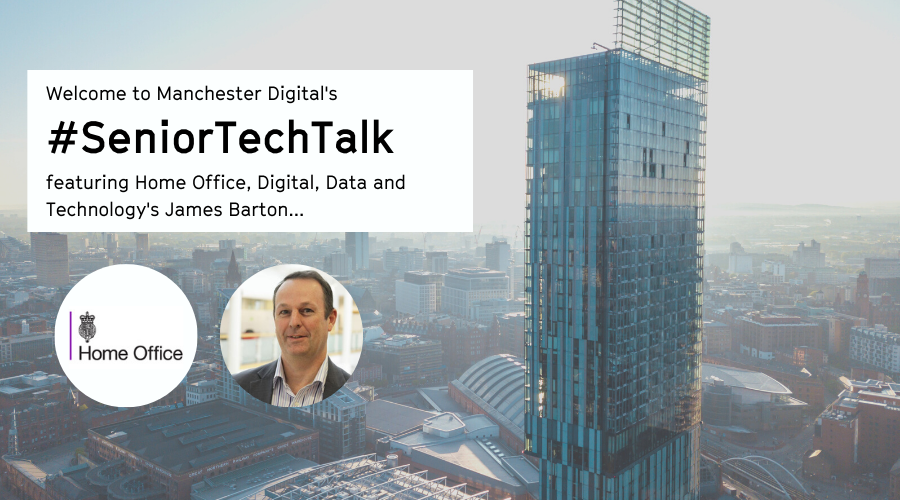 We sat down with James Barton, Deputy Director in the Home Office's Digital, Data and Technology team, for our latest #SeniorTechTalk to find out what projects they are working on and what opportunities there are for the people in Greater Manchester's digital and tech ecosystem.
Please can you tell us about the Home Office as an organisation? And can you explain your role within the company?
The Home Office's mission is to deliver a safe, fair and prosperous UK and we achieve this through work on things like counter-terrorism, policing and fire, crime, drugs policy, immigration, and passports.
Every day our work delivers outcomes to UK citizens.
We provide them with the means to travel the world, tackling illegal migration, removing foreign national offenders, disrupting terrorist attacks and organised crime groups, and stopping people becoming victims of crime whilst supporting those who require asylum and safeguarding.
Our work is challenging, high profile but also very, very rewarding.
To achieve this, we rely on talented people working in a huge range of roles in all of those different areas.
Within the Home Office, you've got DDAT (Digital, Data & Technology) that supports the delivery of our mission. We do this by designing, building and developing services for the public but also for the department itself, so internal services, and also sharing things across government as well.
The DDAT function is made up of around 1,700 civil servants here at the Home Office.
We augment that with a number of supplier partners who provision resources, but also managed services and some operational activities as well.
The main centres for DDAT are in Croydon, Sheffield and Manchester. But we've also got other offices close by to us here, such as Southport and Liverpool, and we have a presence at Westminster.
The work you do at the Home Office is incredibly important. How does technology underpin the work that gets done?
So, the Home Office DDAT role is to enable the transformation of services through improved business efficiency. That is the key focus.
Every year the systems that we support help deliver the processing of up to 3 million visa applications, checks at the borders for about 100 million border crossings in a typical year, the processing of up to 7 million passport applications and about 114 million police checks on people, vehicles and on property.
We serve a huge range of users and customers, and that's why being truly user centric is the focus of our approach to digital inclusion and why accessibility matters so much to us.
We work in Agile product-focussed teams to maintain focus on the end-to-end service for the users of our services through the Cloud. This enables flexibility, but also supports interdisciplinary teams who drive that focus for completeness.
We are frequently building new products, services and teams to meet service requirements, and we have to consider accessibility and usability at every stage of development.
Can you share some examples of projects you are working on?
One of the things we're currently working on is a Shared Applications Service programme. This is close to my heart as I'm the Deputy Director running it.
It's about building in-house capability for software engineering and DevOps services, both for the existing applications and creating capability for new services, and that's right across the Home Office estate. And then it's also about sharing the products and technology resulting from that work, so that they can be re-used, both across the department and also across government more broadly.
Under this programme, we are working through all of the department's applications. This is all driven by our commitment to technical ownership and convergence.
The Shared Applications Service is producing and delivering a lot of the engineering resources that we then use to create Shared Technology Products, which, as the name suggests, are the user centred products that can be shared and re-used.
An example of one of the products we're working on in that context is a forms builder system. The Home Office has an existing forms system that is used to collect data and deliver interactions, both from citizens but also internally on electronic forms.
We are looking to build a new system to replace the old one and as part of that, to make it available across government for other departments to use. So, the ability to reuse our products is front and centre as part of our sharing agenda.
Similarly, within the Shared Technology Products, we've got another initiative with the whole DevOps platform.
This is a team building central technology, converging it together, and deploying and assessing the security, monitoring applications as they're uploaded into those new platforms.
There's also the Identity and Access Management (IAMs) team working on authentication to ensure we know who the person accessing the service really is and that the authorisation is in place and is fully and consistently robust in terms of who can access what systems. Again, bringing things under a central level of control that can be managed and monitored here within the Home Office.
We also have the Innovation team. They are looking at robotic process automation. This is about setting up machines that can repeat processes and automate them in a steady fashion.
It's been used quite effectively across government in the administrative delivery role and is enabling lots of good work in terms of keeping on top of demand through automation.
It's ideal for repetitive and mundane tasks but it's also being used where we are looking to interface with some of the older legacy systems to apply some real workable solutions in terms of things like data entry.
It's ideal technology to put in place to resolve short term challenges.
For example, where we may have opened up an office and in a bygone age had lots of people bashing keyboards, we can now do this through more tactical fixes with automation, and that's really useful in this fast-changing landscape we all work in today.
Similarly, we've set up virtual assistants. This is about helping people get instant access to often complex documentation, as it's needed. These virtual assistants or 'chat bots', as they're often referred to, are an ideal way of surfacing targeted information or queries.
It can be implemented in a variety of channels for us both in terms of email, but also more instantaneously through web chat.
We are making use of this through things like intelligent search algorithms and some machine learning to enable us to return correct information that the users need, when they need it. It's also being used in conjunction with all the technologies to automate the functions or provisioning of services in a more automated fashion.
We have created this so that staff don't come in, in the morning to a whole lot of problems. Those things have been automated, so collapsed down, rebuilt and fixed. As I said at the start of the interview, Home Office DDaT's role is to enable the transformation of services through improved business efficiency, and in this way help colleagues deliver outcomes for citizens.
It's all very good! So we look at how do we sensibly apply new technology while also ensuring it remains accessible. We only use these services where they can add real value to the end users.
There's obviously a lot going on!
It can be difficult to recruit for digital and tech roles. What is the Home Office doing to make it an attractive place to work?
The Home Office has a lot to offer in the digital and technology professions.
For one, we offer the chance to work on really large scale and very interesting projects. They bring huge opportunities for people in terms of development, variety, advancement, as well as the opportunity to really make a big impact.
The tech's big, the tech's exciting but the impact that you can make for the UK and its citizens is huge!
Also, our culture here is really inclusive and progressive. The unique contribution everyone can make is understood and is really valued. Especially working as a team supporting each other, not just within the technical communities, but in general, as we have many multidisciplinary teams in the Home Office. We also have many partner organisations, and teamwork is really central to how we deliver.
We are very proud of our diversity and some of our achievements here. The Home Office works really hard to recruit and retain disabled staff and is a Disability Confident Leader.
We are also proud that the Home Office is one of the most ethnically diverse departments in the Civil Service. We are a Stonewall top 100 workplace equality employer, and a Social Mobility Foundation top 75 employer.
We definitely want to go further and continue building a truly representative workforce, as this is how we can ensure we carry out our work as effectively and as fairly as possible.
The Home Office is committed to representing modern Britain in all of its diversity, and creating a welcoming, inclusive workplace where all of our people can bring their whole selves to work and perform at their best.
Looking after people is a priority. Fundamentally, people are at the heart of everything that we do. Yes, we're a technology organisation. Yes, we've got the focus on developing products and services, but we never lose sight of people and the importance they and the teams have, in terms of ensuring we deliver outcomes.
We offer competitive salaries, an outstanding pension scheme and there's a strong focus here on continuous professional development. We offer flexible working and staff have access to a range of other benefits as well.
Is being part of Manchester's digital community important to the Home Office and if so, in what way do you contribute to the ecosystem?
Absolutely! The Home Office is committed to offering more roles outside London and building our presence in the Digital hubs. Manchester and Sheffield are two of the key ones currently. As part of this work, we'll be recruiting significant numbers to join our teams over the next three to four years.
Being part of Manchester's digital community is really important to the Home Office in general. We are seeking to build on our existing links with academic institutions in the city, and the region. We plan to run and support things like hackathons and meetups in the near future, to share our knowledge, to learn from others and to draw together the wider community.
Building on continuous professional development within these engineering areas is an absolute priority for us.
We want to work with the community to support diversity in technology, helping to attract more diverse candidates into this brilliant industry.
So, the answer is yes. It's really important for us to be part of this community. We want to increase the ways in which we can work together with other organisations in the city and in the region.
Can you tell us what opportunities there are for people to work at the Home Office at the moment? Are there any current vacancies that you would like to promote?
Over the next three to four years we are looking to recruit in the region of 500 engineers, and Manchester is an area of focus for us.
Roles include software engineers, developers, DevOps and all sorts of technical leaders. Job adverts for these positions can be found on the Civil Service Jobs website (and many on the Manchester Digital website).
We are posting jobs every week as we work through activities to understand what skills, capabilities and competencies are required.
We feel like we've got a brilliant offer for talented people who are looking for their next career move and we're working hard to communicate that.
We offer work that is interesting and important and that can help build people's CVs and also their capabilities through AWS and Azure training and certification, access to the O'Reilly books as well as high quality management training.
In addition to this, we also offer allocated study leave and support when studying for a relevant qualification or other accredited development. So, there's others around you who are also going through this too and who are really keen to mentor, help and support you through that development.
We also offer things like British Computer Society membership and also study towards degrees and master's qualifications.
We look forward to hearing from candidates in and around the Manchester area soon, but in the meantime to find out more about Home Office DDaT roles and the recruitment process people can access our recent blog and Civil Service Jobs.
Also, if you want to learn more, look out for our next Home Office Software Engineering Recruitment Q&A event taking place in July 2021. Details will be available on Eventbrite and via the Home Office Manchester Digital page soon.
Thank you James!
To find out more about the Home Office and the digital careers available there, click here.
Want to raise your company's profile?
If your company would like to feature on our website, across our social media and in our newsletter, contact thom@manchesterdigital.com for more information.