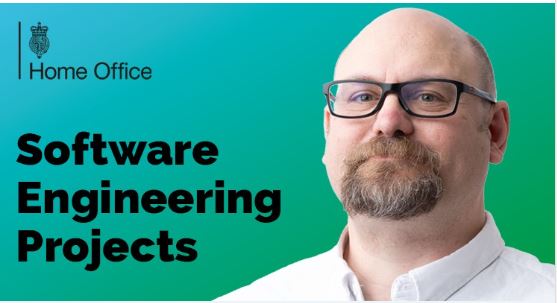 What is your role and why is it important?
I work in Shared Application Services (SAS) at the Home Office as the Principal Engineer leading projects in Manchester and Glasgow. SAS is part of the Digital, Data and Technology team and leads on software engineering across the Home Office.
My primary focus is on police and public protection technology, working on systems for police forces and Homeland Security. I work with delivery managers, programme managers, service leads and engineers to deliver new services.
SAS consists of around 300 people, and we're looking to build our teams over the next few years as the services we support grow.
All our live jobs are on the Home Office Careers website - or see Manchester specific roles at the bottom of this page.
We do everything from Level 2 support of applications through to greenfield development and day-to-day running of platforms to enable digital services.
Our work has the potential to improve people's lives. This could include simplifying processes to apply for passports, applying for birth, death or marriage certificates, through to preventing smuggling by monitoring container movements at ports and providing strategic intelligence platforms.
What inspired you choose a career in digital and technology?
I became interested in technology when I first started programming on a BBC Micro computer at school. I went on to study Engineering at university and started my career building software for water distribution systems.
As someone with dyslexia, I'm much happier using digital forms because I can use the spell check functionality to ensure I've filled it out correctly. I think it's important to be able to deliver services that are inclusive.
It's clear that providing accessible services with users in mind is crucial for delivering inclusive services. How do you and your team do this?
We build usability functions into our software from day one. We work closely with content and service designers, following the Government Digital Service (GDS) guidelines for accessibility and usability.
This means we are mindful of font sizes, colours and formatting to support people using assistive technologies such as screen readers. All of this is supported with user research and testing.
What type of projects do you and your team deliver in Manchester and Glasgow that impact the public?
One project we are currently working on relates to the Data Protection and Digital Information Bill, one part of which reforms the way in which births and deaths are recorded following being registered in England and Wales, enabling the move from a paper-based system to an electronic register.
We also work on policing systems such as the Modern Slavery Registrar, where large companies are required to upload their modern slavery statements. We're also building the Domestic Homicide Review repository to bring together all documents relating to the domestic homicide review. The variety of work is vast and far reaching.
What tech stacks are you and your teams using to deliver these services projects?
Our typical tech stack is based around Java and Spring Boot, typically using persistence backed by Amazon Web Services (AWS). We make use of messaging services like Kafka and other Government systems such as Gov Notify.
As we have so many systems, we have a huge diversity of languages and frameworks. We have applications written in C# and the .NET framework as well PHP/WordPress and Drupal. For frontend technology, we are big users of JavaScript/TypeScript and React.
What are the benefits of joining the Engineering team at the Home Office?
Our teams work on a 40/60% split between the office and working from home as part of the hybrid working model. This helps people achieve a balanced lifestyle, but also to catch up with colleagues and discuss projects in a less formal way.
I've met and worked with some of the most inspiring engineers, user researchers and broader technical experts here, all with a genuine commitment to deliver high quality services for UK citizens. There's a real opportunity for you to learn and grow alongside an exceptional engineering team.
Watch our Home Office employee benefits video to hear about what you could be entitled to as a member of the team.
Find out more and apply
Interested in a career with us? Take a look at our Engineering page on the Home Office careers website to find out more about working with our brilliant Engineering team at the Home Office. You can also visit our website to apply directly for our live roles and check out the Manchester locations roles below.