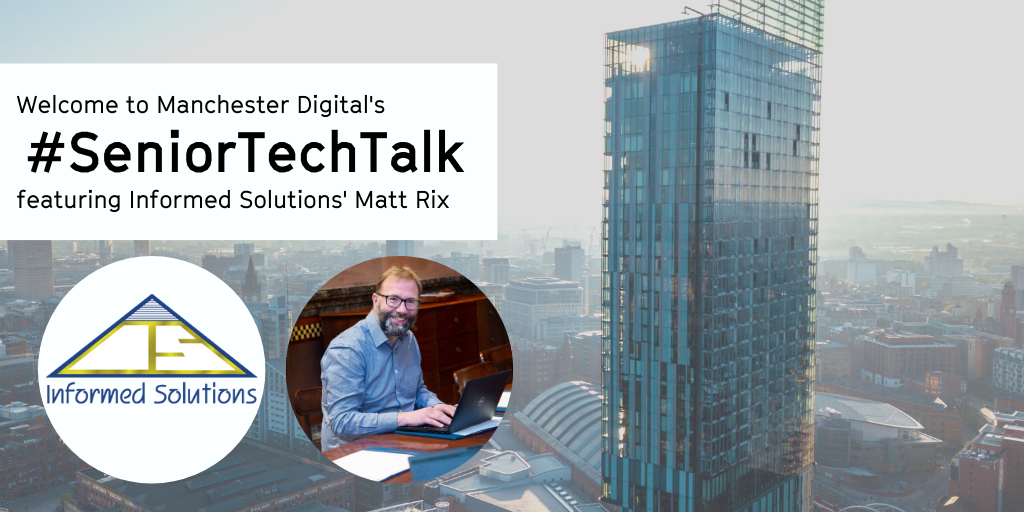 Operating since 1992, Informed Solutions are highly trusted suppliers to both the public and private sectors, working with blue chip companies and national governments in over 40 countries to provide digital transformation, technology, data and system integration services.
For the latest #MDSeniorTechTalk we caught up with Matt Rix, Technical Director, as we discussed Informed Solutions' journey so far, the implications of more and more companies going digital and how their engineers keep up to date with the latest technologies.
Could you please tell us a little bit more about Informed Solutions as an organisation and your goals as a business?
Informed Solutions is a leading international provider of digital transformation, technology, data analytics and systems integration services. Informed's purpose is to create economic and social value by helping to build a more inclusive, fair, and safe society through ethical use of technology and data and investing in digital skills.
With offices across the UK and Australia, Informed's innovative and agile approach drives digital transformation for globally recognised brands across a number of industry sectors including: Government, Healthcare, Emergency Services, Utilities, Energy, Sustainable Land Asset Management, Transport and Logistics and more.
Can you please explain your role within the company?
As a Technical Director, my role mostly revolves around helping our clients achieve their digital transformation ambitions. Leading cross-functional, rainbows teams of our own people and staff from our clients, other suppliers and partners to design, build, operate and continuously improve user centred digital services.
Within Informed, I also head up our software engineering practice, InformedENGINEERING©, where we are developing a team of engineering experts who are passionate about their field of work; intellectually curious and willing to dive deeply into new and emerging technology; willing and able to learn quickly and be excited by solving complex problems; able to get things done efficiently, effectively and with positivity; excited at the opportunity for learning and development and professional advancement; and are keen to work for a progressive company, with progressive values and a modern, sustainable operating model.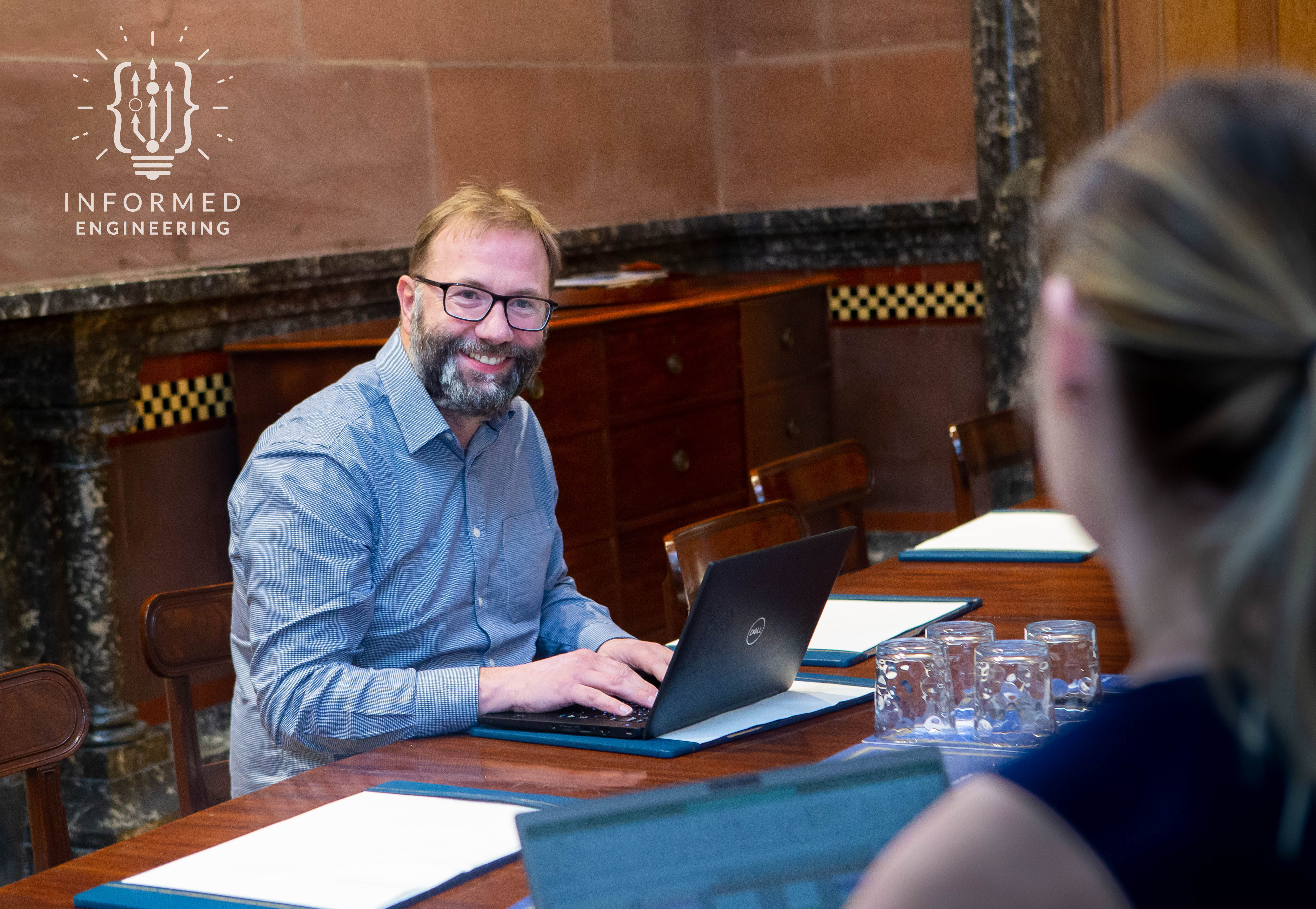 2020 saw a mass acceleration of digital transformation programmes as a result of the coronavirus pandemic. How different did 2020 look in terms of the work you've been doing compared to what you would have anticipated at the start of last year?
Firstly, I can say it looked very different from a travel perspective. Before March last year my working life and that of my colleagues included a lot of time on the inside of Pendolino trains and hotels as our clients span the length of the country (not forgetting our growing Australian and South East Asian operation).
Entering lockdown produced some operational challenges, however with remote working and collaboration being a significant part of our delivery approach for the last decade and more, we were able to pivot our business to almost 100% remote delivery, except for our work with select front-line clients in policing and emergency services.
Since March there has been an acceleration in adoption of digital services by our clients. The remote working constraints of the pandemic have seen more of the hard to reach, or once lower priority aspects of our clients' business processes and services being digitised alongside adoption of more advanced online communication and engagement capability for collaboration through lockdown periods.
My team also contributed data analytics and reporting expertise to support the NHS national patient safety team to manage any impacts on patient safety during the COVID-19 response. Our efforts built on ongoing work with NHS England and NHS Improvement to build a single point of call for recording, accessing, sharing, and learning from patient safety incidents across the NHS. This new work through last summer involved contributing expertise to establish an automated system for the production of patient safety data reports, freeing up resource for other COVID-19 related tasks.
As more and more organisations go digital, what are the implications of this for business leaders and what should they be considering as they move away from heavy legacy technology?
The impact of COVID-19 through 2020 forced increasing swathes of the population to work remotely. This in turn placed increasing pressure on businesses that had previously been slow to transform digitally, bringing into relief how vulnerable they were to digital change, and dramatically accelerating their need to transform operations in order to both communicate and collaborate with their employees and partners, but also to deliver services and engage with their customers and stakeholders through digital environments.
A persistent issue holding back the pace and scale of many industries' digital transformation ambitions relates to the reluctance to swap out desktop-centric, weighty, and cumbersome enterprise legacy tech, which is increasingly burdensome and costly to maintain. However, as both public and private sector organisations realise and accept the need to transform, and as Machine Learning (ML), Artificial Intelligence (AI) and Internet of Things (IoT) technologies continue to mature, trusted and highly capable innovation partners will be sought to help accelerate digital transformation across enterprises.
How do Informed Solutions engineers stay up to date with the latest software technologies and ensure that the right tools are used for the job?
At Informed, we hold no affiliate ties to commercial software vendors or products, and we champion interoperability. This allows our technical teams to work closely with our clients to identify fit-for-purpose software choices that avoid vendor-lock in and unwelcomed annual bills. Thanks to our InformedACADEMY© learning and development programme, our engineers are able to gain experience across multiple programming languages, web development frameworks, data storage technologies and cloud-hosting providers (and we're certainly not just another run-of-the-mill fixed-stack software-house!). With both the freedom of our technology independence, and our full-stack development team profile, our engineers can focus exclusively on making sure the right tool gets used for the right job.
Drawing on our long-standing experience architecting cloud-hosted solutions for use at national scale, and our ability to collaborate with industry specialists through to our well established communities of practice, we can advise on potential benefits new technologies might bring but can also be wholly objective about potential pitfalls that might be faced with their adoption. This capacity to be open and honest, with no marketing pre-agenda when evaluating technology options is equally important to us in recognising whether new industry offerings truly solve a problem in a way that; doesn't require niche skills our client teams might not already hold or would find difficult to recruit for; strays from software architecture best-practice; or misaligns with their strategic technology direction.
Tech recruitment is notoriously difficult. What steps does Informed Solutions take to attract and retain talent? And could you describe the culture?
In terms of attracting talent for InformedENGINEERING©, we place great emphasis on the challenging nature of our assignments – we are experts at developing digital services that solve complex challenges that are related to justice, emergency services, emergency preparedness, sustainable land asset management. We design and deliver services that enable ever greater collaboration and engagement with users in an increasingly connected and converged world.
As an organisation, we are tech agnostic and place value on the huge variety of the tech stacks and tools that we use daily. We design and build national one-off systems (as well as develop reusable platforms) and we provide an environment where developers have a voice and have influence in our evaluation of new approaches and technology, with a view on selecting best of breed for world-class, award-winning implementation.
Additionally, we are committed to providing an environment where developers can evolve and shape the Informed engineering practice. We see things through - our developers get the opportunity to see projects through from inception to go-live and into DevOps and continuous improvement. Alongside this, our projects are extremely varied, and every client engagement includes an authentic 'tech for good' seam, which relates back to our company mission, vision, and values.
Our talent attraction process focuses both on technical skills and equally importantly, on the cultural fit of prospective new colleagues. Our success relies on fostering an environment where creativity and collaboration produces great outcomes for both our clients, our partners, and for our own business. Our principles of excellence, innovation and integrity help us attract the right people who want to build long-term, rewarding careers at Informed, with an emphasis on them continually developing and learning, backup up by the InformedACADEMY©.
Is being a part of Manchester's digital community important to Informed Solutions. And if so, in what ways does the organisation contribute to the ecosystem?
Our purpose is underlined by action and reflected in how we go about our work, the type of work that we choose to do, and through contributing to the sustainable social, environmental, and economic development aims of the communities that we are part of. As such, Manchester Digital forms an incredibly important part of our network. We have attended recruitment fairs, engaged in community recruitment and employment activities, shared our news through the excellent portal and gained valuable insight from events through the year.
We commit to supporting local initiatives by donating, sponsoring, volunteering, and championing priority areas that deliver significant, positive impact back to society, the environment and more widely to the local, regional, and national economies where we operate. We were named a GREAT Inspiration by the government earlier this year for offering our world class InformedACADEMY© learning and development framework of masterclasses to local communities through COVID and we're looking forward to partnering with Manchester Digital to extend this training to those in Manchester.
Finally, what are your hopes for 2021?
2020 was a real rollercoaster of a year for everyone. What came to the fore was the growing importance of digital to connect and collaborate. The focus on creating engaging digital experiences to meet user needs is one that was accelerated by necessity in 2020.
I hope we'll see this momentum continue and I have a very strong belief in the potential of Digital to help our economy, society, and environment through the challenges we will continue to face in 2021 and beyond.
Thank you Matt!
Want to raise your company's profile?
If your company would like to feature on our website, across our social media and in our newsletter, contact thom@manchesterdigital.com for more information.