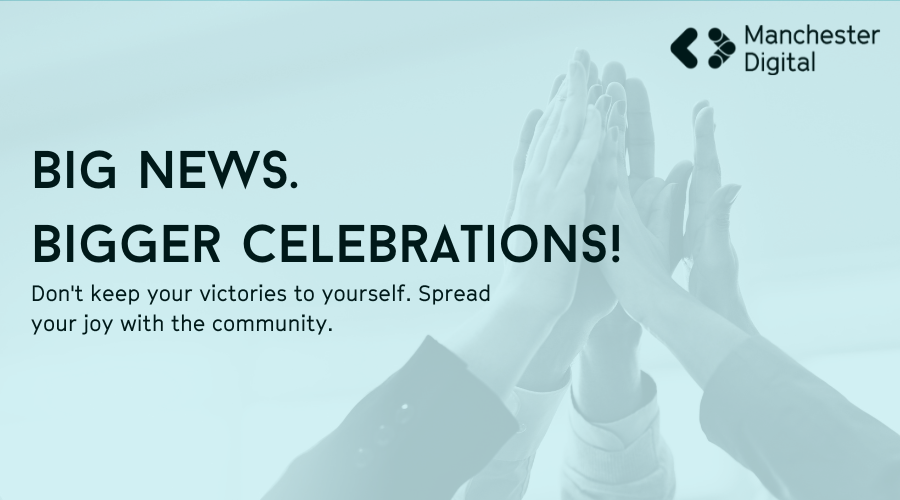 Big news. Bigger Celebrations!
Don't keep your victories to yourself. Spread your wins with the community.
Share your wins with the community, inspire others and help us shine a light on the good stuff happening in the region.
We know that your company is doing great things, and we want to hear all about it. We appreciate that not everything needs to be a press release, but that shouldn't stop you from sharing good news
Whether you've achieved a significant milestone as an organisation or a colleague has done something spectacular that has impacted your industry or business, we want to celebrate your successes and create a positive buzz around membership. It might even be something you've done outside of work.
By sharing your victories through us, you never know who you'll be inspiring within the community. The Manchester Digital audience comprises of people from all different walks of life.
Your achievements will be featured in our monthly community digest, giving you a chance to be in the spotlight and letting your peers and colleagues know about your accomplishments.
So, let's start sharing the wins! Big or small.
It doesn't matter the size of your company or the industry you're in, the community can only be bigger and better if people help contribute towards it.
Your victories are important to us, and we believe we could be sharing them with the wider community.
Send us your company's updates, and let us help you celebrate your achievements. We can't wait to hear from you and feature your victories in our community digest.