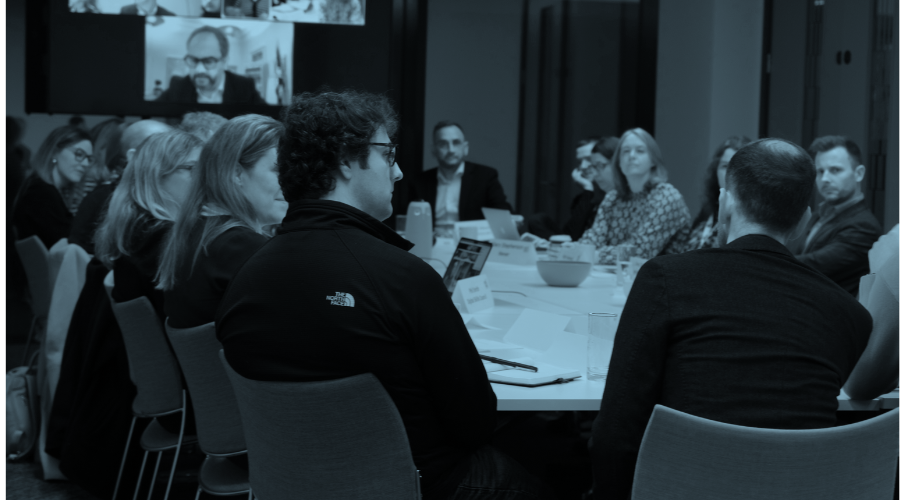 New Updates | May 2023
Upcoming Events
Thursday 22nd June 2023 | 13:00 - 17:00 | No1 Circle Square, 3 Symphony Park, Oxford Road, Manchester, M1 7FS | Book your tickets.

The Manchester Digital members conference returns next month to bring you some of the most cutting edge insights into to innovation, challenges and best practices happening in the region.
The past 12 months, since the last conference has been awash with exciting developments that is shaping our lives, and we're proud to host digital leaders, charting a path to a better tomorrow.
Talks with also be followed by an evening of food and drink for members to connect. Tickets are just £15 per person and include:
Your choice of drink (glass of beer, wine, prosecco, a single spirit and mixer or a soft drink)
As well as a curry and rice buffet.
Manchester Digital's Tech Leader Talks offers the opportunity for senior leaders in large-scale digital and tech businesses here in the North West to come together to network, share best practices and make new connections.
For our next event, we'll be joined by Phil Haslam, Chief Technology Officer at TalkTalk.
This event will be in the format of a lunch event, including a light lunch for attendees, a keynote presentation and a Q&A session with Phil.
Manchester Digital invites you to join us for our next Fintech Conference, which will take place on Thursday 21st September 2023.


Manchester Digital invites you to join us for our next Emerging Tech Conference, which will take place on Thursday 7th December 2023.
Digital Her Events:
In Partnership with hackajob & GlobalLogic. An afternoon of talks, workshops & networking for women who are early in their tech career. June the 1st.
Whether you are a graduate, career changer, up-skiller or returner, this event promises to provide exclusive insight into how to kick-start or progress your career journey in the world of tech and digital.
Prepare to learn and be inspired, whilst taking away practical advice and guidance from real-life industry role models.
June Cohort (In-person) 2 x Full day sessions.
Our leadership cohort program is spread across two full in-person days on the 6th-7th June. Our course is designed to provide women with the tools and resources they need to excel in their careers. We believe that by providing a supportive and empowering environment, women can achieve their full potential and make a meaningful impact in their organisations.
Over the course of the full two day sessions, we will look at:
Understand the skills required of a leader and manager through a time of digital transformation
Critique their own leadership and management style
Check the levels of Emotional Intelligence in their team and improve ways in which your staff engage with each other
Reflect upon the management challenges of remote and hybrid working
Prepare themselves for strategic and commercial challenges of senior leadership/management in their organisation
What else?
The Startup hub is now live! Check it out here.
A members' area for connecting businesses of all sizes with startups.
We are seeking those who can offer support to startups. Whether you're a solo consultant or part of a larger organisation, we'd like to ensure your brand and services are discovered on the Startup Hub.
You can let us know how you can help Startups here, and we'll ensure you appear on the page.
Big News. Bigger Celebrations!
Good news! We are looking for more good news shared on the member Digest at the end of the month.
We're excited to hear good news from our members, and we'd like to feature them in our monthly digest. As we reflect on the events of the past month, we want to highlight positive stories and celebrate accomplishments. If you have any good news to share, please submit it and we'll include it in our next digest.

You can submit good news here.


Project Management Training
Join our 2-day project management course to learn practical skills and knowledge to apply in your role. Gain essential skills to plan, execute, control, communicate, manage budgets, mitigate risks, and monitor progress effectively. Don't miss this opportunity to accelerate your career growth!
Training Dates:
Cohort 10 (Virtual) 1x 30 minute Induction 28/06/2023 (12:30-13:00)
2 x Sessions - 19/07/2023; 20/07/2023
Cohort 11 (Virtual) 1x 30 minute Induction 28/06/2023 (12:30-13:00)
2 x Sessions - 29/08/2023; 30/08/2023


Contribute to specific Job role pages.
Are you recruiting for any of the following roles? If so, we've recently created pages on the website dedicated to sharing valuable information to job seekers such as current vacancies, businesses hiring and specific content to help them in their role.
---
Community Channels
Already a member of the slack group? (mdtechcommunity.slack.com)
Wider community events coming up:
See more on our events calendar.
Did you know?
We work in partnership with government and local authorities to provide skills training and bootcamps.
Check out what we've been up to recently:
We've recently joined the Tech Talent Charter
Manchester Digital work hard to represent your interests to regional and national government. We sit on the national Digital Skills Council where we are working to improve the take up of apprenticeship and make them work better for business and learners. We are also contributing to a national report on how to support regional tech ecosystems and make sure that our members can continue to grow and develop their businesses.