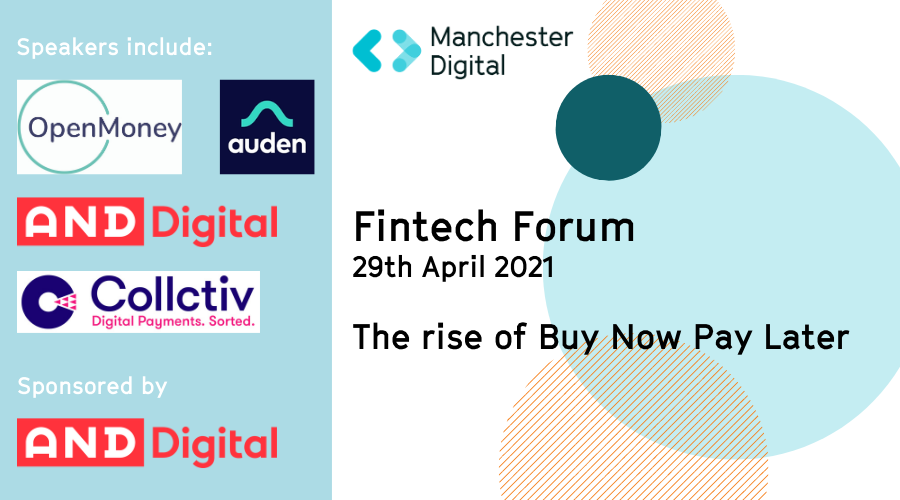 On 29th April 2021, Manchester Digital hosted our first Fintech Forum event of the year, sponsored by AND Digital, as we took an in-depth look at the rising popularity of Buy Now Pay Later schemes, the ethics behind the innovation and what the future looks like for such schemes.
Speakers included:
''BNPL is a hot topic; hot as in huge amounts of investment from around the world is fueling the growth of the sector and hot as in controversial as debt agencies and charities report about the effects on customers.'' `
David Avis, AND Digital.
''There is a danger with regulation that it can stifle innovation….I would be interested to see the diversity of the regulators themselves. Is anyone financially illiterate or on the breadline in the group? We need all voices around the table to discuss how we can or can't participate with these products. It can only be a good thing.''
Amy Whitell, Collctiv.
''1 in 5 people that have other debts to repay say that this only started after they first used BNPL.''
''In our research there are a number of groups who are more likely to exhibit financial vulnerability : young people, single mums and women in general and we need to ensure they are looked after.''
Ant Warrington, Auden
''If you are borrowing money to buy clothes you can't afford - that said out loud suggests there is extra thinking needed here''
''Regulation is really important for the services but there needs to be a reality check for the Providers''
''(BNPL) It's a really big win for the retailers and the uplift in basket size when using the scheme is really telling.''
''38% of shoppers have said they struggle to pay the scheme back.''

Anthony Morrow, Open Money
The full video of this event can be watched below:
We just need some details from you...
In order to access this information, we'd like to know a little bit more about you. So you know, we take GDPR very seriously and will never misuse your data, as you can see in our privacy policy.