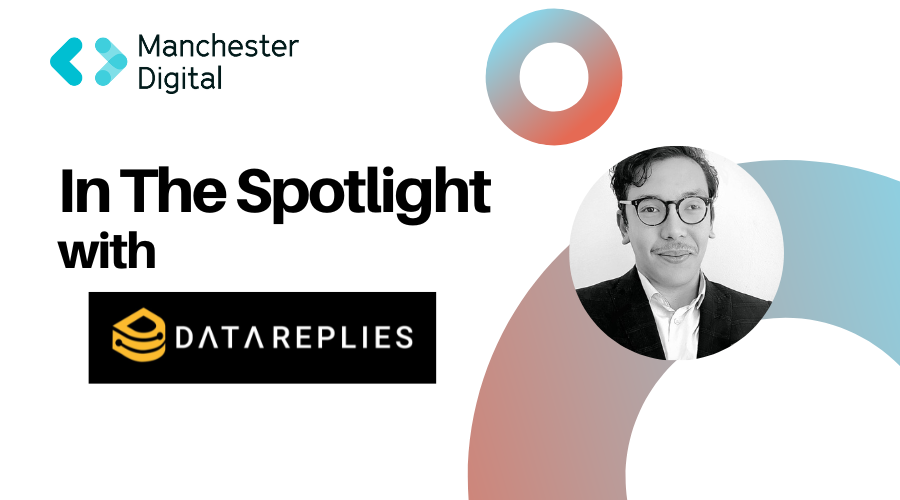 In The Spotlight banner with Hamza Bouhouch of DataReplies
At Manchester Digital we like to interview our members to find out a bit more about what they do and their work in the Greater Manchester digital and technology sphere. This week we're speaking with Hamza Bouhouch, Director of DataReplies.
What does your organisation do?
The tagline for DATAREPLIES is "Digital transformation through data", we are strong believers in digital as a way to not only future-proof yourself, but to run a smarter and more efficient operation.
Big organisations have known this for a long time; by leveraging the power of data & digital they can reduce time & resources spent not knowing what to do and instead focus on improving offerings, simplifying processes, and improving their reach.
We work with SMEs to help them create those digital systems and processes from the ground up with a combination of software solutions and ad-hoc consultancy services that make the jump towards the digital world easier.
We work together to understand your use case and then provide the best digital solution for that specific case. Our services can be broadly described as a combination of:
Consultancy services
Creation of software solutions
Digital skills training
Creation of digital strategy
Some of our more popular use cases fall into the following categories:
Automating & streamlining systems & processes
Bespoke web development (CRM, CMS...)
Data Management & Business Intelligence services
Training in some of the most popular digital tools (ZOHO, Oracle, SAP, AWS...)
Strategies for more thorough digital initiatives
The best part of our job is meeting people, learning more about the different challenges and goals of local SMEs, and discovering how digital can enhance their operations.
What do you think is currently the biggest issue facing the digital and tech industry?
Breaking a lot of the stereotypes around digital and data. Both concepts are still very much seen as things that mainly big companies should dabble in. Luckily, things are changing, and many businesses have realised the potential of digital, but there is still a lot of work to do to spread the message and get more people involved.
What is your organisation's biggest achievement?
We are a new company so what I would consider our biggest achievements are building some solid partnerships and helping people better understand how to transition toward digital.
To that end, we created a free e-book that outlines the tangible benefits of digital transformation and how adopting it, can help SMEs with their growth and sustainability goals. We also launched a Digital Readiness Assessment tool that allows you to compare yourself with other organisations in your industry and helps you better gauge where you fall in the digital transformation spectrum. The response so far has been great, and we are looking to launch more initiatives like these and get more people engaged.
What would you consider to be your organisation's biggest challenge?
Reach out, unfortunately, time constraints do not allow us to do as much of it as we would like.
However, we are finding that events (such as the Manchester digital ones) are a great opportunity to get in touch with many businesses. Also being part of the Manchester technology centre allows us to be closer to the tech community and be in contact with a lot of very clever and innovative ideas and businesses.
What do you think the future looks like for Manchester's digital and tech sector?
It's growing and growing fast! Businesses in Manchester are gradually becoming more aware of tech and digital, partly thanks to the efforts of the local tech community, and partly because of the awareness that's being generated at a Greater Manchester level. There's a lot of work left to do, but it's an exciting time and it is a pleasure to be here and be a part of this transformation.
Tell us something we might not know about your company.
We are big fans of coffee, so much so that we have created a piece of software that checks our current coffee supply levels and automatically orders the next batch from local businesses. However, in hindsight, we could have added some decaf to the mix!
Thank you Hamza!
To find out more about DataReplies, click here.
Want to raise your business's profile? If you're a member, contact thom@manchesterdigital.com to discuss featuring your content on our site, social media or newsletter. If you're not a member, get in touch today to discuss the benefits of membership.