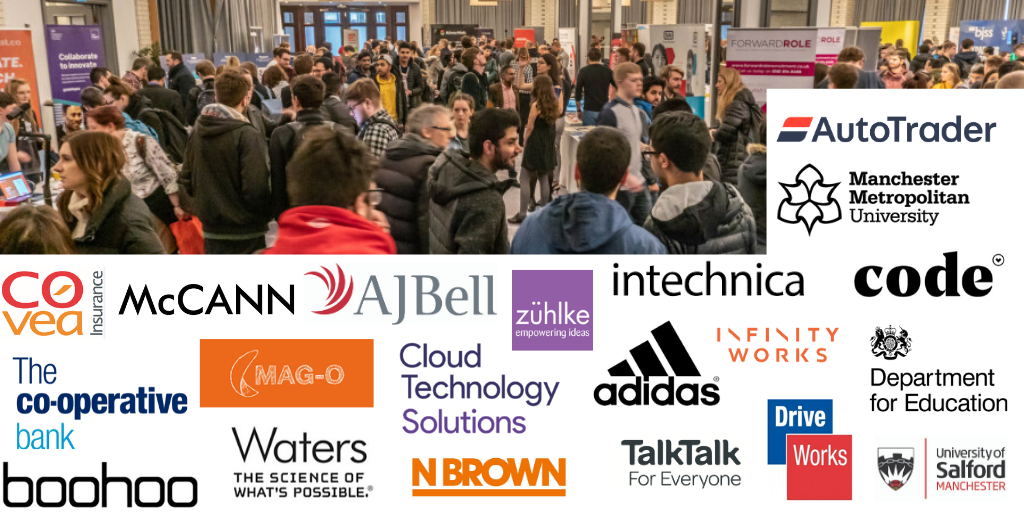 It's almost time for #MDTalentDay – the largest digital skills fair in the North. This event, sponsored by Auto Trader helps us to achieve our goal of keeping the best talent in the region, and helping our members with their recruitment goals.
As ever, our exhibition stands are proving to be as popular as a host of the region's top tech employers line up to network with other businesses and, of course, to meet an expected footfall of around 2000 jobseekers.
We thought we'd meet some of this years' exhibitors to find out what roles they will be recruiting for at #MDTalentDay.
If you're a jobseeker that wants to attend #MDTalentDay, you can find out more here.
If you're a business that would like to know more about exhibiting, you can find more information in this article.
AJ Bell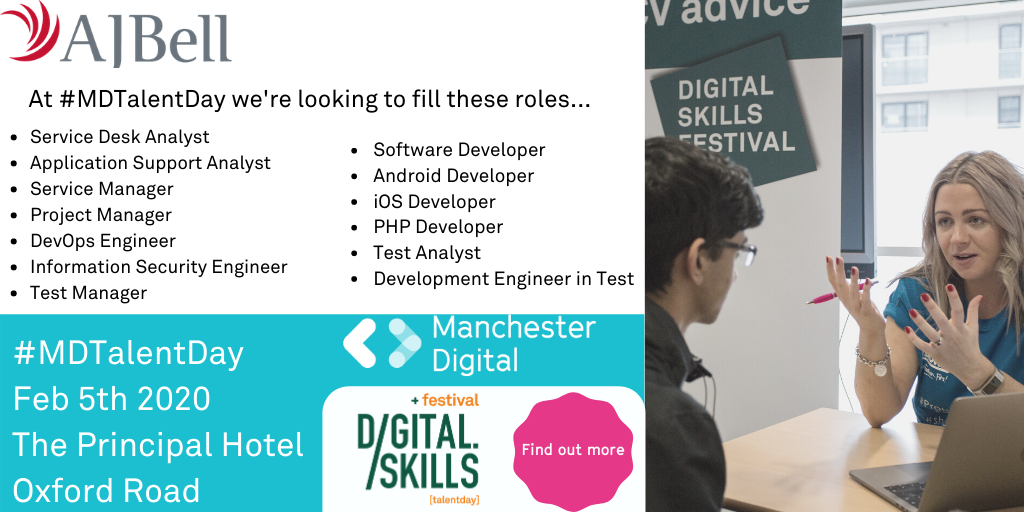 AJ Bell is one of the UK's largest investment platforms. We aim to make the whole process of investing as easy as possible. That means providing access to products that are matched to your needs, ensuring that our staff are among the best in the business and our website is intuitive and easy to use.
The Department for Education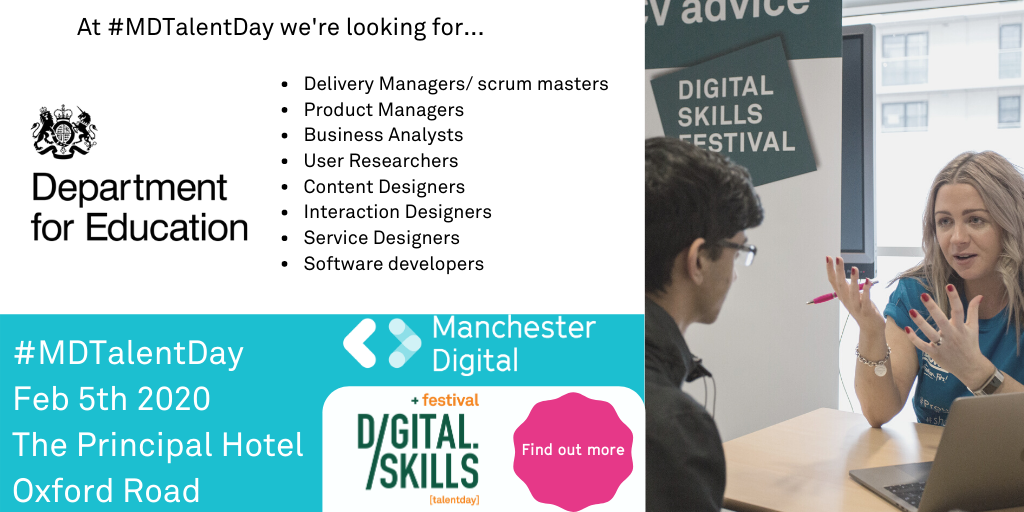 DfE Digital is part of the Department for Education (DfE). Our job is to transform DfE so we can better meet our users' needs. We do this by building excellent services that are user-centred and easy to use and improving people's digital skills and capabilities. Our user research, service design and digital delivery supports people on the frontline working in schools, colleges, universities, nurseries and social care. We put the user at the heart of everything we do, and showcase the evidence-based work that highlights the positive impact digital is having.
Auto Trader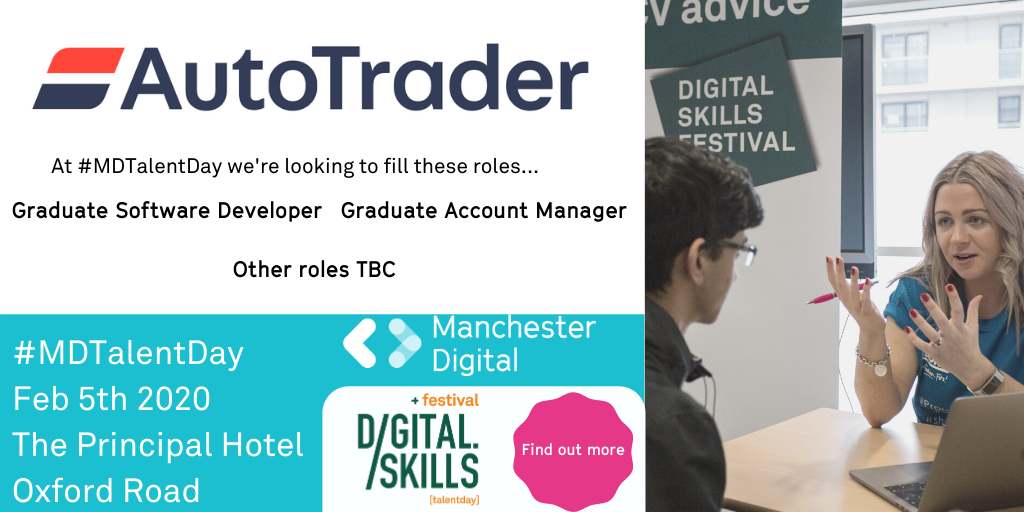 With over 55 million monthly visits and 94 adverts viewed every second, we work with an incredible amount of data. Through the evolution of our digital platforms and our innovative data products we continue to make the car buying process easier for our customers.
We're not simply a website that allows people to buy and sell vehicles, we offer a range of digital products and services that you may not have come across. Which is great news for you, because it means we offer a diverse range of jobs across the business. We believe that there's nothing more important than trust and transparency in today's automotive marketplace.
A transparent market makes car buying fair, inherently generating trust and building better relationships. We do this by creating trust and transparency throughout the market, allowing consumers and sellers to focus on the things that really matter.
McCann Manchester
Hello! We're McCann Manchester. When it comes to marketing communications agencies, we're a bit different. For starters, you'll find us on a unique country house campus in rural Cheshire. This is home to 370 hugely talented people with skills in just about every marketing specialism you'll ever need. But don't be deceived by the rural idyll - our campus creates an environment that nurtures great thinking and great ideas.

Our digital offering, McCann Connected, is a top 30 digital agency and its 140 specialists span the paid, owned and earned landscapes, including content production. We help our clients make sense of the complex journeys consumers make and develop marketing solutions without bias or borders. Customers don't live or shop in digital silos, so we don't operate in them, and we recognise that today's customer journeys are more complex than ever. Our response is to create digital solutions to your business challenges that exist without borders or boundaries.
DriveWorks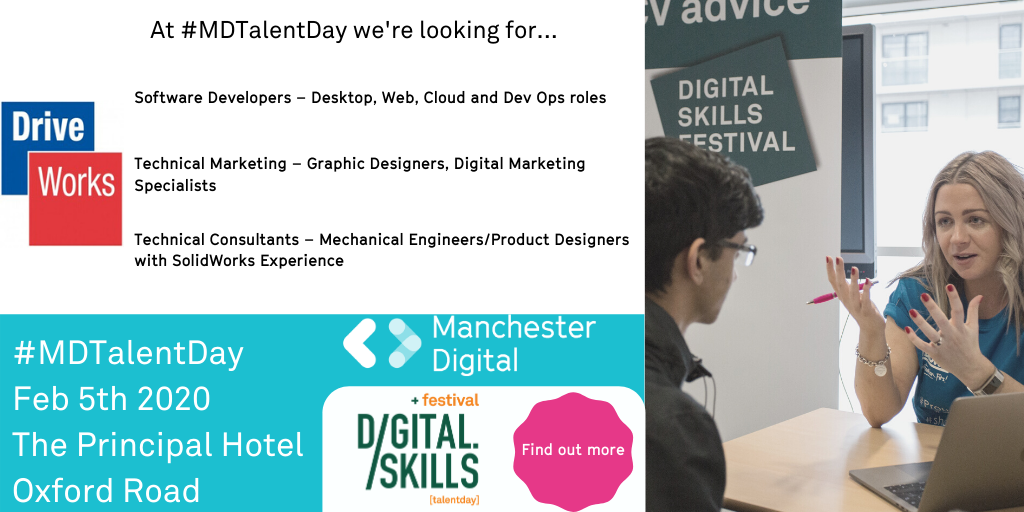 From Start-up to Scale up, we're a dynamic Software Development company with users worldwide and a cool HQ in South Manchester. We've won the prestigious Queen's Awards for Innovation and International Trade and offer lots of training and career opportunities.
Cloud Technology Solutions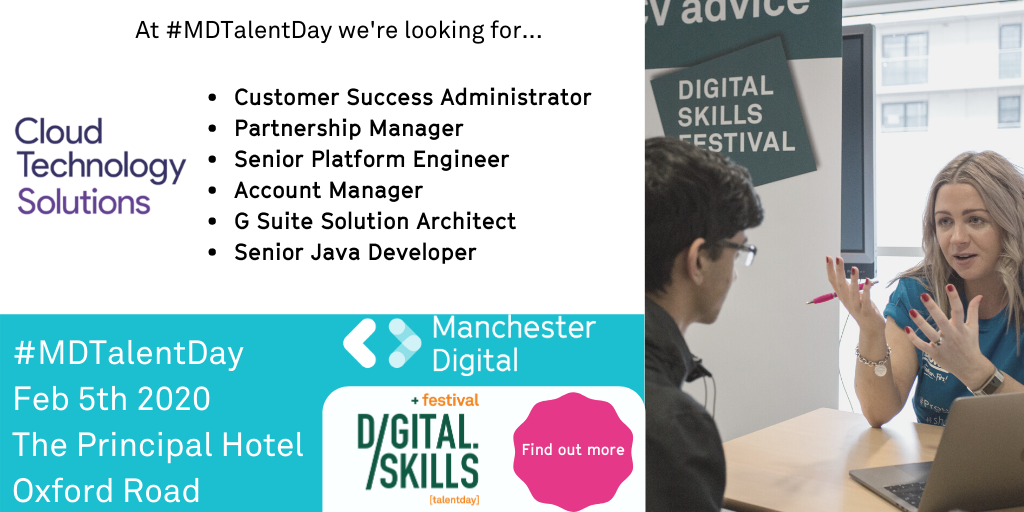 Cloud Technology Solutions (CTS) is the largest dedicated Google Cloud practice in Europe and one of the world's leading cloud transformation experts. We offer a unique full stack Google Cloud solution for businesses, encompassing cloud migration, transformative working and IT modernisation, through to machine learning, big data and app development.

We have a brilliant team of more than 180 people spread across offices in Manchester, Edinburgh, Utrecht and Frankfurt as well as our remote workforce that are spread globally. We're still growing and that means we need more ambitious people who share our vision to learn and grow.
Waters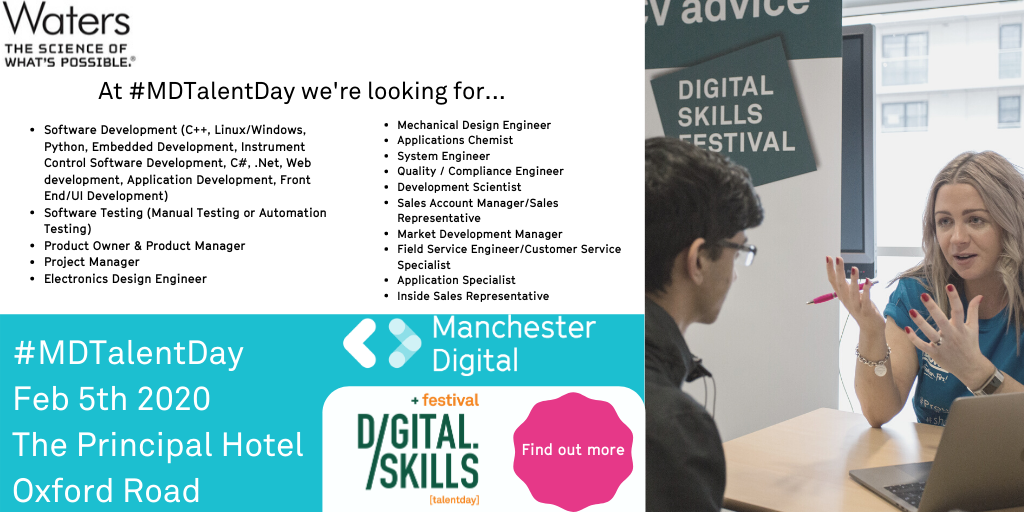 Waters Corporation is one of the world's leading specialty measurement experts, focused on improving human health and wellbeing through the application of advanced analytical scientific technologies. Waters Wilmslow site is the largest site across the globe that is committed to the development of Mass Spectrometry systems. This fantastic site is designed to allow inclusivity, connectivity and efficiency by enabling us to embrace more collaborative ways of working and focus more on the way we innovate and design our products. Waters not only aim to bring a diverse range of advantages to benefit our own employees, but also provide a high-tech facility for customers.
MAG-O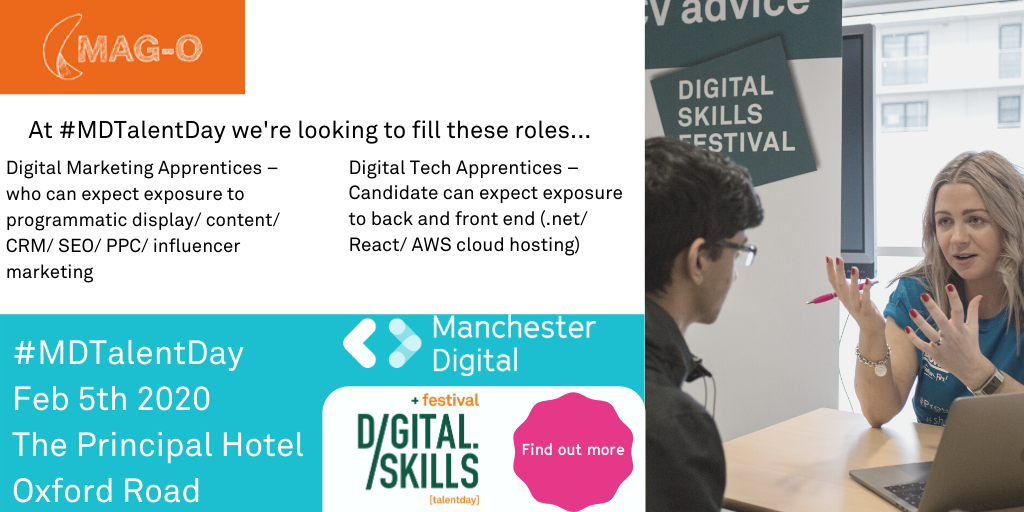 MAG is the country's largest airport group. We own Manchester, Stansted and East Midlands Airports and operate a concessions business in the USA based out of Chicago that provides hospitality services to airports across North America. MAG-O is our digital business, created to take the Group on the next leg of its digital journey. Utilising advanced MI, digital platforms and new and emerging technologies, this is a fast-moving, agile engine house of new ideas incorporating; data science, digital marketing, .net developers, QA, BI, BA, UX Design, Product & Delivery, system integration, Product Development etc. As part of the next step of our evolution, we have built multiple digital products that form a world first Airport travel platform experience designed to support passengers at every step of their physical and online journey. This is an exciting time of growth for MAG-O as we expand; selling and integrating our SaaS ecommerce platform to airport clients across the world.
Informed Solutions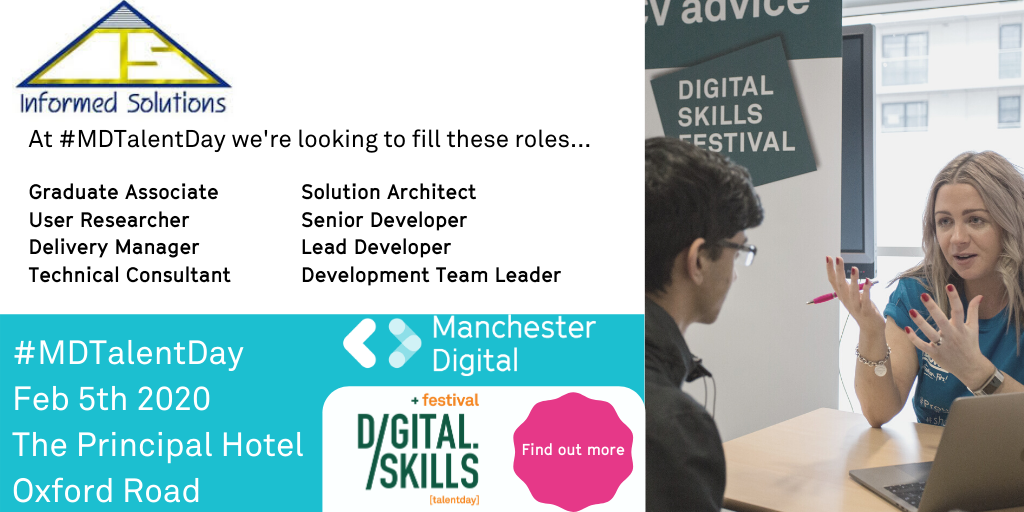 Formed in 1992, Informed Solutions is a leading international provider of digital transformation, artificial intelligence, data analytics and systems integration services. Informed's purpose is to create economic and social value by helping to build a more inclusive, fair and safe society through ethical use of technology and data, and investing in digital skills.

With offices across the UK and Australia, Informed's innovative and agile approach drives digital transformation for globally recognised brands across a number of public and private industry sectors including: Government, Healthcare, Justice and Emergency Services, Utilities, Energy, Planning and Land Management, Transport and Logistics and more.

Informed Solutions is a proud winner of The Queen's Award for Enterprise: Innovation.Formed in 1992, Informed Solutions is a leading international provider of digital transformation, artificial intelligence, data analytics and systems integration services. Informed's purpose is to create economic and social value by helping to build a more inclusive, fair and safe society through ethical use of technology and data, and investing in digital skills. With offices across the UK and Australia, Informed's innovative and agile approach drives digital transformation for globally recognised brands across a number of public and private industry sectors including: Government, Healthcare, Justice and Emergency Services, Utilities, Energy, Planning and Land Management, Transport and Logistics and more. Informed Solutions is a proud winner of The Queen's Award for Enterprise: Innovation.
Covea Insurance
At Covéa we are changing the face of insurance and what we're doing will make a real difference in people's lives.
We're here to set the pace of change and to make a difference and we know that today's achievements are just yesterday's news. We're not here for the usual perks, they're just table stakes, we're here because we're respected and empowered to do what we do best. Here, we can be free to be who we are, and be part of a community of gamechangers.
Our heritage means we are big enough to make a real impact, but it is not an excuse to sit still. We're unshackled, defining our own path to the future together - breaking barriers, and we're going fast. This means that you'll grow fast too. Join us and you'll do some of the best work of your life using human-centred innovation to make insurance more relevant to the way people live today.
We're exhibiting at Talent Day 2020 because we're in the midst of an exciting digital transformation and we want to talk to the best tech talent in the region about how they can be part of our journey.
SODA - MMU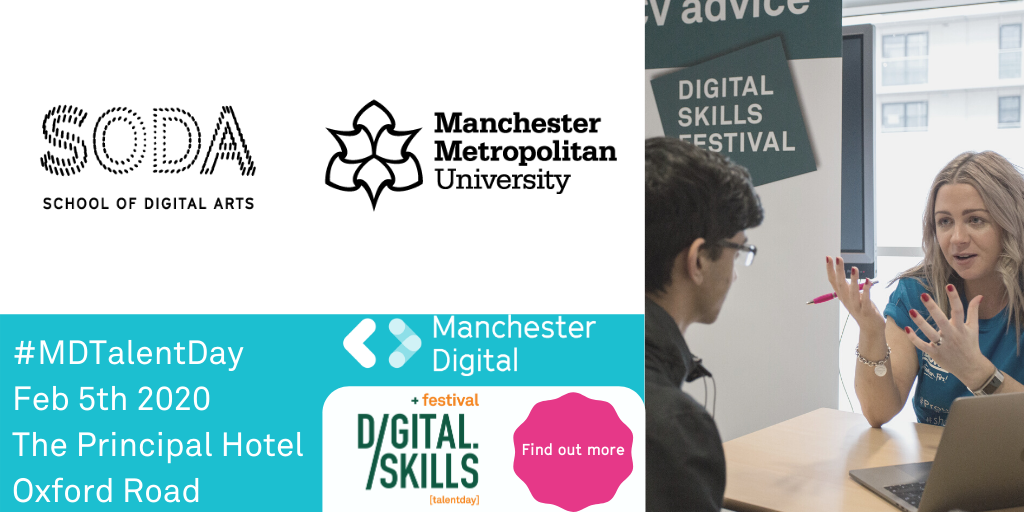 Manchester Metropolitan is a leading university for Degree Apprenticeships, developing industry-relevant programmes in collaboration with regional and national employers. Our digital apprenticeships are delivered by experienced, practice-focused digital academics and highly qualified skills coaches, working in co-operation with apprentices and businesses to create an immersive digital learning experience.
Adidas
As much as success nurtures a growing global company, we never settle for status quo. Instead, we want to advance every single day when we open our doors for more than our 55,000 employees worldwide. They are our creative capital to shape the future of sport. Because at adidas, we believe that through sport, we have the power to change lives.
Boohoo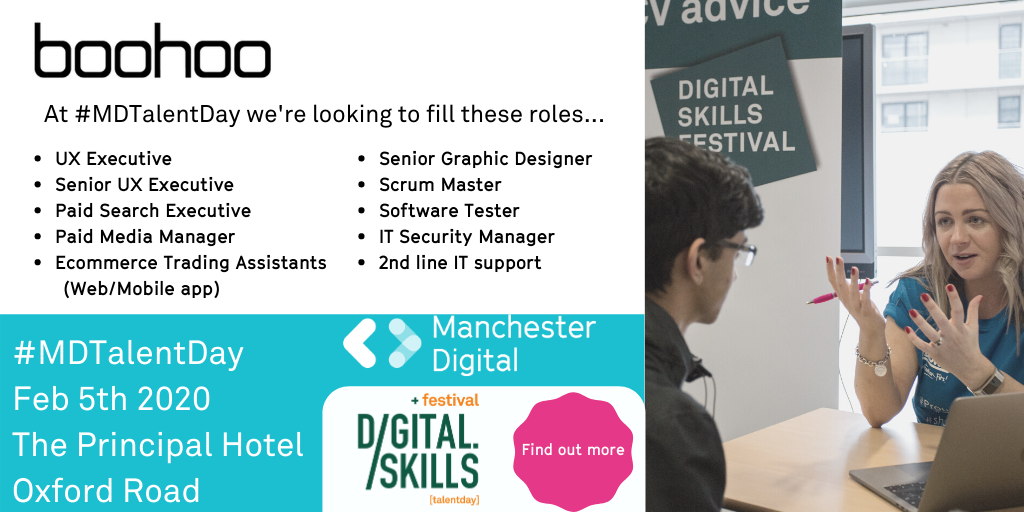 Founded by Mahmud Kamani and Carol Kane in Manchester in 2006, for over 10 years, boohoo group has been pushing boundaries to bring its customers up-to-date and inspirational fashion, 24/7.
Today, we are a leading online fashion retail group serving customers around the globe with a vision to lead the fashion e-commerce market globally through our scalable multi-brand platform. Our brands: boohoo, boohooMAN, PrettyLittleThing Nasty Gal, MissPap, Karen Millen and Coast design, source, market and sell clothing, shoes, accessories and beauty products to fashion conscious consumers around the world.
The speed and agility of the group ensures it is first to market with the latest on-trend styles and fashion, utilising a test and repeat model to ensure low levels of risk on new lines, and leverages our speed and agility to replenish bestselling ranges in weeks.
The group sells products to customers in almost every country in the world, with a strong presence in the UK, US, Europe and Australia. Since starting out as boohoo in 2006, the group has grown rapidly, expanding its offering in the UK and Internationally. Along the way we have developed a scalable platform capable of plugging new brands into the group, leveraging our infrastructure investments, sourcing capabilities and utilising our core principles of speed, agility and test & repeat.
boohoo is an inclusive and innovative brand targeting young, value-orientated customers. In 2016 the group's expansion into menswear saw the launch of boohooMAN, followed by the acquisitions of vibrant fashion brand Pretty Little Thing in January 2017 and the free-thinking Californian brand Nasty Gal in February 2017.
In March 2019, the group acquired young fashion brand MissPap, and in August 2019 announced the acquisitions of the online businesses for renowned British fashion brands Karen Millen and Coast
Callsign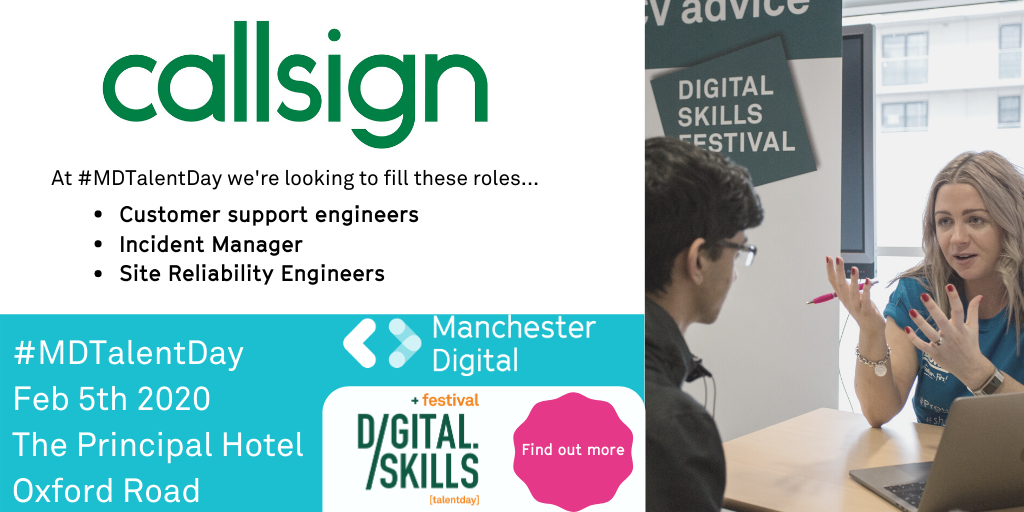 Callsign are an identity fraud, authorization & authentication company, solving the challenges that organizations face in getting their users on to & interacting with their digital platforms. Our Intelligence driven authentication recognises users by combining deep learning insights derived across device, location and behavioural data.
Code Computerlove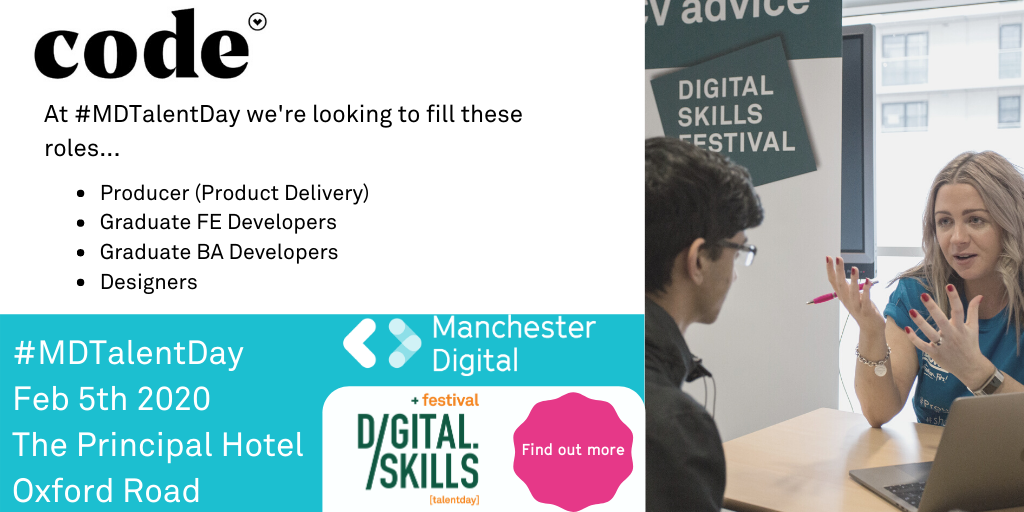 What we do
We create brilliant digital products that help our clients get ahead and stay there. We build teams from all kinds of people: thinkers, writers, talkers, makers, analysts, inventors and more. People who work hard, work together and get things done. Together we tackle the big problems for some of the most interesting and ambitious organisations. Our mission is to make "Made with Computerlove" a mark of brilliance. To do that, we're committed to your development and your role in improving our skills, approach and culture.
What we value
We value people who are brilliant in their capability and the things that they make together. - We value people who improve, continually improve themselves and the world around them to make a difference. - We value people who collaborate, who are a joy to work with and who get more from themselves and those around them by working together effectively.
Experis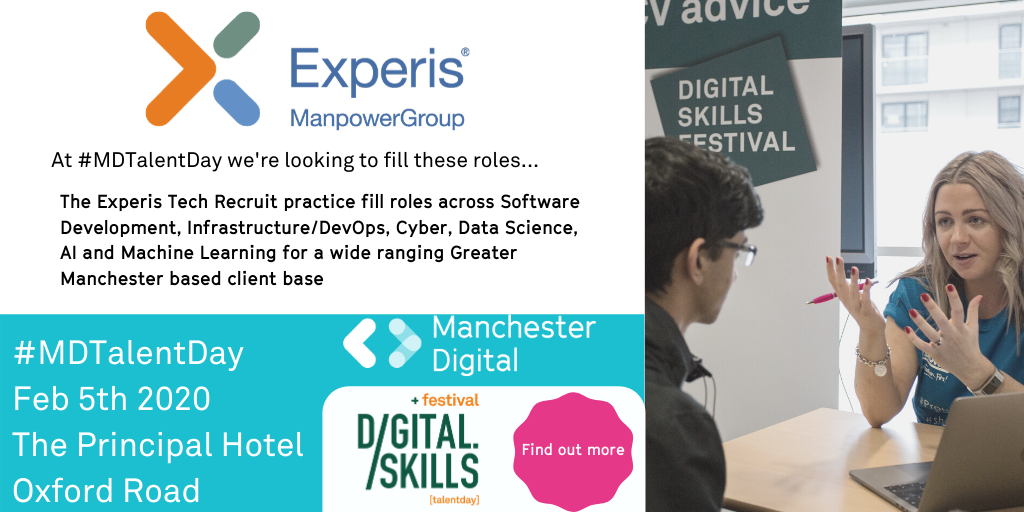 Experis, ManpowerGroup™ (NYSE: MAN) is the global leader in professional resourcing and project-based workforce solutions. Our exceptional industry knowledge enables us to understand your business challenges and to align our services to your unique business needs. From interim and permanent support to managed services and consulting, we deliver high-impact solutions that enable our clients to achieve their strategic goals by hiring the best available talent within a competitive global staffing market.
About Experis Manchester – Technology Practice
Our vision is strong: Community Driven. Subject Matter Experts. Ethical. Diverse and Inclusive.
We are a specialist Technology Recruitment team based in Manchester, developing talent communities in Manchester, for Manchester-based clients.
Each of our Recruiters has a particular market specialism so that we can respond swiftly to the needs of our clients and candidates, providing a best in class service that places emphasis on matching the best talent with their dream employer.
We are not generalists and we take the time to understand our client's needs and pain points so that we can provide a tailored solution.
Infinity Works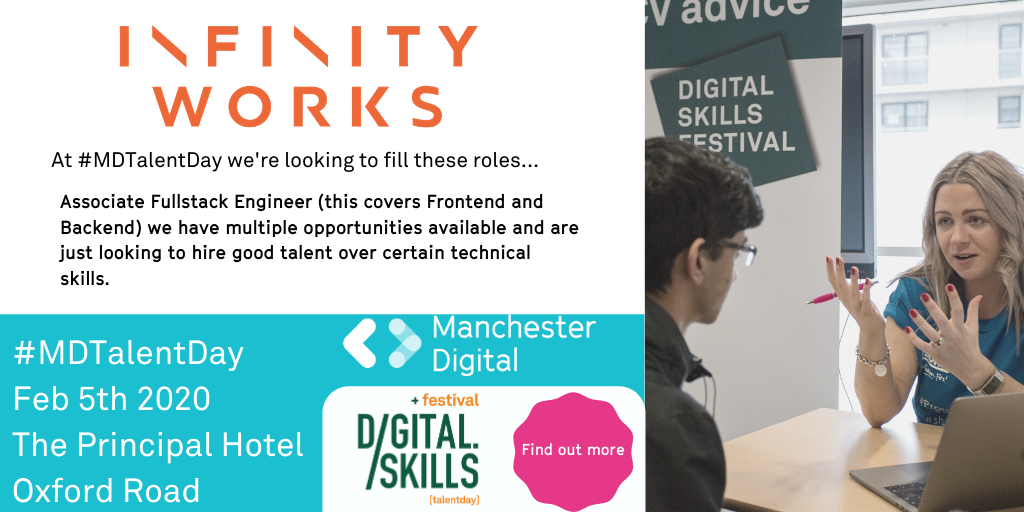 Infinity Works are one of the UKs leading tech consultancies. They pride themselves of being the home of thinkers who do and do-ers who think.
They aim to be different to other consultancies. To succeed they know they need the best staff - but also an ethos and culture embedded in the business that can support the delivery of excellence for their customers.
IW's culture is best summarised by their company vision, that is to be "Best for Customer and Best for Colleague" within the tech space.
Infinity Works help their clients solve hard technical problems in a wide variety of domains using a diverse set of technology stacks.
They're looking for people with the soul of an engineer; people who'll roll up their sleeves and get stuck into the kind of projects where others fear to tread.
It may sound daunting, but it's great fun too – they work hard, but they play hard as well. Because when they do something great, they're not shy about celebrating it. If you'd like to read more about Infinity Works, head over to our website: www.infinityworks.com.
N Brown Group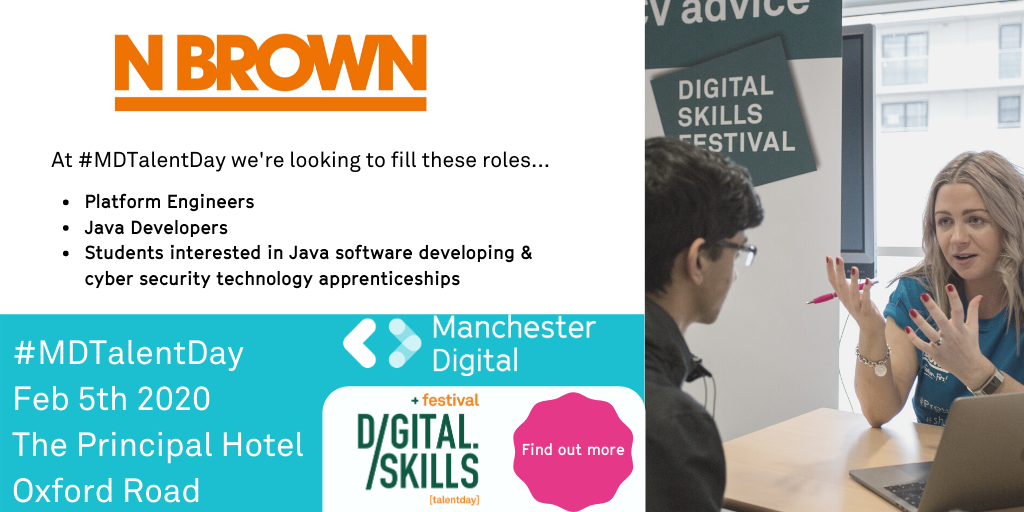 Here at N Brown, we champion inclusivity by making our customers look and feel amazing. We don't believe that age, size, shape or background should stop anyone from feeling confident, stylish and happy with the way they look and feel. With our industry leading expertise in creating fashion that fits, we've been proudly breaking down these barriers for over 150 years. We help our customers to express themselves with stylish products, helpful services and flexible finance. Now, we're moving forward together, embracing innovation and new technology, to continue to delight our customers.
Working here you'll explore everything the world of digital retail has to offer — asking questions, trying new things and chasing new opportunities. Combine this curiosity with the freedom to make your own decisions, take charge of projects and work flexibly, and you've got the perfect place to show your skills and learn new ones. It's fast and furious here at times, but this just means something new and exciting is always on the way. So, if you collaborate, think on your feet, embrace innovation and love rising to a challenge, your work with us will have a serious impact on the business, your career and our customers' lives.
Northcoders
Northcoders is a multi-award-winning coding school for absolute beginners and hobbyists who are looking to kick-start a career in tech in the North of England. With campuses in Manchester and Leeds, they teach absolute beginners to code in as little as 12 weeks and help their graduates secure their first jobs as software developers.
The Profitable Firm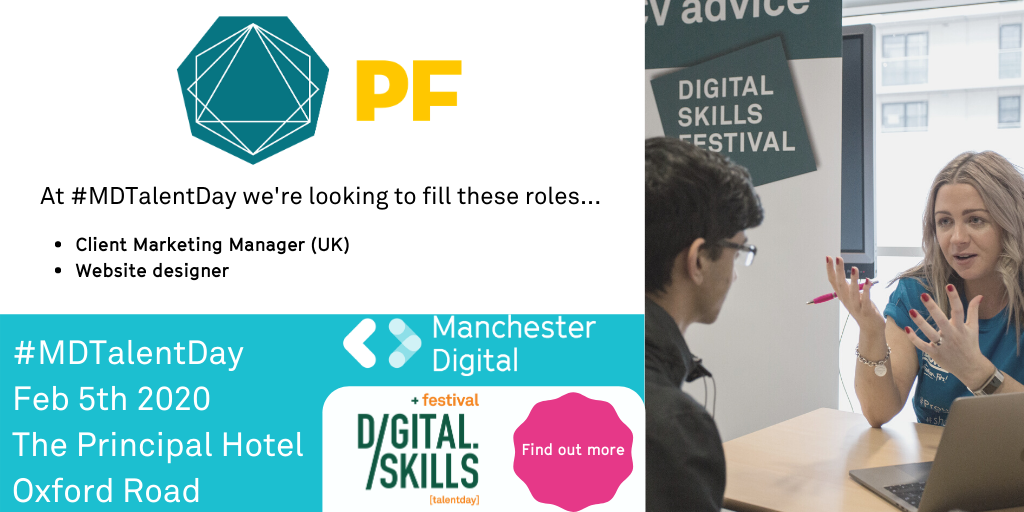 The Profitable Firm is the creative agency for Accountants. We deliver outsourced marketing exclusively for accountants, accountancy firms, and bookkeepers in the UK, USA, and throughout the world. We're here to guide accountants who want to propel their marketing forward, by helping them understand and apply the fundamentals of content marketing - and learn to love it too.
Zuhlke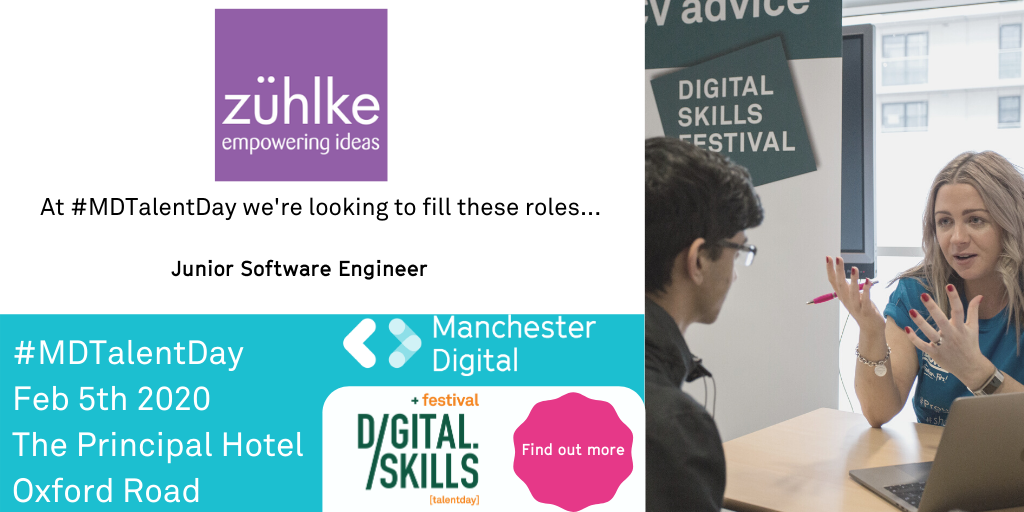 Zuhlke Engineering is a global organisation that help our customers successfully deliver innovative and complex digital, software and hardware solutions.
TalkTalk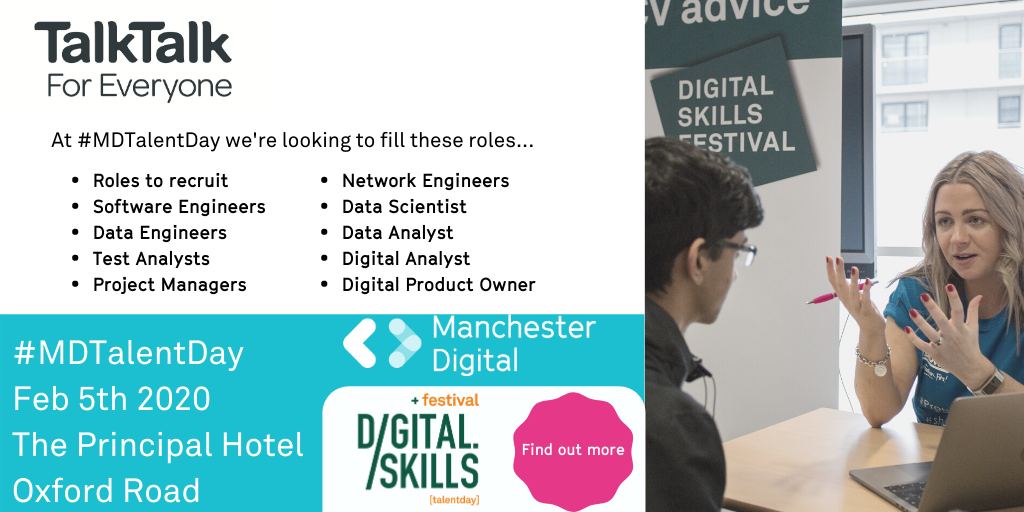 Google Analytics, C# .Net, Azure, Docker, Kubernetes and Salesforce are just some of programmes/platforms we have here, but Digital is changing so we need the right people to help us evolve with it. We are TalkTalk a challenger brand in the world of Broadband, Phone, Mobile, and TV. We've never been afraid to shake things up, and we want to keep on pushing the boundaries. If you've got ambitions as big as ours, you can help to revolutionise our business. And right now, that's got to be the biggest reason to get on board! Our business areas range from Marketing to Tech, Data to Digital and UX to L&D. We're constantly looking for the best talent out there, so get in touch to hear more.
Manchester Digital - Apprenticeship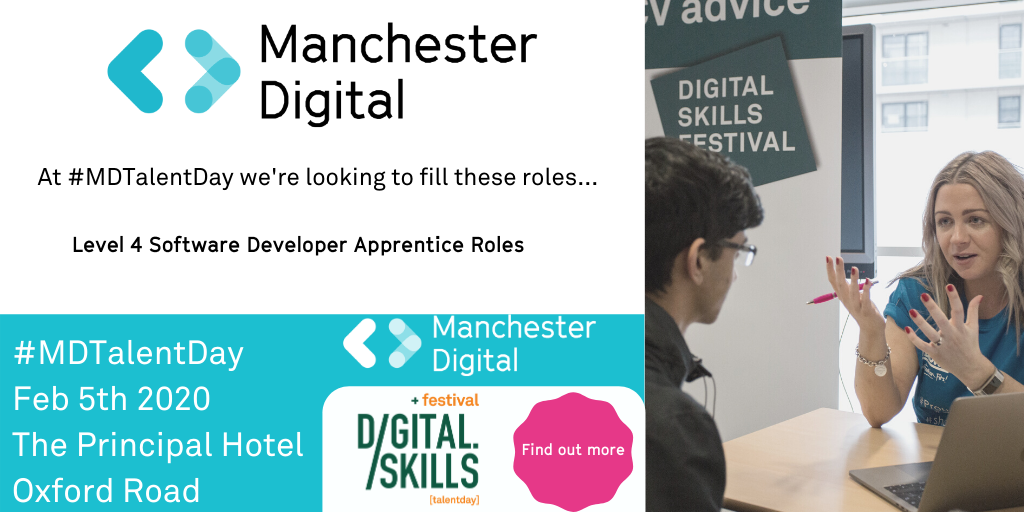 Manchester Digital aims to bridge the digital skills gap.
By enlisting experts from within our membership – from both industry and education – we design and deliver industry-backed initiatives that support our education system and empower it to produce the next generation of digital talent.
CDL
CDL is one of the UK's leading insurance software houses, employing over 600 people at its campus in Stockport. It has a strong track record in the high volume retail insurance sector, with clients including Ageas Retail, Swinton Insurance, Tesco Bank, iGO4 and John Lewis, to name a few. CDL has spearheaded developments in the aggregator, web and telematics space, including connected home, enrichment and self-service solutions. As a result, the company's robust and innovative technologies have enabled its customers to thrive in the highly competitive UK insurance marketplace.
We've built a collaborative and creative culture where we employ agile techniques to deliver our pace-setting applications. We like to work in small, focused groups so you're always learning from people around you and you feel a part of the success of each project you are involved with.
University of Salford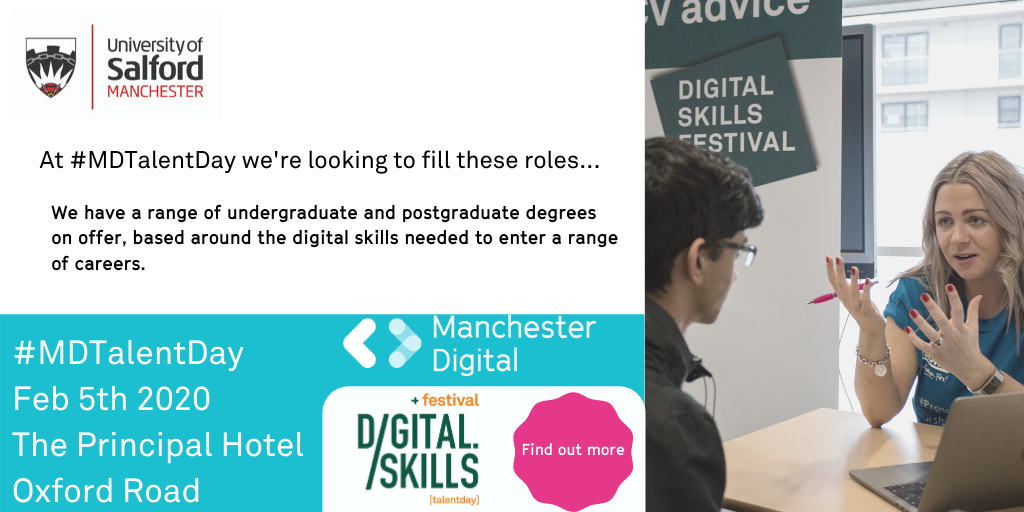 The University of Salford provides a range of undergraduate and postgraduate degrees in the digital sector. From Media Production and Digital Marketing, to Cyber Security and Data Analysis, we utilise our close links with industry to prepare our students for a career in a range of a digital-based careers.
Our courses are delivered by academics with extensive experience in their fields, and utilise a host of industry-standard facilities. We are also the only university with a campus at MediaCityUK, one of the country's leading digital hubs.
Head Resourcing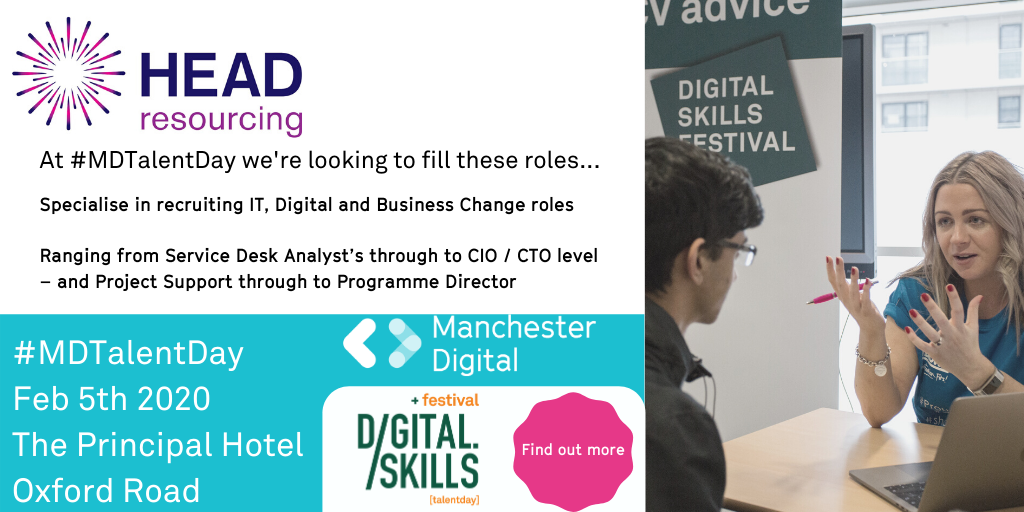 Head Resourcing specialises in the provision of permanent and contract IT, Digital and Business Change recruitment services across the UK. With offices in Manchester, Edinburgh, and Glasgow, we have been working as a preferred recruitment partner for many of our clients, across a range of sectors, since 2001.
The Co-operative Bank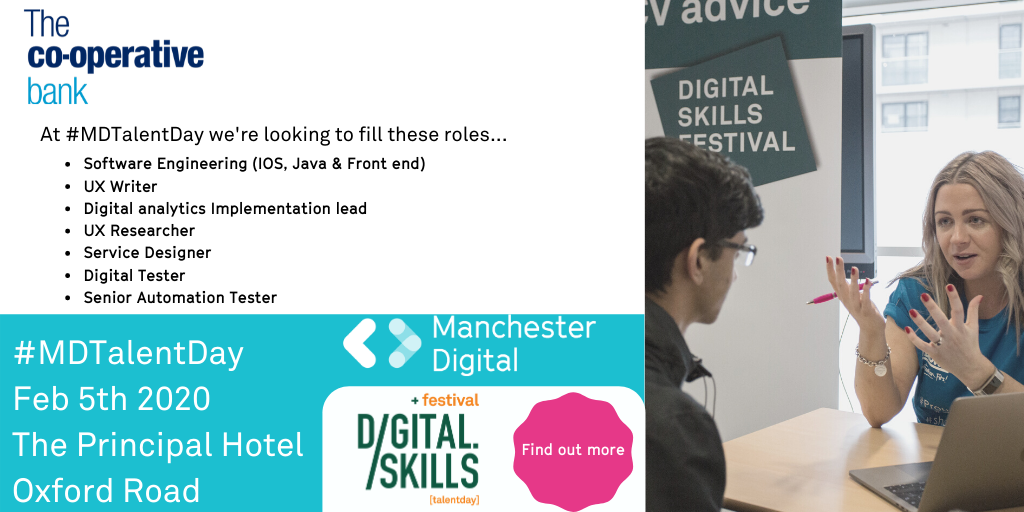 At The Co-operative Bank, we're proud to be the original ethical bank. We are a community of those that get stuck in rather than stand on the side-lines. We are colleagues that fully invest in how we can help our customers. Customers who believe that what works for me can work for us all too. We are co-operatives, credit unions, charities and small businesses whose combined strength builds a stronger economy and a stronger society too. We are the customer views shaping our ethical policy – steering our choices in how and who we bank.
The people that make up The Co-operative Bank have been driven and determined from day one. We are the bank for people with purpose.
EdgeTesting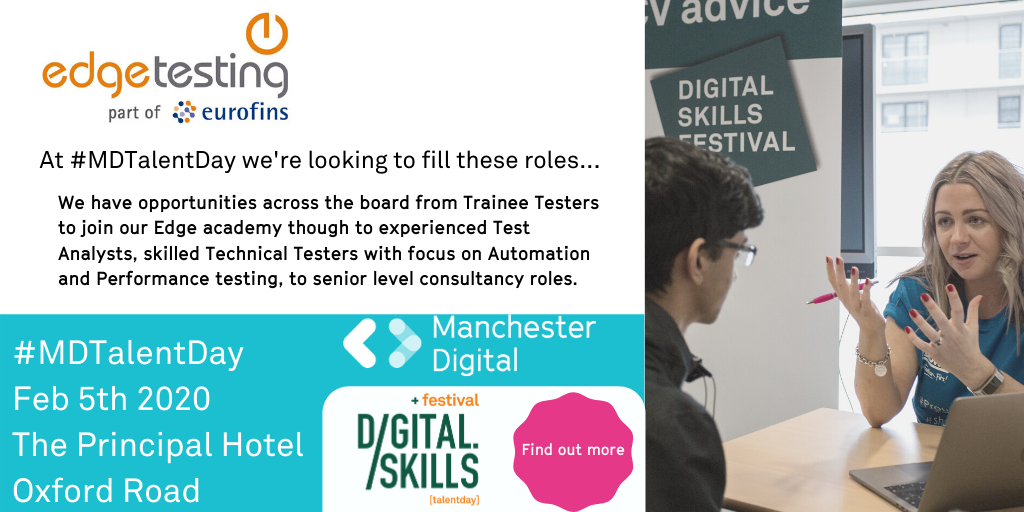 Edge Testing, established in 2007, has grown fast to become the UK's largest independent software testing company. We are proud that our talented workforce, which includes some of the UK's premier testing thought leaders and experts, who help deliver exceptional services to our clients in the financial services, telecommunications and media, utilities, retail and the public sector. Our portfolio also includes our successful Digital Test Hubs and the Edge Academy. It is our broad range of services and the way we do business, that sets us apart from the competition.
Greensill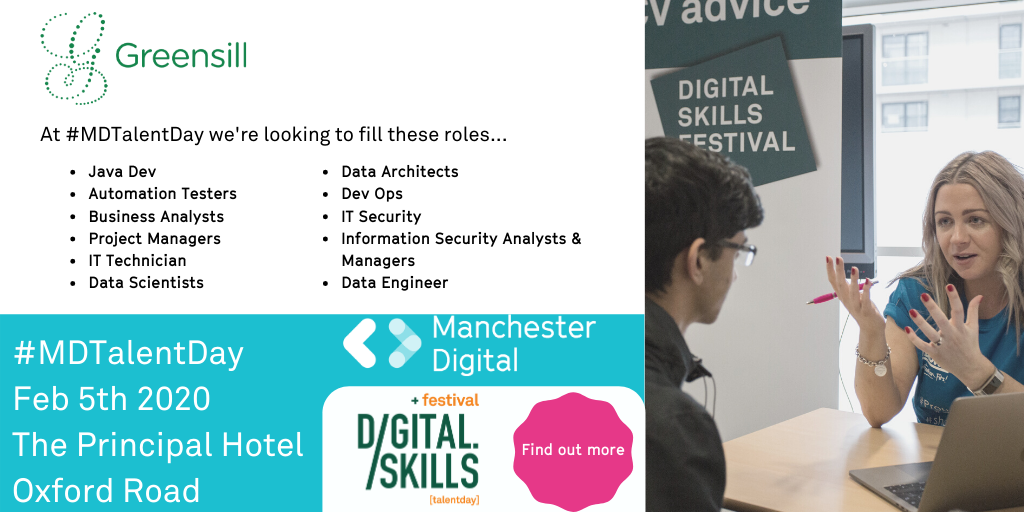 Greensill is the market leading provider of working capital finance. As a world leading fintech, Greensill unlocks capital so the world can put it to work, providing access to capital that is faster, less costly and more efficient than banks. Founded in 2011 by Lex Greensill, a Senior Advisor to the UK Prime Minister and former head of SCF businesses at Citibank and Morgan Stanley, Greensill has grown to nearly 400 industry experts, making it the largest dedicated team of trade finance specialists globally.
To date, Greensill has provided $60 billion in financing to more than 8 million customers in over 165 countries. Equity from SoftBank and General Atlantic has valued the company at $3.5 billion. Greensill uses the power of financial markets to unlock capital on terms that fit the needs of their clients, from 20 days to 20 years and beyond.
Mission: At Greensill, we are changing finance to change the world.
Access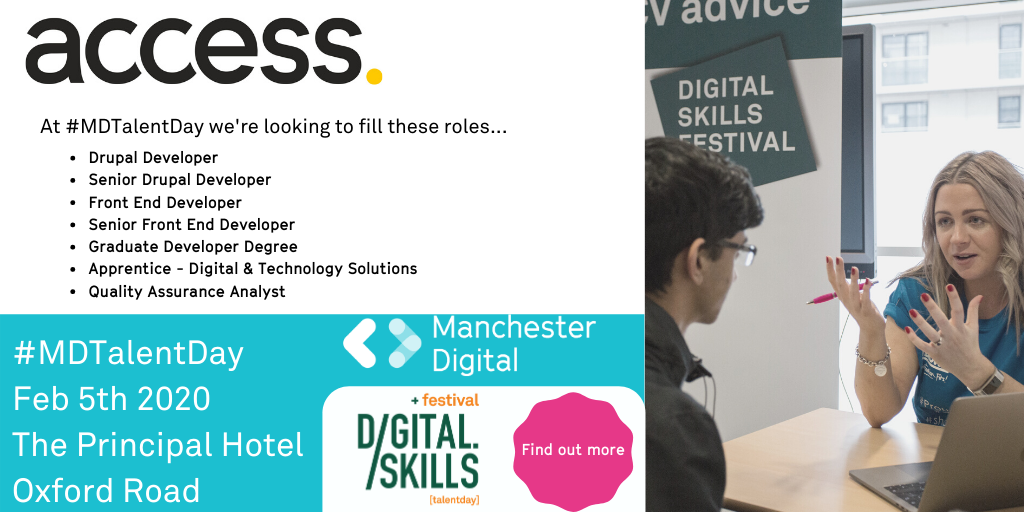 Access is an award-winning fully integrated digital development and marketing communications agency. We help brands and businesses to engage with their customers more effectively through a blend of insights, creativity and technology and for over 20 years we have collaborated with ambitious organisations to create change and deliver results.
Recently announced as one of the Top 50 Integrated Agencies in the North, our core services of Insight & Strategy, Experience & Engagement and Technology & Support, span across online and offline campaign management through to web development and maintenance. We therefore offer our clients the best of both worlds, as well as everything in between.
To keep delivering successful projects to current clients and new, we are seeking ambitious individuals to join our innovative team.
Deloitte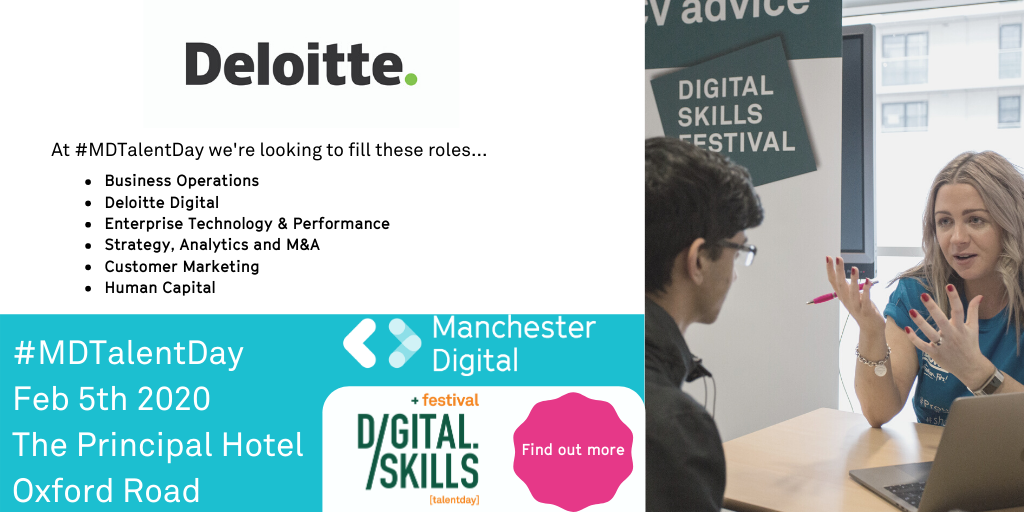 Welcome to the home of the curious. A place for those who know that imagination, ingenuity and solution finding are what humans are made of. We offer life-changing careers and professional qualifications, for those who set no limits on their dreams and ambitions.
Sigma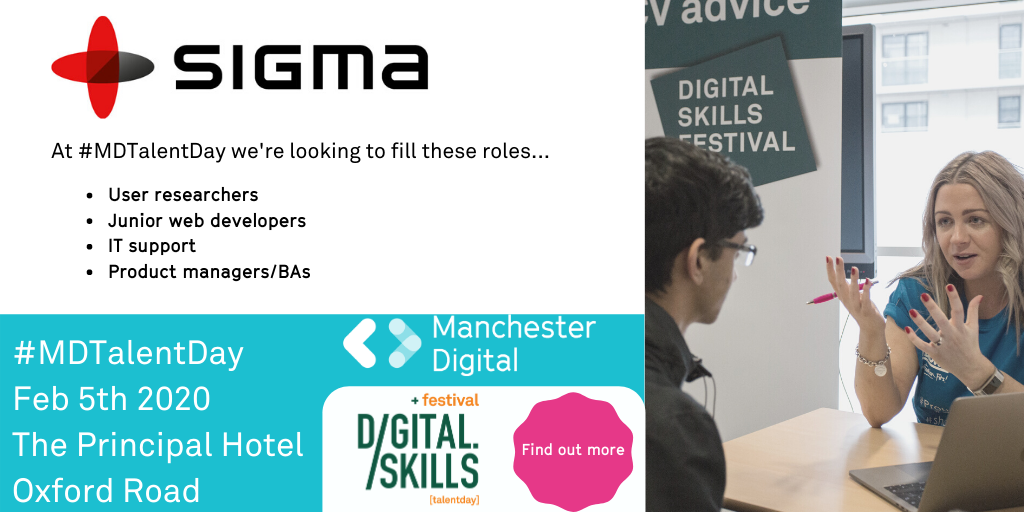 Sigma is a leading specialist in user experience, from research and design to testing, development and optimisation. We take an inclusive approach to improving the usability and accessibility of digital products and services for our clients, including websites, intranets, mobile apps and software. We are part of the Sigma group, a 4500-strong IT services company based in Sweden and with offices throughout the world.
CGA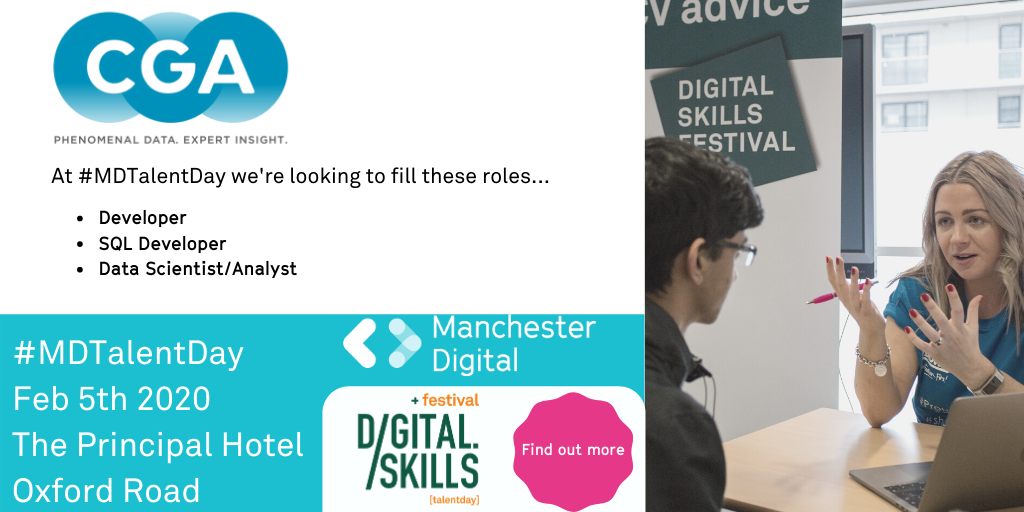 At CGA we work with the world's most renowned drink manufacturers, and some of the world's most iconic brands, to help them benchmark and understand the drivers of their sales performance. As the definitive source of integrated market measurement and consumer insights for the GB, US and French out of home markets (think bars, restaurants, nightclubs, stadiums, festivals and more) we inform a multitude of strategies to support our client's growth. With offices in the UK and the USA, and big growth planned in the US and beyond, it is our vision to be the world's leading business intelligence and strategic consultancy provider for the out of home leisure market. At CGA our mission is clear: To use our phenomenal data and unrivalled industry knowledge to help our clients to be successful in the market that we love.
Department for Work and Pensions (DWP)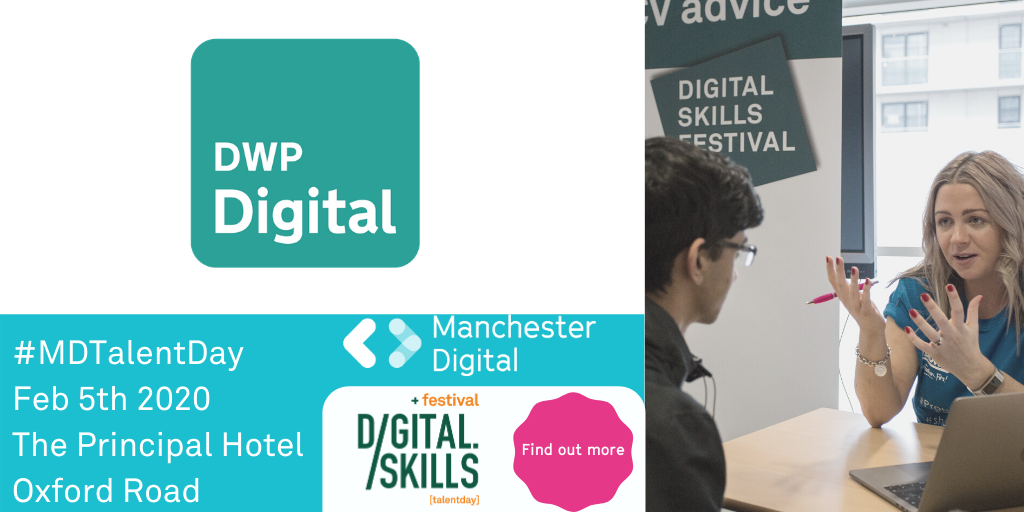 At DWP Digital, we design and develop important services that millions of people count on. We're on an exciting transformation journey to find new ways of combining technology, expertise and innovation to help those who need it most. You'll find a stimulating and fulfilling career with us; one that gives you real work-life balance, challenge, opportunity and room to grow.
ANS Group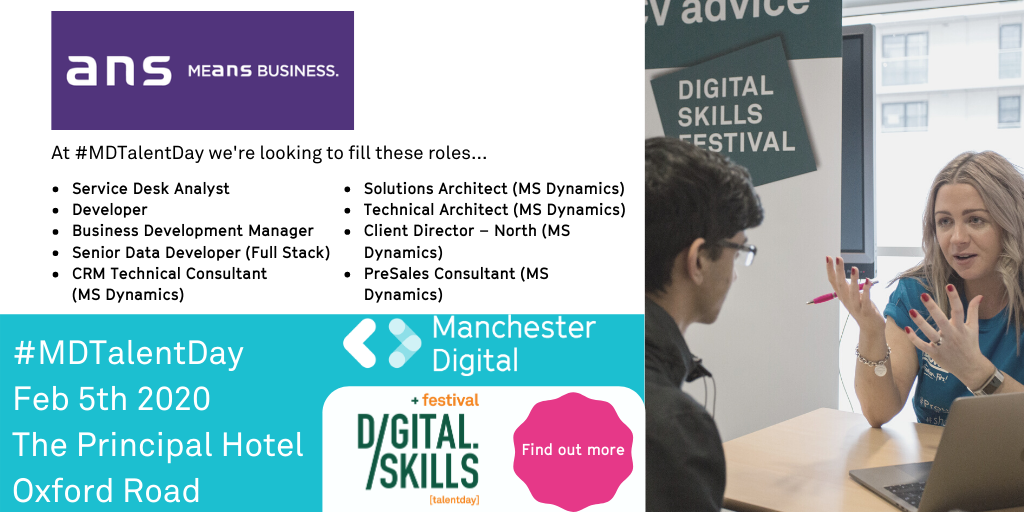 We are ANS. The UK's fastest moving and most innovative digital and cloud experts. We make it our business to push boundaries to help organisations ignite their digital ambitions
Engage Your People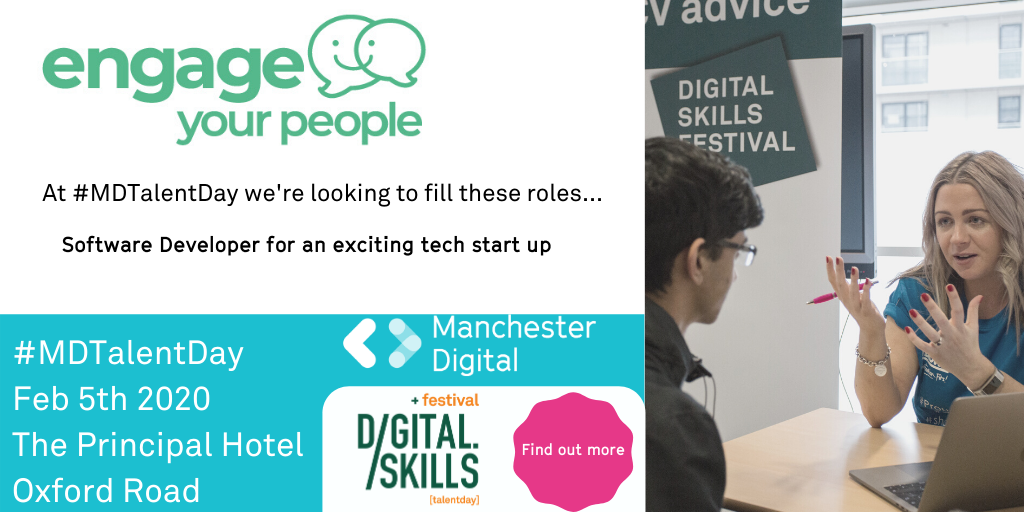 Engage Your People is a software platform that not only delivers data but powerful people analytics and insight, that will assist you to drive change in your organisation and accelerate the performance of your employees.
Through tailored questions and the intelligent use of keywords, a real time sentiment score is generated. This score helps managers to paint a full picture of how employees feel about themselves, their role and the organisation, allowing you to identify employees who may need extra support or be at risk of leaving the organisation.
Car Finance 247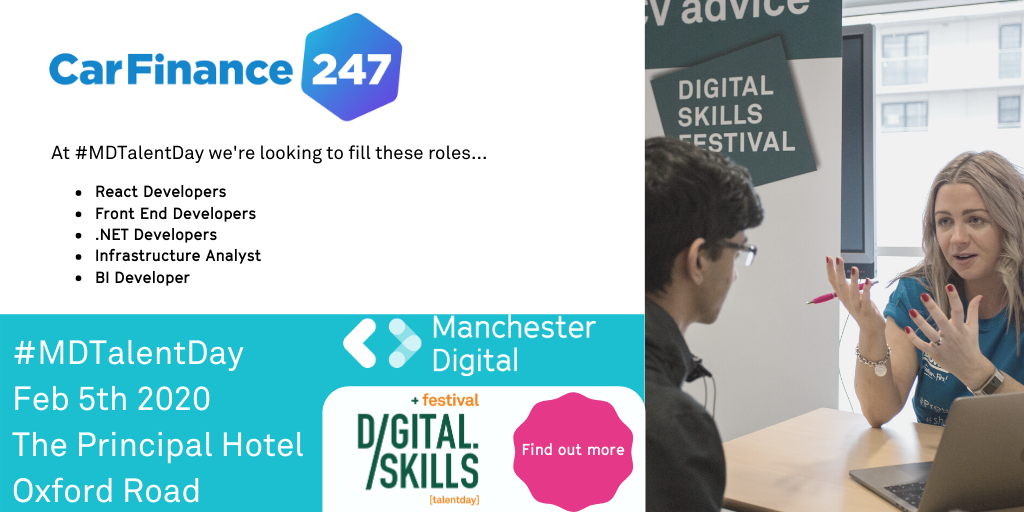 We are CarFinance 247 and we get people the car they really want. It takes a special group of people to do this – exceptional people who want to fast-track their careers and earning potential. Our determination and strong team culture have helped us become the number one online car finance broker in the UK. We're one of the fastest growing privately owned businesses in the country, having ranked in the Sunday Times Fast Track 100 for each of the last four years.
Apadmi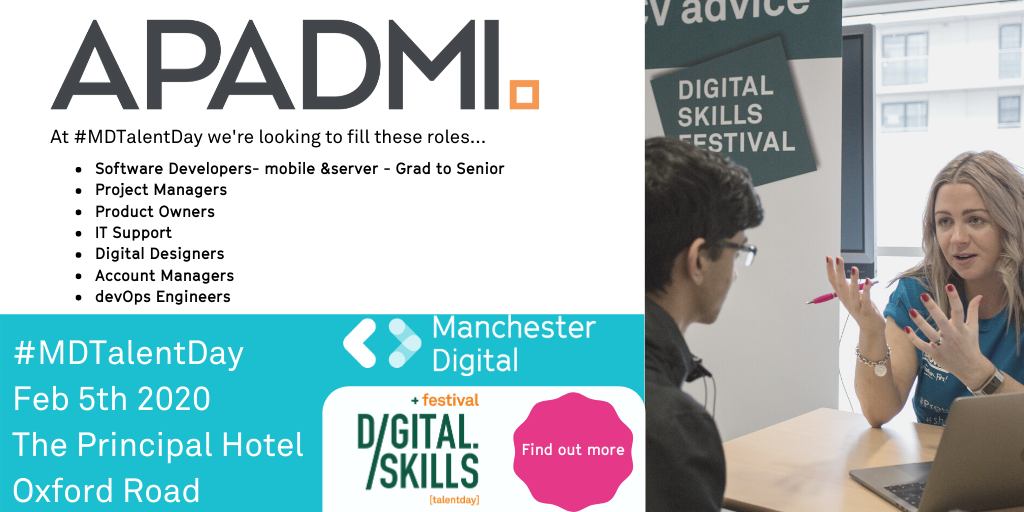 The Apadmi team are experts in the entire mobile ecosystem, working with clients of all sizes to understand how and where to use mobile in their organisation to improve their operations – delivering the complete solutions needed to make it happen.
We're a team of thinkers, developers, designers, UX-ers and inventors who are continuously looking for ways to improve things. Our clients include Argos, United Utilities, the BBC, Co-op, NHS, Guardian, Lexus, Range Rover and SailGP.
CHEP/Brambles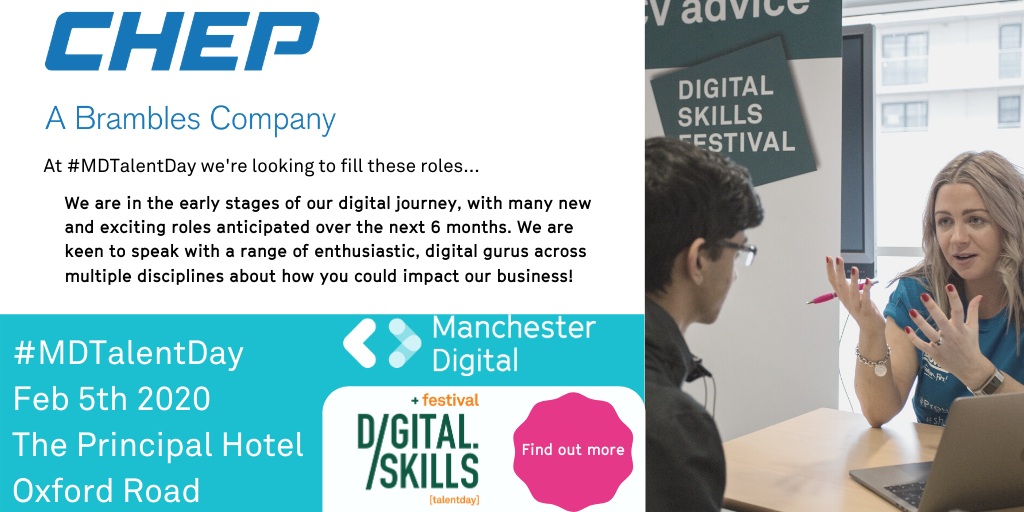 Brambles, including CHEP, help move more goods to more people, in more places than any other organisation on earth. Our 330 million pallets, crates and containers are continuously in motion, forming the invisible backbone of the global supply chain and the world's biggest brands trust us to help them transport their goods more efficiently, sustainably and safely. As pioneers of the sharing economy, Brambles created one of the world's most sustainable logistics businesses through the share and reuse of its platforms under a model known as 'pooling'. Brambles primarily serves the fast-moving consumer goods (e.g. dry food, grocery, and health and personal care), fresh produce, beverage, retail and general manufacturing industries. The Group employs more than 10,000 people and operates in over 60 countries with its largest operations in North America and Western Europe.
Lloyds Banking Group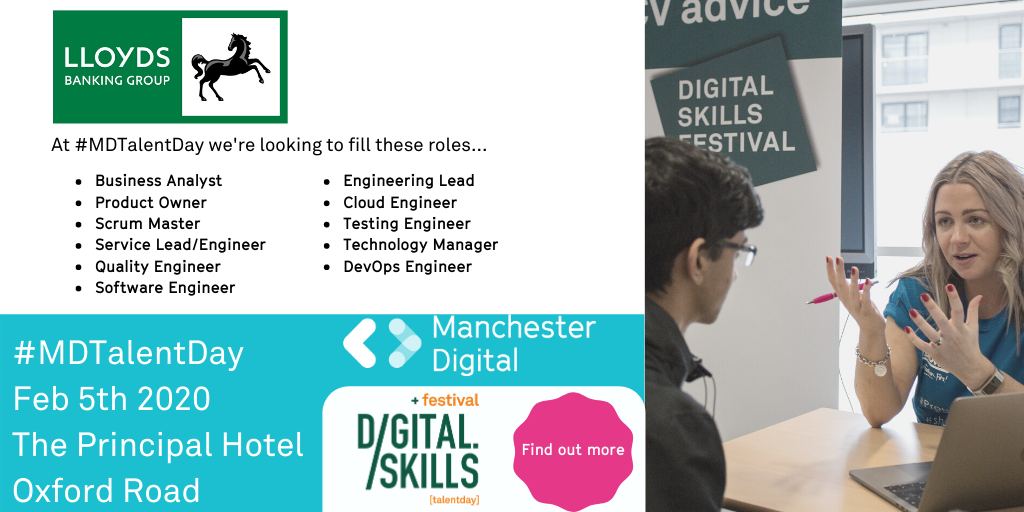 Lloyds Banking Group has been helping Britain prosper for over 320 years, and now that we're re-defining the digital age of financial services, we're creating new digital opportunities to enhance customer experiences for years to come.
As the UK's largest digital bank, we innovate products that help transform customer journeys – making millions of people's lives simpler and better, all over the country, every day.
There's never been a better time to be part of change – help us reinvent the boundaries of banking and we'll invest in your continued development, so you can shape your future career.
Mobica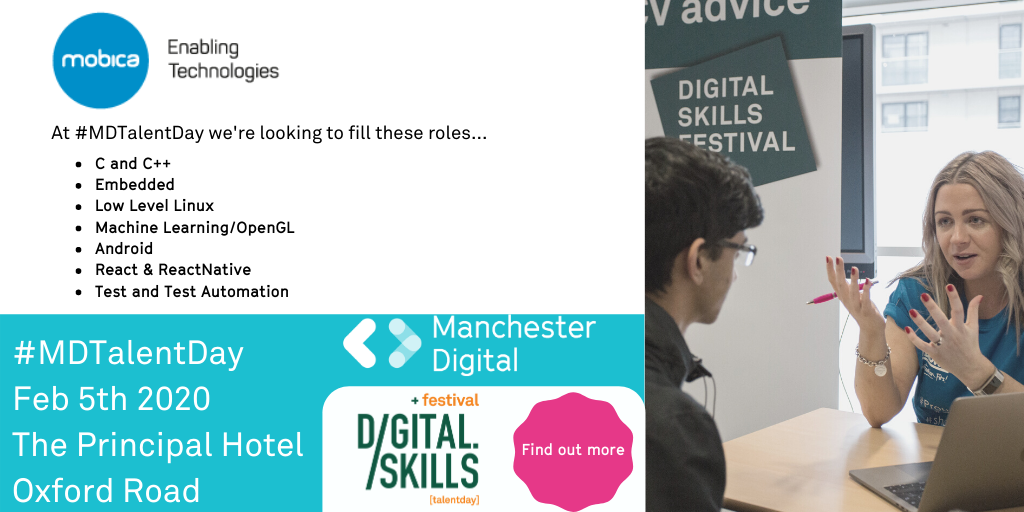 Mobica is a global software services provider, delivering enabling technologies that transform business outcomes. We offer custom software engineering from concept and development, through to testing and integration, across the software stack from chip to cloud. Our teams collaborate with customers to design, develop and test, robust, production ready software. We work as development partners, with top global companies in Automotive, Silicon, Fintech, Media and Telecoms sectors. With R&D sites across UK, US Germany and Poland, we specialise in turning complex business challenges into competitive advantage through our cross-industry experience and our ability to deliver at scale.
Raytheon UK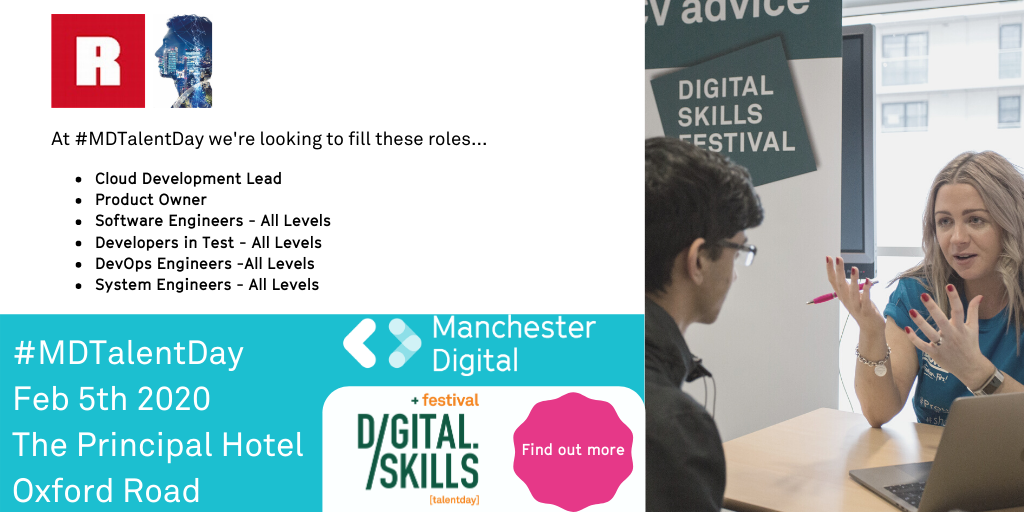 Raytheon has decades of experience in cyber, information operations and information assurance to successfully protect our global customers' critical infrastructure from the most complex threats. Increasing demand for our capabilities has led us to require the building of a new Innovation Centre to support our government, law enforcement and commercial customers. This will create a broad spectrum of new roles to support our customers in developing solutions for cyber security, research and mission support both technical and non-technical.
We are looking for highly motivated individuals who are looking for something different from their career and who are demanding of themselves and others around them to achieve success. Raytheon's ambition is to provide an environment that is more silicon valley than security and defence. We want to encourage individual innovation and progression that is both exciting and rewarding, avoiding the dull 'beige' of the standard information security companies.
If you are looking for a role and a team that will challenge you to achieve success for our customers then providing you have the skills and the ability to achieve Government clearance we want to hear from you today
Intechnica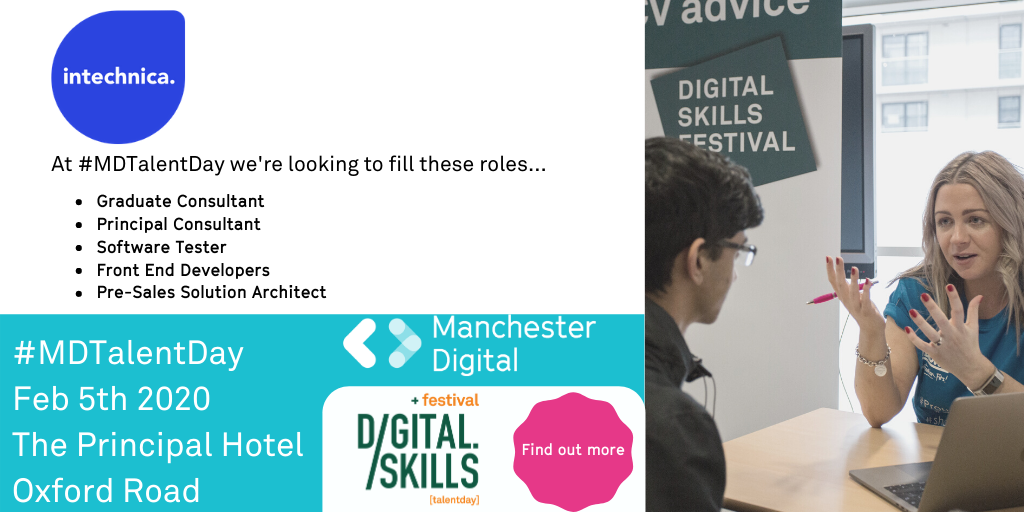 Intechnica was founded by Jeremy Gidlow and Andy Still in 2006 following the creation of the system that successfully sold Glastonbury 2005 tickets.
Intechnica's vision is to make technology make a difference by increasing the value and removing the risks that Technology can bring to a business.
Intechnica developed Netacea – the world's most advanced web traffic management software – a new layer of security dedicated to bot detection and mitigation. After several years as Traffic Defender, the product was re-developed and re-named Netacea, which now has its own dedicated team.
Want to know more about #TalentDay?
Jobseekers, click here.
Interested exhibitors, click here.