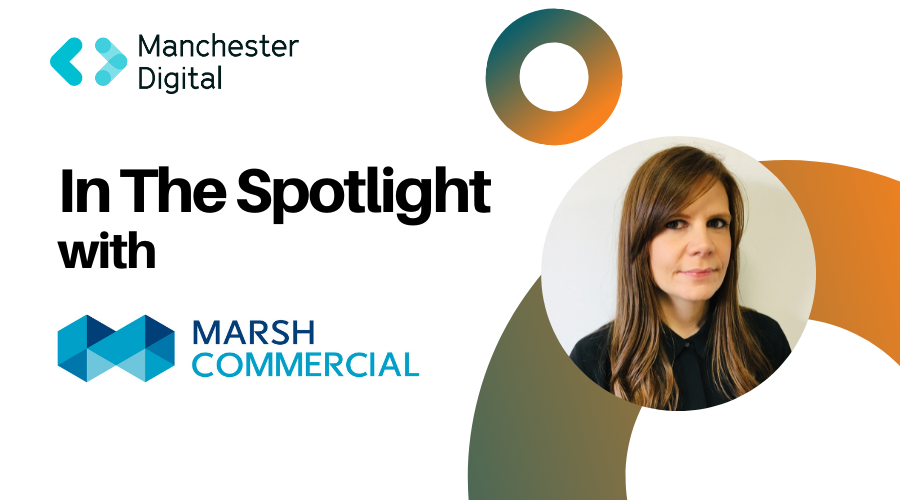 At Manchester Digital we like to interview our members to find out a bit more about what they do and their work in the Greater Manchester digital and technology sphere. This week we're speaking with Fiona Barker, North Region Account Director for Cyber & Technology at Marsh Commercial, one of the UK's leading commercial insurance brokers.
What does your organisation do?
Marsh Commercial is a diverse community of colleagues, serving a diverse community of clients with insurance, risk management and employee health and benefits advice and solutions. We leverage the expertise and access to the broad range of products and services provided by the wider Marsh McLennan Companies for the benefit of our clients - whilst retaining the flair, flexibility and personal service that our clients have come to expect. Whether you need advice on insuring your business risks or protecting your assets and people, we're here to help.
What do you think is currently the biggest issue facing the tech industry?
There is a demand and competition for the best talent in the industry and also retaining that talent is a challenge. In order to further growth and innovation, businesses will need to broaden their search and develop a wider set of capabilities, as the war for tech talent continues.
Failing to recruit and retain tech talent will likely cause companies to lose their edge. By adopting a winning talent strategy they can maintain a powerful advantage. Tech employers are recognizing that in order to attract and retain the best talent, they must enhance and deliver on the employee experience they promise.
In light of new ways of working, an increasingly diverse workforce, new business models, digital transformation and evolving consumer demand, companies must seek to inspire and invigorate people by redesigning their work experience. They must also protect against heightened risks in areas such as misconduct and lack of succession.
What is your organisation's biggest achievement?
CEO of Marsh Commercial, Anthony C Gruppo, "We've really set a strong strategic plan, one that helps our colleagues, clients and community achieve success. One of our biggest achievements is that our colleagues at Marsh commercial truly have a career path that they can see clearly defined and work towards. I think the other thing is building all the technology, and digital components to help clients in the SME market place, to be able to access very innovative and comprehensive insurance programmes through technology and digital base. Our client service portals, and being able to apply digitally in a smaller market, all this is a massive success. All this whilst maintaining our community presence throughout the UK if 45 locations."
What would you consider to be your organisation's biggest challenge?
CEO of Marsh Commercial, Anthony C Gruppo, "The biggest challenge is to continually strive to improve in the area of diversity and inclusion. For me, diversity creates diversity of thought. The more diverse we become the more aligned we are with our clients and our communities. For example, at Marsh Commercial, our leadership, the executive council are now 40% women, and you can see the distinct difference when you see the council in action. So that's something we have to strive for constantly, more people of colour, women in top spots and so on, that's definitely our biggest challenge."
What do you think the future looks like for Manchester's tech sector?
Manchester's tech sector has all the key ingredients to be a leading global tech hub. As a flourishing start-up hotbed, Manchester, is already home to some of the UK's digital unicorns, there are bound to be 'futurecorns.' Not to mention the talent and quality of people coming out of universities – increasing diversity of the number of courses and lower running costs. Manchester was ranked fourth in the UK tech hub investment table, with £163m put into the sector which is fantastic news for the region.
Any future success will rest upon the region's ability to attract and retain the talent needed to support the sector. Its supportive start-up environment means that Manchester feels more collaborative and less competitive than London, with Manchester named as the first 'connected neighbourhood' in Europe. Not to mention large organisations are investing in the area – from Amazon, Vodafone, most recently PWC announced they are launching a tech hub.
Manchester is likely to be the top choice outside of London for job seekers, when only last year Manchester was labelled the fastest-growing tech city in Europe!
Tell us something that we might not know about your company?
Last year during the pandemic we created our very own charitable awards called For the People Awards. We pushed this out to our communities far and wide in search of businesses and individuals who had gone above and beyond helping their communities and charitable causes, in what were very difficult times. We awarded two winners £5,000 each and two highly commended runners up £1,000 each. This year we're re launching for 2021, but we've doubled the prize money. So this year the total pot of prize money is £24,000! We think it's important to recognise the great work that individuals and companies contribute to their community and charities. We also run an internal version of these awards, as we realise our own colleagues do some fantastic support work themselves!
Thank you Fiona!
To find out more about Marsh Commercial, click here.
Want to raise your business's profile? If you're a member, contact thom@manchesterdigital.com to discuss featuring your content on our site, social media or newsletter. If you're not a member, get in touch today to discuss the benefits of membership.