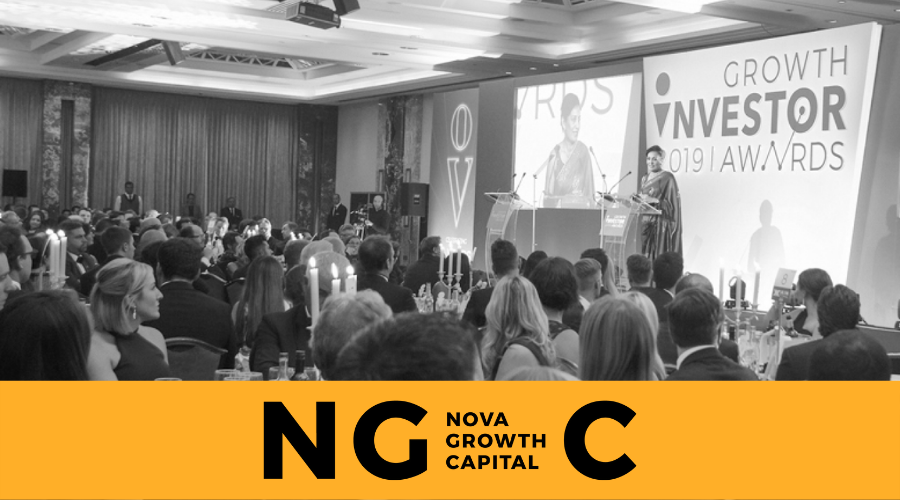 In another challenging year, and with another record-breaking number of award entries, Nova Growth Capital has secured a spot as a finalist in 4 award categories of the 2021 Growth Investor Awards, hosted by Intelligent Partnership. Now in their seventh year, the Growth Investor Awards are a key event in the investment industry calendar. The awards celebrate the companies and individuals who go above and beyond to support the UK's growing businesses, and in doing so create jobs, boost economic growth and support innovation.
About the awards
Best New Product or Service
Sponsored by Mainspring Fund Services, the Best New Product or Service award is open to any growth investment provider that has introduced an innovative new product or service to the market since 6th April 2019. The judges will assess the overall impact of the innovation based on its impact on funding volumes, value for investee companies, challenges overcome, customer feedback, and business growth impact. Nova Growth Capital will compete for the award alongside seven other impressive finalists: 24Haymarket, Haatch Ventures, Octopus Investments, Parkwalk, Puma Investments, SuperSeed and Vauban.
Best SEIS Investment Manager
The Best SEIS Investment Manager award celebrates leading companies specialising in Seed Enterprise Investment Schemes. Nova Growth Capital will compete for the award alongside five other impressive finalists: Jenson Funding Partners, QVentures, RLC Ventures, Symvan Capital and Worth Capital.
Industry Game Changer
Sponsored by MICAP, the Industry Game Changer Award award is open to any individual, company, product or platform provider that has demonstrably changed practice, perception or engagement in the tax-efficient investment industry. Nova Growth Capital will compete for the award alongside four other impressive finalists: Deepbridge Capital, Downing Ventures, PensionBee and Praetura Ventures.
Most Valuable Player
The Most Valuable Player award recognises the individual within their own organisation that they believe has gone 'above and beyond' with their efforts to support clients, colleagues or portfolios since 6th April 2020. The judges will assess the contribution based on supporting evidence provided by the nominee, and on overall impact. Olivia Greenberg, Chief Growth Officer of Nova Growth Capital will compete for the award alongside two other impressive finalists: Matt Currie of Seneca Partners and Dr Savvas Neophytou of Deepbridge Capital.
This year the Growth Investor Awards are being brought back as a live and in-person black-tie awards ceremony at the prestigious London Hilton Park Lane. Taking place on the evening of Thursday November 4, 2021, the awards present an ideal opportunity to catch up with old contacts, make new ones, and acknowledge the ongoing excellence and resilience of the industry at one of the most important moments in its history.
Commenting on the announcement, Nova Growth Capital CEO, Andy Davidson ''I'm delighted that the Nova team are continuing to gain recognition within the growth investment community. Nova's Venture Building investment model is genuinely innovative and disruptive, and while neither of these terms is frequently embraced within financial services, it is clear to see that the model is working. Nova continues to cofound companies alongside great founders, building scalable technology businesses, investing early and winning big. Well done to the whole team!''
Commenting on the 2021 Growth Investor Awards, Guy Tolhurst, Managing Director of Intelligent Partnership, said: "We're thrilled to be able to once again welcome our finalists in person to thank them for their drive and commitment in the last year. Without the work of the growth investment community, many more companies would have succumbed to the ongoing lockdowns or been unable to engage with the opportunities they have presented.
Guy adds: "This industry is right at the heart of the UK's investment-led recovery and helping the country to develop world-beating businesses, with explosive short-term growth and exciting long-term prospects in the post-Brexit context. The agility and expertise of our growth investors are invaluable assets to our SMEs and we're proud of the part they play in unlocking the success that facilitates the jobs and prosperity that is so important to the wider economy. What better reason to dress up and congratulate such worthy nominees. I think they're all champions and applaud each and every one, but you can be sure that the winners will be the best of the best.
"This year we've seen some very competitive categories and I'm pleased to say that includes our brand new ESG Champion of the Year award and at a time of continuing uncertainty, I couldn't be more impressed by the quality and breadth of what this industry offers to both investors and investees.
Nova Growth Capital deserves hearty congratulations for rising to the top of a very competitive category."
Award submissions will now move to a second round of judging from an independent panel of judges. All scores are collated to determine the winner and runners-up, with all finalists receiving a tailored feedback and benchmarking report offering expert insight about areas for improvement.
For further information, please visit growthinvestorawards.com