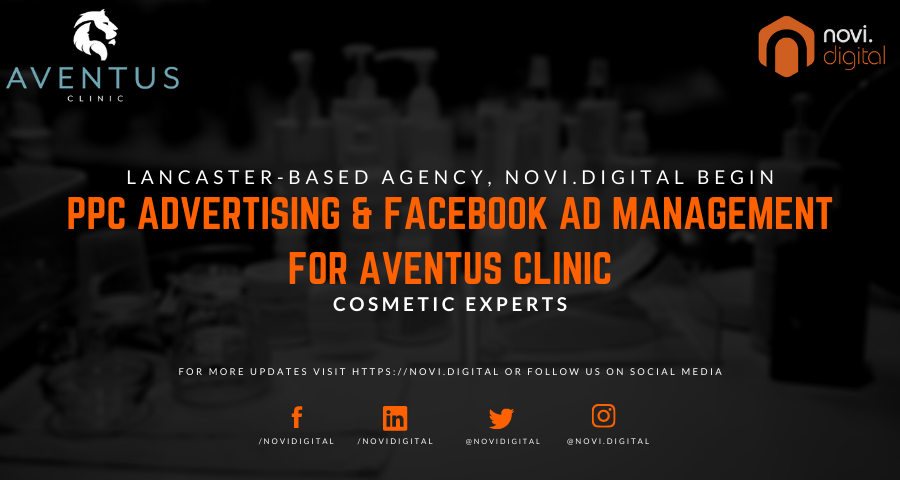 A leader in the field of high-quality hair and skin treatments; Aventus Clinic has chosen novi.digital as their digital marketing supplier following an extensive selection process. Aventus Clinic are providing affordable and exclusive treatments for hair and skin rejuvenation and have chosen novi.digital due to their excellence in digital advertising with proven case studies.
Aventus has joined as a client for both Google Ads and Facebook ads Management, ensuring their exclusive hair treatment services, cosmetic skin treatments and other dermatological services end up in front of the right audience using highly-targeted ad campaigns. By working with the clinic, novi.digital will be utilising their expertise in the field of SEO, PPC and Social Media Advertising to bring Aventus an improved ROI on their digital spend.
Digital Marketing Consultant Mike Kilburn said: "We're really excited to be working with Aventus on this new project. We think there is a great opportunity to help people restore their confidence through the services provided by Aventus. novi.digital are a great fit for Aventus Clinic in this regard, and we are positive that the combined reach of a unified Google Ads and Facebook campaign can achieve their goals and our KPIs. We will ensure that services are in front of people who need them the most.
Aventus clinics are just one of recent signings for novi.digital, with AIS Eurelo and BBP Solicitors recently joining the agency's rank. novi.digital are also shortlisted in amongst the top digital marketing agencies worldwide by the European Search Awards.
novi.digital has an ambitious aim of achieving an ROI of between 500% and 1000% on spend within the first 12-months, a particularly lofty aim in the current climate.
To find out more about novi.digital's services and for all PR enquiries, contact Ethan Giles over email via hello@novi.digital, or ask for him by calling the Lancaster office on 0800 955 6684.