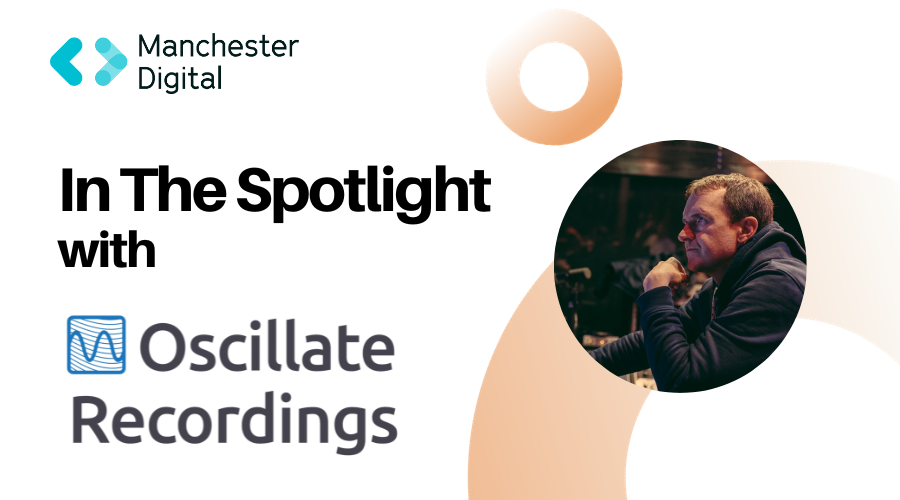 At Manchester Digital, we like to interview our members to find out a bit more about what they do and their work in the Greater Manchester digital and technology sphere. This week we're speaking with Chris Hughes from Oscillate Recordings.
You've worked with some major corporate brands and TV/Film companies - what type of audio projects with them have been most rewarding for your studio?
I've recorded advert dialogue for some major brands, such as BrewDog, Giffgaff, Aldi, Lidl, Boohoo, Avanti, Scotts Menswear, Arla Foods and for major TV companies Dreamworks, Netflix, and Disney+. I've also recorded podcasts for The Guardian and the NHS.
However, one of my most rewarding recent projects was working with Manchester-based sync music company, Wavze, on behalf of The British Basketball League for their "Unbeatable" campaign. The project meant I recorded and mixed the signature tune for the brand.
Wavze had the raw backing music for the project and brought in two Manchester artists, Lady Ice and Omo 9K, to the studio to record their vocals onto the track. The whole process was filmed at the larger studio in Knutsford (near Manchester Airport) for a fly-on-the-wall YouTube and Instagram campaign.
After recording the artists, I worked with Wavze, perfecting the mix, balancing the voices with the music, extending and chopping parts to ensure the client British Basketball League was happy with the overall music.
The track which is called "Unbeatable" is now used for every game during the team introductions, and breaks. It is also used on Sky Sports during the live coverage and the BBL used the track for their official trailer and gained almost a million views in their first month on You Tube.
https://www.youtube.com/watch?v=vdVcGQv9lRM
Can you share a bit about how you approach creating bespoke music tailored to a brand and the benefits?
Essentially, the music must fit the brand that we are writing for. Every business or brand has different needs, and the music can make a product edgy, exciting or to the other extreme where it provides heartfelt emotion bringing the listener to tears.
I have written and recorded a wide range of music whether it's for corporate podcasts to children's music, such as the Bloom Baby franchise, through to the Royal Society of Chemistry, or corporate adverts such as Nike.
So each time, thorough prep work and a full briefing with the client is essential as we need to know what the brand is about and what the ad campaign is looking to achieve.
Also additionally, depending on the budget, I ask whether the client needs session musicians, vocalists, or even a video shoot in the studio for the project.
Usually, the bespoke piece of music will be written and edited specifically for adverts, social media, such as Instagram or TikTok, or marketing campaigns.
As a producer, and multi-instrumentalist, I then write the music, often to the video/advert visuals, if the client has them, and write relevant lyrics. I would have regular meetings with the client after the first draft to make sure the music is tailored to the exact needs of the campaign. In the Royal Society of Chemistry campaign they wanted something a little edgy to entice younger people to the subject. I also made the music fit the existing visuals by slowing and filtering the music to fit the diver plunging into the ocean in the middle of the trailer.
https://www.youtube.com/watch?v=k_34JsCUrYA
Another great example of the ongoing work I've done is with the global baby class franchise Bloom Baby. I went along to one of the classes, and then created a whole bespoke album of baby music, where I wrote, recorded and played all the instruments, using session vocalists. Each song has a specific theme, which allows the class instructor to guide the parent and baby through the actions and sing along, for improving the baby's physical and mental development. I've now done two full albums and a couple of singles, with more to come.
https://open.spotify.com/album/0zqb3mYkDrmBzo57CHqoA5
What emerging audio technologies or trends excite you most right now?
Source Connect Pro is one of the great technologies we use. This enables us to record in the Manchester studio and send the audio in real time at full broadcast quality to any other studio in the world. The software also allows us to sync up and control the session at both studios so I can set up cue points for when the recording artists need to sync their dialogue to film.
This means that a lot of TV or film studios will work with us if their actor or voiceover artist happens to be in Manchester. It's a lot more efficient timewise to send them to a high quality partner studio when they need additional audio recordings at the production and editing stage.
This was particularly useful when I recorded the ADR (Automated Dialogue Replacement) for the character of Slappy by the actor Chris Geere for the Disney + series Goosebumps. Here we replaced the guide dialogue with studio quality recorded dialogue in our studio. The producers in the LA studio can direct the talent in our vocal booth in real time. We can also share the film as well, so the producers in LA can show the video from their studio so we can pick it up and link it up at ours.
This tech can be used for linking up Zoom or even WhatApp calls so we can record in real time studio interviews or podcasts from clients overseas straight to our studios in Manchester.
For companies new to adding audio content, what best practices would you advise them on?
Always ensure that the music is the best quality it can be. Remember that what we are creating is an audio brand for your company. So if it doesn't sound good or is the wrong style of music then this isn't going to portray your company well. It's the equivalent of using a cheap generic website or low res pics or videos. Dynamic, cutting edge integrated music with any marketing campaign or TV advert is always going to give your company the "Wow" factor and give you the edge over competitors not doing this.
I would also advise that podcasts are recorded properly too. Recording them in an echoey kitchen or office off your laptop mic isn't going to cut it when compared to one recorded on high quality microphones in a sound-treated room.
Podcasts also need to be properly edited and we have the mixing software to remove room echo, background noises, tame sharp voices, balance properly and take out mistakes. These all need to be done for any recording to engage the listener with your product.
Where do you see the most potential for collaborations with other community members?
The work I do at the studio is eclectic and always varied. During my 20 years of being a producer and sound engineer I've written, recorded, mixed and mastered all different types of music and worked with many different corporate clients.
I often work with advertising and marketing agencies to create music tracks for their client's brand or write and record bespoke music for an advertising campaign. There's also some amazing TV, film and animation companies in Manchester that I offer complementary services around, such as ADR or foley and sound effects.
It's not just corporate work - I also work with a lot of musicians and bands, recording singles or full albums. I have also worked with lots of personal projects – for example, people who have always wanted to record their own albums in a professional setting.
Thank you Chris!
To find out more about Oscillate Recordings click here.