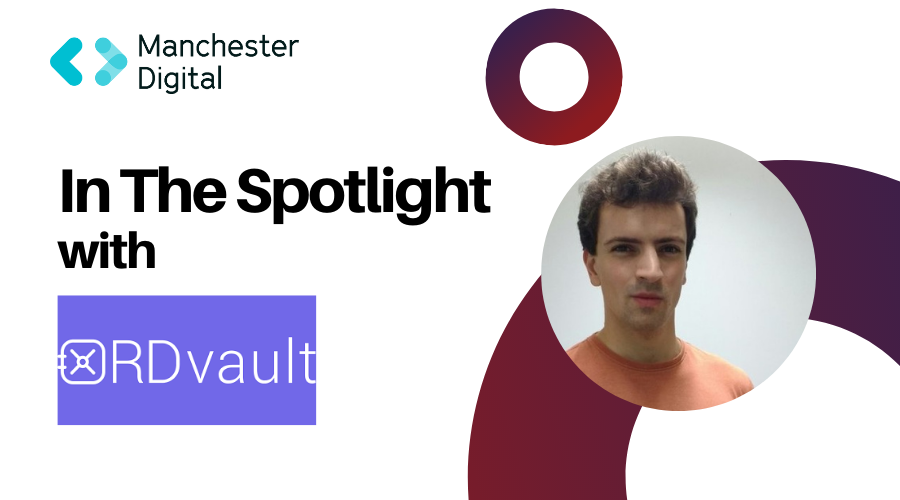 At Manchester Digital we like to interview our members to find out a bit more about what they do and their work in the Greater Manchester digital and technology sphere. This week we're speaking with Antony Pannuto, Client Director at R&D Tax Relief service RDvault.
What does your organisation do?
We stop silly costs happening on R&D tax relief claims by charging no more than £2k for claims up to £100,000 in value!
It's a massive win for clients, and proven by the fact we're fast becoming the No.1 Rated TrustPilot service for R&D tax relief claims.
Get excellent service without the premium is our motto!
What do you think is currently the biggest issue facing the digital and tech industry?
Definitely a skills shortage in tech – we're a tech based platform and recruiting developers can be a challenge when taking our solution to the next level on the timeframes we originally set out.
More long-term, I think there will be digital-sales tax that will impact some sectors in digital more than others, as Covid has exacerbated the decline of the town centre, and there's a lot of lost business rates revenue to the Government happening.
What is your organisation's biggest achievement?
Where do we start?! How about:
Attracting over 550+ companies onto our platform in 3 years!
Never losing a company to a competitor!
Never letting a single client down!
Recruiting during Covid!
What would you consider to be your organisation's biggest challenge?
We're in a new stage of growth at RDvault, and the challenge now is technical growth of the platform – we want to do so much more on our platform, but this ties into the UK based skills shortage in tech that we're facing.
The biggest challenge is finding the resources to match our tech-dev pipeline in 2022 without a doubt.
What do you think the future looks like for Manchester's digital and tech sector?
It's grown so strong, it's going to stay – but the question is where does its ceiling lie. I cannot predict how long the growth will happen, but if I was a betting man, Covid has made us realise London does not have to be the be-and-end all, so I'd say growth of businesses relocating to Manchester still.
Tell us something we might not know about your company?
Although Manchester is our home, we have staff across the country working full-time, meaning we truly are the epitome of remote work!
Thank you Antony!
To find out more about RDvault, click here.
Want to raise your business's profile? If you're a member, contact thom@manchesterdigital.com to discuss featuring your content on our site, social media or newsletter. If you're not a member, get in touch today to discuss the benefits of membership.