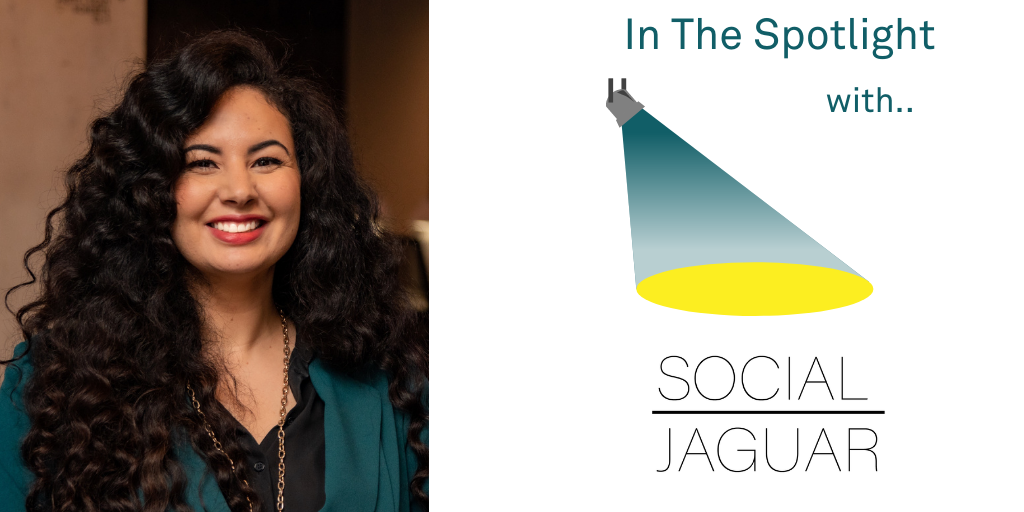 At Manchester Digital we like to interview our members to find out a bit more about what they do and their work in the Greater Manchester digital and technology sphere. This week we're speaking with Rasha El-Shirbini, founder of Social Jaguar. Rasha is also Marketing Director at Qalhata Technologies where they specialise in Data Analysis, Cyber Security and RPA. Rasha holds over 12 years of experience marketing across Retail, Technology, FMCG, Financial sectors.
What does your organisation do?
Social Jaguar is a start up marketing strategy and communications consultancy, born in a 'new normal', specialising in the retail, tech and creative sectors. My aim is to empower clients in this marketing jungle! I find a path through the noise with the use of technology, data and human understanding. All to help my clients reach those 'ah ha!' moments and create effective campaigns.
Businesses are pivoting in the current climate to stay competitive and want to remain 'front of mind' for their customers. I understand this, and work with marketing directors, business leaders and agencies, to develop clear strategies and creative marketing solutions so that they remain ahead. As a trusted partner, I provide insights to help shape creative campaigns, ensuring our clients hold powerful knowledge about their audiences so they can continue to build strong relationships with their customers.
What do you think is currently the biggest issue facing the tech industry?
I honestly believe that privacy and ethics are the most important issues facing the tech sector (and society as a whole). There is a need for digitalisation more than ever and it is increasing at a relatively exponential rate. The tech sector however, has already been navigating sensitive arguments such as the balance between privacy, and knowing too much, to better serve a customer.
Conversations such as these, will intensify as society adjusts. For example, Google announced that for 2022, there will be a stop of third party cookies from tracking users across the internet. The idea being that, they replace these with what they term as trust tokens instead. Other browser providers are also looking to go this way.
Apart from having to review privacy policies affected, a consequence of the aforementioned change, means that new and innovative digital marketing strategies will need to be put in place before this happens. It is thus clear why having a strategic marketing partner (like Social Jaguar for instance) would help to ensure a swift and seamless shift.
What is your organisation's biggest achievement?
Social Jaguar is still quite new on the scene but I am very proud of the work we have conducted for our digital clients lately, mainly in the legal and tech sectors. This involved providing key insights into their audiences as well as helping them plan a road map to drive traffic to their sites. Another larger project we are stoked about, is a project for an Italian luxury brand with plans of diversifying into the Arabian market. We provided valuable customer insights and a phased marketing plan to execute the expansion. Watch this space as we push for even bigger achievements.
What would you consider to be your organisation's biggest challenge?
Our biggest challenge is most likely shared with many others, we do miss being able to meet clients and socialise in person as well as attend events. Also, as a start up, we are still refining our offering and working hard to get clients the services they need from us. For example, we are executing social media projects for some clients and strategies about breaking into new markets for others.
The dream is to become a larger but agile agency with a strong back bone in strategy, data and technology ready to help our clients transition into the "Blade Runner" future ahead of us. For now though, I am embracing being boutique and unique with Social Jaguar and excited for the journey ahead.
What do you think the future looks like for Manchester's tech sector?
Very bright, I think the City of Manchester has made many strategic choices to ensure it succeeds within the tech sector. Recently, Manchester was announced as Europe's fastest growing tech hub, drawing in over £500m in venture capital funding last year, putting it ahead of Cambridge. My oracles suggest things can only be upward and forward. Afterall, with a rich maritime history, Manchester is quite adept at adjusting her Sails to suit the winds.
Tell us something that we might not know about your company?
As well as offering marketing services and strategy, we also provide eye tracking insights (Jaguar Eye Q) to help clients understand their audiences on a deeper level. The process removes some of the subjectivity of judging creative concepts and designs. Helping clients tap into the customer's subconscious by assessing which design drew their visual attentional resources more often. We do this with live focus groups and also for a speedier service, we offer AI solutions that predict which creative visual will have the most impact. Recently our work and research revolves around determining if a customer has an emotional reaction to the media they see in front of them. Imagine if you could be sure the digital advert you have created was going to get you a higher click through rate? This is where we marry technology, creativity and insight for our clients.
Thank you Rasha!
Want to raise your business's profile? If you're a member, contact thom@manchesterdigital.com to discuss featuring your content on our site, social media or newsletter. If you're not a member, get in touch today to discuss the benefits of membership.