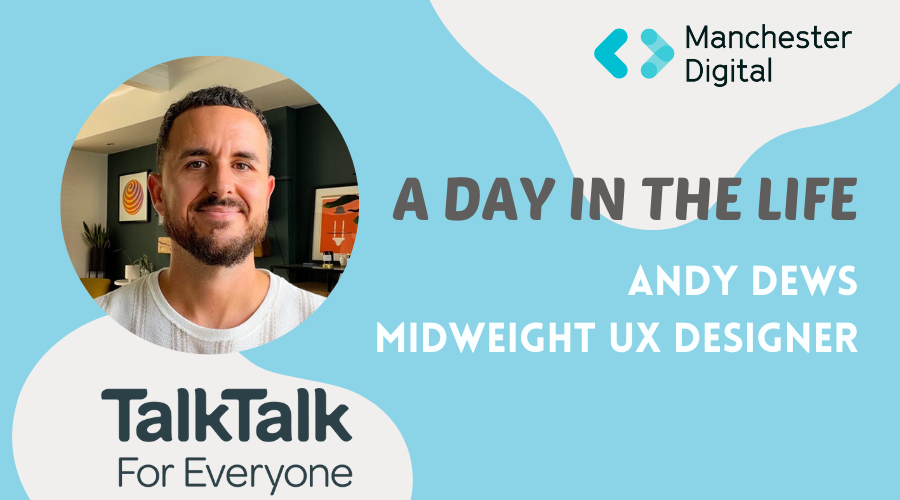 A Day In The Life features Andy Dews, Midweight UX Designer at Talk Talk
Ever wondered what it's like to work at one of Greater Manchester's leading tech employers or what specific job roles get up to each day?
Andy Dews is a Midweight UX Designer at Talk Talk.
We spoke to him to find out more about this role, his experience at Talk Talk and what an average day looks like.
Name: Andy Dews
Company: Talk Talk
Job Title: Midweight UX Designer
Time in role: 4 months
How did you get into your current role?
I studied Graphic Design at Shillington College in Manchester and in 2016 I began my career as a graphic designer. After a few years in the field, I decided to narrow my focus and specialise in user experience (UX) design. Pursuing UX design was the natural next step for me. I have always been passionate about technology and Apple products, and I have a strong understanding of what makes a great user experience.
What do you enjoy most about working at TalkTalk?
I love being part of a team that works closely with other departments to explore and develop new ideas. It's exciting to be part of a company that is always evolving and pushing the boundaries of what's possible.
What does a typical day look like for you?
Every day, I begin by joining a quick meeting with my UX team to catch up on what everyone is working on and how we can support each other. After that, I spend time working on my own projects and checking in with stakeholders to share updates and review designs. I also meet up with the development teams to share feedback on their work and to review designs that are ready to be developed.
What is it like starting a new job post-pandemic?
Starting a new job can be a mix of emotions - nerves, excitement, and hope for what's to come. Joining TalkTalk, post-pandemic, was no different. Though there was a lot to take in during the induction process, it was well-organised and easy to follow. I knew that, with time, I would get the hang of things and be able to contribute more.
What excites you the most about the work?
I find the most fulfilment when my work leads to a positive outcome for both the company and the end-user. It's exciting to see the results of all the research, design and testing that went into a project and knowing that it made a real difference.
Have you learned anything new since you started?
Working at TalkTalk, I've had to learn how to manage my time effectively to keep up with the fast pace of switching from project to project. I'm always looking for ways to improve my workflow and make things more efficient. Recently, I've been paying attention to how one of my colleagues organises and documents projects, and I'm trying to learn from them. Not only will this help me work better, but it will also help new team members understand our past and current projects more easily.