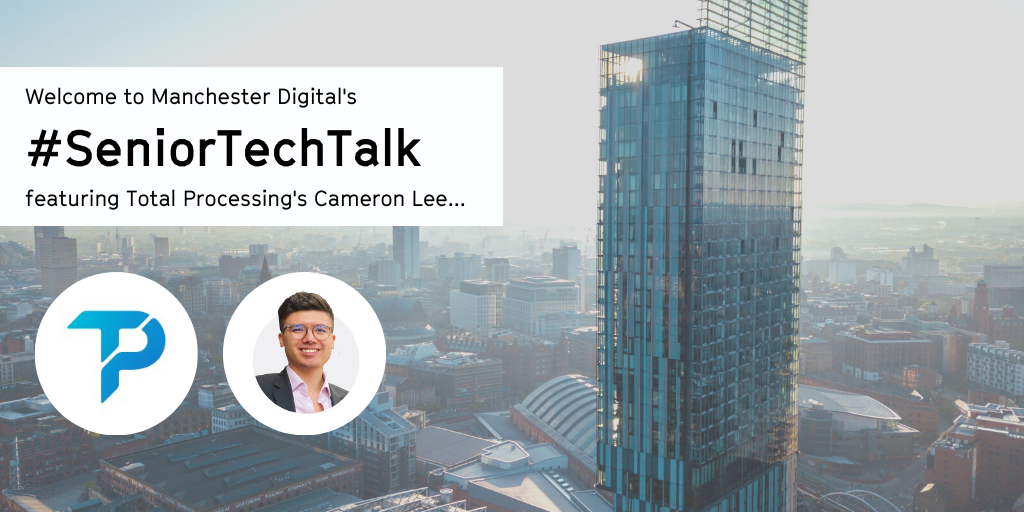 Manchester fintech Total Processing are establishing themselves as industry leaders in the payments sector.
Following a year of phenomenal growth and fresh investments, we caught up with Cameron Lee, one of Total Processing's directors, to find out more about their story so far, plans for future growth and the state of Manchester's thriving fintech sector for our latest #SeniorTechTalk.
Could you please tell us a little bit about Total Processing, your journey so far and the ways in which you are disrupting the payments sector?
Total Processing is a fintech business based in Manchester, but we've now also got offices in Germany, Malta and Dubai. It was established five years ago, but it was really only two and a half years ago where the business really took off. So in that timeframe, we've gone from a handful of people to 50+.
Fundamentally, the business helps merchants take online payments. So to give you an idea, whenever you try and buy something online you get the box that comes up, where you enter your 16 digit card number, CCV number. expiry date etc. We facilitate that piece of software. And we help move money from your bank account when you're shopping online to the businesses.
Now, the market historically had been dominated by really old school players such as WorldPay and Barclaycard, who charged merchants a fortune for their service and had really poor customer service and technology. So if you had any issues at all, you had to speak to 10 different people to get an answer. It was also very expensive and the technology was poor.
Then recently, we saw a shift as newer players came into the market, such as Stripe, Checkout.com and Adyen, who had really great technology and have managed to raise hundreds of millions of pounds from venture capitalists, but because they've got so large and they have to charge a lot of money to service the money that they've raised. Again, they're not very flexible so they can't bespoke any products for customers because they are the size they are. They're also very expensive, and most of them have offshore customer service teams so if you need any help you get a call centre in India or an FAQ page.
So as to where Total Processing fit in, we're somewhere in the middle. We've got really good technology, coupled with really local customer support and technical support teams - as I say about 50 people based in Manchester. Really solid foundations. I suppose we've just grown and started servicing around 2000 customers now, taking payments in some form or another, and in excess of about £2 billion worth of processing a year.
Could you tell us a bit about your role within the business?
I'm one of the directors and shareholders of the business. I predominately look after the strategy and corporate development within the business, so assisting on which direction the business should go in from a company standpoint. Where should we open new offices, which markets should we be targeting, what should we be investing in, what kind of new products should we release - those sorts of things.
I also lead on some of the bigger accounts that we have in terms of customers, and also buying other companies. It's our intention that we acquire a company in the next year or so, so I'm just looking at that workstream at the minute.
From the outside, it certainly looks like the business has been through a period of significant growth over the past 12 months. Would you say that the market conditions brought about by the pandemic have benefited you as a business?
Yes, 100%. We've seen a massive shift from brick and mortar retail to e-commerce, and e-commerce is prevailing hand and fist over brick and mortar retail at the minute because you can't go and shop in person for many things, you have to do it online.
So as a result we saw a lot of our clients see a massive increase in the amount of volume that they're processing. And because we're a transactional business, the more they process, the more successful we become.
Equally, we saw a lot of old school businesses really shift their focus on to online and payments. So, because these older school players have never really taken online seriously, the pandemic has forced them to think in a certain way and we have been in a position to benefit from that as we're facilitating online transactions.
Equally, we've got some clients over in Dubai, who have traditionally only ever taken cash as the predominant payment method, but because of COVID that's now shifted to credit card or online payments.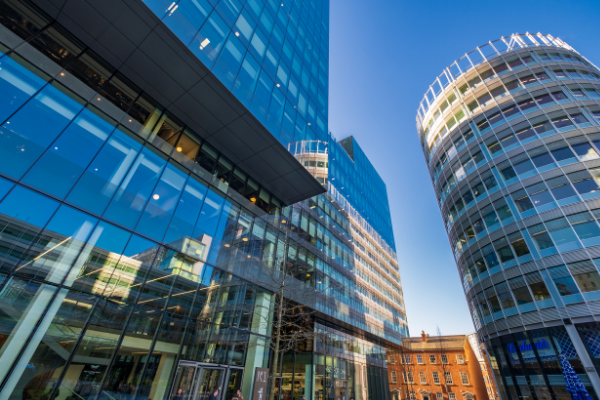 Last year you announced that the business had secured quite significant funding. Could you tell us a bit about what your plans are over the next 12 months in terms of growth?
We plan on growing organically by hiring more people in the UK and expanding out internationally. So in Dubai for example, we've got four people there now full time. We intend to kick off the Germany office as well, as well as looking at some more European satellite offices for us to base sales people out of.
As well, we're looking at some pretty significant acquisitions, so looking at buying other payment businesses and bringing them into the Total Processing group. So that's really exciting.
We'll also be developing some technology that will continue to disrupt the payment space, so open banking, data analysis type products.
What do you think the future of the payment sector is going to look like, and what sort of role do you hope that Total Processing will play in that?
It's a very, very fast paced market and things are changing all the time. We've seen the rise of alternative payment methods such as Klarna come in, and a lot of customers now use that as a payment method when purchasing large items.
I think we'll probably see more alternative payment methods come to light. So for example, Apply Pay is something I always use to purchase things now and we may see further developments like that. Open banking is a big one that we see, and we're quite bullish on. To give you an idea of what open banking is, it's where you are diverted away from the website to your banking app, and then you have to press 'Accept', which prompts a direct bank transfer from your bank account to the business. That's going to be really, really slick. You see it being used by a few people at the minute, but adoption is still lagging behind. But once people realise how quick and easy it is, and also that it's cheaper for merchants, I think that will become a predominant payment method.
Our position is that we want to be on the forefront of all of this. So we've developed a platform that enables ua to accept over 300 alternative payment methods, including the likes of Klarna, PayPal, Apple Pay etc. And we're also developing our own open banking payment solution.
So obviously you started off here in Manchester, what is it about the city that has led to it being home to such a thriving fintech sector?
I think it's the city's ability to connect people together. I think Manchester as a city has always been a challenger to London. And so in order to compete, businesses always come together, whether it's through partnerships, or whether it's just helping each other out to assist growth of the entire region.
We've got partners who are actively referring us work and want to see us become more successful. Equally the entrepreneur community is very open, so if we encounter something that we've not seen before or we're going through growing pains, there's always an entrepreneur who's been there and done it before. They can lend an ear or give us a bit of advice for example on how best to scale in Germany or the pitfalls to watch out for when you're hiring teams remotely. Manchester is a very open and collaborative city.
Fantastic. Finally, is there anything else about Total Processing that you'd like to share that we may not know?
Yes, I'd just like to highlight the fact that we are continuously hiring. I think there's probably five or six active jobs for people in Manchester at the minute ranging from our support teams through to sales through to technology.
We're a really high growth company and we've got some really exciting plans, but we're also developing and creating jobs in Manchester and we're really keen to speak to people and push out our message that we are Total Processing, we're here to stay and we're on a really exciting journey. And as part of that, we need to find the best talent. So we're super keen to hear from people who are interested in working with us and joining us on this journey.
Thank you Cameron!
To find out more about Total Processing, click here.
Want to raise your company's profile?
If your company would like to feature on our website, across our social media and in our newsletter, contact thom@manchesterdigital.com for more information.