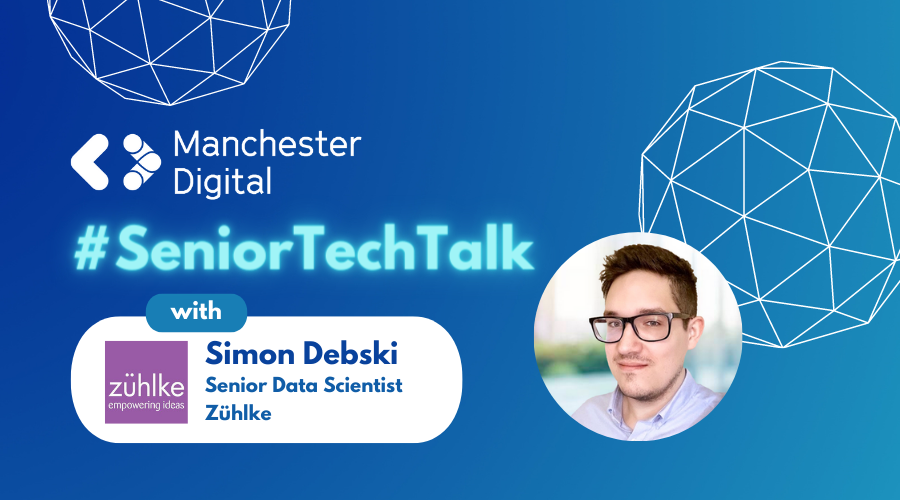 Zühlke are a global innovation service provider who work closely with their clients to bring new and exciting ideas to life.
The Manchester team have worked on many innovative projects over the past few years and become an important player in the city's digital and tech community. To tell us more about the work Zühlke do, their values and some of the projects he's recently been involved with, Senior Data Scientist Simon Debski is joining us for the latest #SeniorTechTalk.
Could you tell us a bit about Zühlke and your goals as an organisation?
Zühlke is a multi-national innovation consultancy that specialises in a range of different solutions, predominantly around IT, engineering and digital consulting. In the UK, there is a particular focus in software engineering and data services.
In terms of what sets us apart, as an innovation consultancy we're always trying to follow the cutting edge solutions. We are always learning and invest 10% of our annual turnover to the learning and development of our staff. Beyond just our own staff, we also host a number of careers events that help members of different communities to get into a career in the IT industry.
Personally, I think what really sets us apart is that the company started as a small family run business in Switzerland. At the point where all of the founders were supposed to retire they had a choice: either sell the business to one of the bigger consultancies, or leave everything in-house by essentially selling to the partners.
Of course, the latter would have been a far less lucrative offer, but the founders decided that as long as the partners would agree to preserve the Zühlke culture and spirit and continue to try to make a difference, that they would sell to them anyway.
Now, when we help our clients, we don't want to just help them by delivering the solution, but we want to make sure that we also deliver on the values that they need.
In terms of some of our other goals as an organisation, sustainability is one of our big strategic goals. As a business we have been net-zero as of last year, and also help our clients with their sustainability offerings.
We're also growing both inside and outside of the UK, tapping into new regions and thinking about how we can empower these local communities. For example, our new Edinburgh office is our hub for people across Scotland, and because we offer remote opportunities we can engage people from the most remote, rural communities to work on really challenging, innovative tech projects which they might not have access to otherwise.
And what is your role within the company?
I'm a Senior Data Scientist based in Manchester.
My main role is to work on various client projects and help them with data and analytical solutions.
Data science is a bit of a hybrid technical, soft skills role, and a big part of my job is stakeholder management - talking to clients and helping them to figure out what the actual solution is that they need.
The first checkpoint is to make sure that we're actually delivering a data solution that works, and more broadly, as a Data Scientist, I help our clients understand how they can best use their data. This could be to inform decision making, or predictive analytics (such as forecasting the demand for the products), or implementing data driven automation (for example self driving cars), etc.
Aside from that, I help build and grow our data capability internally, which varies from generating documentation that our colleagues can use to helping to upskill others as well as myself.
Are there any recent projects that you are particularly proud of that you could share with us?
In terms of some of the projects I've been involved in recently, I was involved in a piece of work we did for one of the largest Swiss telecommunication companies.
We've been helping them to migrate their data warehouse into clouds, which is one of the biggest cloud migrations probably in history - we're talking 70,000 data objects. Given the size of the business this was really impressive.
I was in charge of developing a data solution that allowed us to separate the data saved in various isolated use cases so that we could migrate it in a way that would still allow them to keep the service running.
How important is it to Zühlke to play an active role in Greater Manchester's digital community and is there anything that you've personally got involved with?
It's very important for us to be an active player in helping Greater Manchester's digital community. We actually believe in those values, and would like to help people who want to reskill and enter this industry as much as we can.
We do various things in this area, obviously we do a lot of work with Manchester Digital and were delighted to sponsor the 2022 edition of your Digital Skills Festival. We had a stall there and I was able to run a CV clinic session which was very rewarding. And we can't wait to be back for your 2023 festival.
As well as events, our values are also reflected in our recruitment process. A lot of my colleagues have been hired via the Tech Returners programme, which helps tech professionals back into tech careers if they've had a career break.
Another great example, which I'm very proud of, is that you don't require a degree to be hired by Zühlke. Many of my colleagues attended coding camps, some are sponsored by organisations like Code First Girls.
In terms of some other things I've been personally involved with, I've attended a number of career's events for Lancaster University, and on the back of that I've been invited to take part in a panel around mental health and social mobility where I was able to share my experiences and how those things work out for me in the workplace.
I've also been part of Lancaster University's mentorship programme, mentoring one of their maths students to help them break into data science.
Zühlke will also be the headline sponsors at the first Manchester Tech Festival in October 2022, and we are also actively getting involved in the local meet-up community - I believe the first one is being organised at the moment at the Zühlke Manchester office.
Beyond your day-to-day role as a Data Scientist at Zühlke, are there any other ways that you contribute to the organisation?
In terms of my wider role, there's definitely a big element around building data capability at Zühlke, which includes things like setting out our approaches and strategies for various elements of the capability. For example, right now I'm drafting a white paper on Zühlke's approach to MLOps.
This also involves directly upskilling our own staff, so I do a lot of coaching of more junior data colleagues, as well the coaching and mentoring I do outside of the business.
I'm also a Mental Health First Aider. At the Manchester office, around a third of my colleagues are trained as Mental Health First Aiders, so we are really big on growing that network and ensuring that if somebody needs that service that we are there for them and can support them however we can.
Finally, what advice would you give to somebody considering coming to work at Zühlke?
So one thing that I think we are bad at, is telling everybody how we do things differently at Zühlke.
One thing I think we're not so good at is communicating how actively we live by our values and care for our people.
You could Google some of the larger consultancies out there and you'll find that their values and mission statements are probably very similar.
But what I like to think for Zühlke, is that we not only say those things, but we actually live by those things. I would say that the most important thing if you were considering coming to work for Zühlke is the cultural alignment element, because we deeply believe in what we preach - that everybody should be treated with respect and that all the differences should be celebrated.
You should bring your whole self to work, and things such as mental health issues aren't something to be ashamed of but these are things that should be normalised and supported.
We really, truly care - which is why we do not work with any gambling, tobacco, or military based industries, as we don't believe in supporting those sectors. We're huge advocates for working for good-for-Earth projects such as various decarbonisation initiatives.
For example, we've been part of the government's challenge around facilitating investment into electric vehicle infrastructure and subsequently produced a very successful prototype for.
One of the more notable recent initiatives was where we dedicated a very considerable resource to help facilitate aid for Ukrainians impacted by the war. Zühlke provided end-to-end services on a fully voluntary/charitable basis which included problem definition/ideation, requirement gathering, full UX/UR of the website/communications and web engineering.
Thank you Simon!

To find out more about careers at Zühlke, click here.