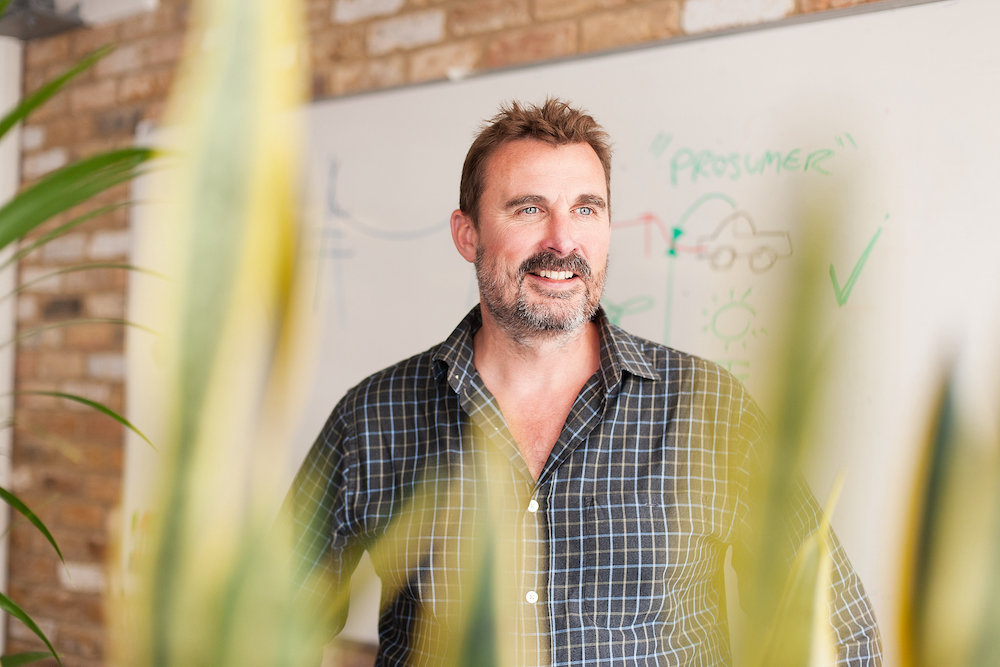 Business Development Director Jonathan is working on projects that epitomise the potential of Zühlke, drawing on a whole range of our capabilities. Working in sustainable energy, he's shaping the future of the business by building our capability and reputation in this future-focused industry.
Jonathan Cook
Director Business Development
What do you do at Zühlke?
I work in business development and I joined Zühlke in our London office in October 2020 with a larger group of people specialising in data-led transformation in large organisations. I've come on board to take that capability and focus on the energy and utilities sector, and the question of sustainability – particularly the decarbonisation of the energy system.
What drew you to Zühlke?
When I joined, I was looking for a very capable engineering organisation. For me, one of the things that I was excited by was that Zühlke's got a capability around mechanical and electrical engineering. That's really important because changing the energy system is a transformation not just of the digital systems, but of the physical systems in the world as well. Having the capability across both ends of that spectrum is important.
Why was this practical capability important to you?
Countries around the world are trying to decarbonise and that means big changes are taking place. It's not just sticking wind turbines up, it's a fundamental redesign of energy systems. The current landscape has energy generated centrally and distributed outwards. The new system is going to be very different. It has energy generated, traded and consumed in the local communities where it's needed. That means you need to help businesses with old models change and become part of the new world. Our involvement is around helping government and existing energy organisations make that shift and also helping new entrants come into the market, innovate and be part of this redesigned system. As it localises you get 'pro-sumers' who both produce and consume energy and that needs to be taken into account in the infrastructure too.
What are you working on in this space?
The UK government has put data on the forefront of its critical path for energy transformation and decarbonisation. That means stakeholders are making their data visible and shareable. But existing systems weren't built for data to be extracted in a standardised way. So we're involved in initiatives to pull this data across the industry together and make it usable. We're demonstrating the art of the possible – the innovative things you can do with data that accelerate the decarbonisation of the energy system.
We've been given R&D funding from the government, and the project we're working on focuses on one aspect of this decarbonisation journey – the transition from the sale of all petrol and diesel vehicles to electric by 2030. If that's going to happen the infrastructure needs to be in place and our project is about using data to accelerate the rollout. It's not just about the charge points – you also need to have localised battery storage and generation capacity. You need to reinforce the local grid to keep up with the transition. To hit the policy agenda, the rate of rollout needs to increase by six times, and our concept is to simplify complexities and help the many different organisations involved to collaborate more easily and effectively.
What does this concept look like in practice?
Our project joins together three main constituencies: investors, electricity companies, and local authorities. We're helping them to share data so investors can know where infrastructure actually needs to be built, and electricity companies incur fewer costs. We speed things up with better, trusted information. When it's all done it's a very simple application, we've just done the hard task of joining it all together. And it involves a cross-functional team of experts in delivery management, business analysis, user research, data science and engineering, with Software Engineers and Architects.
How does the culture at Zühlke support a project like this?
I would say that as a general cultural thing, everybody is interested and excited by doing things at scale. It's a character of person who isn't just interested in doing ordinary things. They're motivated by doing things of consequence. So what you find is that even if people haven't worked in an area before, they've probably been doing some digging or playing around in it. So, it was very easy to form a team of people who were interested and up to speed in this area.
Over and above government R&D funding, one of the big energy giants has provided people to help our project achieve more. Zühlke has also invested, which demonstrates great commitment to the future, to secure more work with interesting engineering, design and business challenges, in topics that people care about themselves.
People can also see the potential of where this could go and how their skill set applies. It hasn't been just in the UK. We've had collaboration from the international business too. It's almost odd. Zühlke was founded in the 60s with this electrical and mechanical engineering capability so it was designed from the get-go to be the right organisation to do this. People in the electricity industry know we've got it.
How does it make you feel working on a project like this?
This is a problem at a national and global scale, and we are working with people who recognise this. You don't get to work on too many moonshot projects, and long after I've retired this will have a lasting benefit on society. It is a dream to be able to look back at your working career, see the impact you've made and say "yeah, I was involved in that".
You don't get to do significant things, without looking back to thank the people who have contributed over the years. It is fantastic that it is Zühlke's phone that rings, when a customer has a problem of scale or strategic importance that needs solving. We are only trusted to solve this generation's biggest needs, because we ourselves are standing on the shoulders of those giants, who have built Zühlke's reputation for trust and capability over the years.
Inspired to join our team? Explore career opportunities at Zühlke.