8 February 2021 13:30 - 17:30
The Digital Skills Festival conference is for industry professionals, education experts and policy makers to discuss and share strategies for tackling the skills issues facing our industry. We'll consider topics such as employment post-COVID; what the tech industry needs to bounce back; growth areas and some emerging industry trends.
We will also be sharing the findings from this year's national Digital Skills Audit, in partnership with the Institute of Coding.
The conference will run virtually and joining instructions will be sent out to all delegates before the event.
Attendance at the Conference is free and open to any digital business or education provider.
13:30
Introduction
Caroline Dinenage MP, Minister of State for Digital and Culture

13:40

National Skills Audit
Martin Bryant - Founder at Big Revolution, Alison Ross - Operations and People Director at Auto Trader & Chair of Manchester Digital, Mel Kanarek - Director of Sheffield Digital, Ben Shorrock - MD of Tech Spark

14:10

Future Working
When lockdown hit and businesses were forced to switch to fully remote working many companies took this opportunity to rethink how they do things. Some decided to quit their offices altogether, citing increases in productivity and better work/life balance for employees, however some early research has shown that as restrictions have continued, productivity in tech firms has started to slow. How will tech companies navigate the future and ensure that their cultures translate to remote and hybrid working? Will more companies hire remotely, from outside the region and will this help the skills shortage? Join this discussion to hear some very different views of what the future of work for the tech sector looks like.

15:00

Break & Networking

15:10
Employee Networks: Empower your people and enhance your company culture
Employee Networks or Employee Resource Groups (ERG) can play a key part in creating an inclusive company culture and an employee experience to be proud of Christos will share insight about creating and developing Employee Networks at Auto Trader for the past four years and how they have added incredible value to the business.
Christos Tsaprounis - People & Culture Lead at AutoTrader
15:40
Future Education
Covid has accelerated the way we educate people by at least a decade. It has also decimated entire industries leaving huge numbers of people without job and a need to reskill. Has Covid changed the way we educate people for the better? Who will upskill and reskill the thousands of people in need? Is it a job for private providers, the state or do universities and colleges need to change the way they offer courses? Research also shows that apprentice and graduate intake numbers have dropped dramatically since Covid-19 hit, how do we encourage employers to still invest in entry level talent and not impact the availability of talent as the country starts to recover?

16:20

BBC Bitesize - educating the nation
Chris Condron - Director of Digital Products at BBC

16:45
Close & Networking
AutoTrader are the headline sponsors of the Digital Skills Festival 2021. musicMagpie, Sync, The ICO, Northcoders, BCS and University of Salford are also sponsoring the five day event. If you would like to join them as sponsors of the Skills Festival, we have a range of opportunities to suit any budget. Please take a look at the packages here: Skills Festival sponsor pack 2021.pdf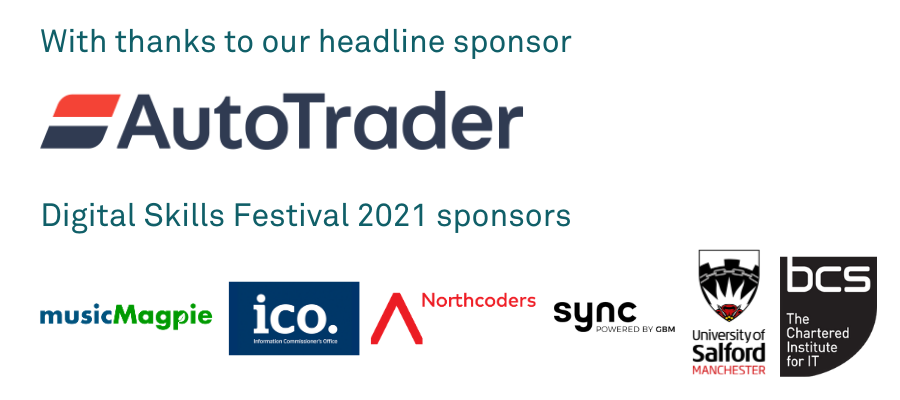 About our Sponsors
Auto Trader
We started life as a magazine in 1977 and we've grown and evolved alongside our customers. In 2013 we became a fully digital business and we're proud of our rich heritage which gives us over 40 years of brand heritage and trust.
As a company our purpose is to drive change together, responsibly. We aim to improve the process of buying and selling vehicles in the UK, by continually evolving the ecosystem to provide a better experience for consumers, retailers and manufacturers alike.
Find out more here.
musicMagpie
We are delighted to be sponsoring the Digital Skills Festival and speaking to some of the best digital talent and rising stars that the North West has to offer. We're looking forward to sharing more about musicMagpie; how we've grown to become a leading recommerce expert under our new mantra 'Smart for You, Smart for the Planet', the exciting projects we're working on and what we have in-store for the future.
Find out more here.

Sync
Sync supports organisations across the UK, aiding in the adoption, deployment, and ongoing use of technology in the workplace. This includes provision of hardware/software/solutions, providing finance solutions, training, tech support, and more. We are qualified to support consumers, businesses, and the public and education sectors.
Find out more here.
Northcoders
We are proud to be part of the Digital Skills Week, to show our continued support to the tech community. We are committed to developing the pipeline of people into the digital ecosystem in the North, with a focus on excellence and driving digital diversity.
Find out more here.
ICO
Working at the ICO is interesting and rewarding. Our technology department has recently been focusing on vital issues such as COVID-19 contact tracing, privacy-preserving machine learning and the design of a safer internet for young people. At any point you could be dealing with hugely influential organisations and playing a crucial role in protecting the public. If you have the skills, the ICO wants to hear from you.
Find out more here.
BCS
BCS, the Chartered Institute for IT.
With an agenda to support and lead the IT industry to make IT good for society. BCS Manchester Branch brings together industry, academics, practitioners and government to share knowledge, promote new thinking, inform the design of new curricula, shape public policy and inform the public.
Find out more here.
University of Salford
We are delighted to be involved with Digital Skills Festival again - it is a key event in Greater Manchester's calendar and sits perfectly with how the University of Salford is rapidly developing as an HE provider. The landscape is changing quickly and to be able to connect with so many employers, employees, and students in one space provides a great opportunity for both our staff and students.
Find out more here.
--------------------------------
Cancellation Policy
By booking a ticket to this event, you agree to our event cancellation policy: https://www.manchesterdigital.com/event-cancellation-policy.
All Manchester Digital events are designed to be inclusive and we adhere to a strict code of conduct which you can view here.
Data Usage Event Policy
By securing a ticket for this event you are consenting to receive information from Manchester Digital regarding the logistics of this event and a follow-up email post-event, we may also need to share any dietary or access requirements you have provided with a 3rd party such as the event caterer or venue. After we have sent your follow up event email we will only hold your data for 1-month during this time we will not share your information or contact you. Keeping your data for a month will only be to explicitly recap on the success of our campaign. After the one month period, the information you have provided will be deleted. If you wish to be contacted regarding other events and services that Manchester Digital produce then you will need to specifically opt into our mailing list here.
Free
8 February 2021
13:30 - 17:30
Online
Sponsored by Auto Trader