This article was originally published on 15 February 2023.
You can read the original article on the 6point6 website here.

---
Having started his career in data engineering and data architecture within the public sector, Larry shares how moving into 6point6 has helped him to realise his passion for finding solutions to complex data problems.
What I do
As a data engineer, my role is primarily focused on sourcing, cleaning and structuring data. This process is about ensuring that the data is high quality, reliable, accessible, and usable for generating valuable insights, which support better business decision making.
Data analyst and data scientist jobs are more commonly understood, but few people know what data engineers do. My role is best explained if we think of data as an organisation's gold currency. As data engineers, we refine the data by filtering out and separating the impurities, to turn it into an asset.
Low-quality data or biased datasets can adversely impact many areas of business performance and lead to the accumulation of data quality debt. This is where inconsistent, incomplete or outdated data can compromise on its reliability and value. That's where I come in – I'd like to think of myself as the data plumber, facilitating the flow of high quality and reliable data between various sources and stakeholders.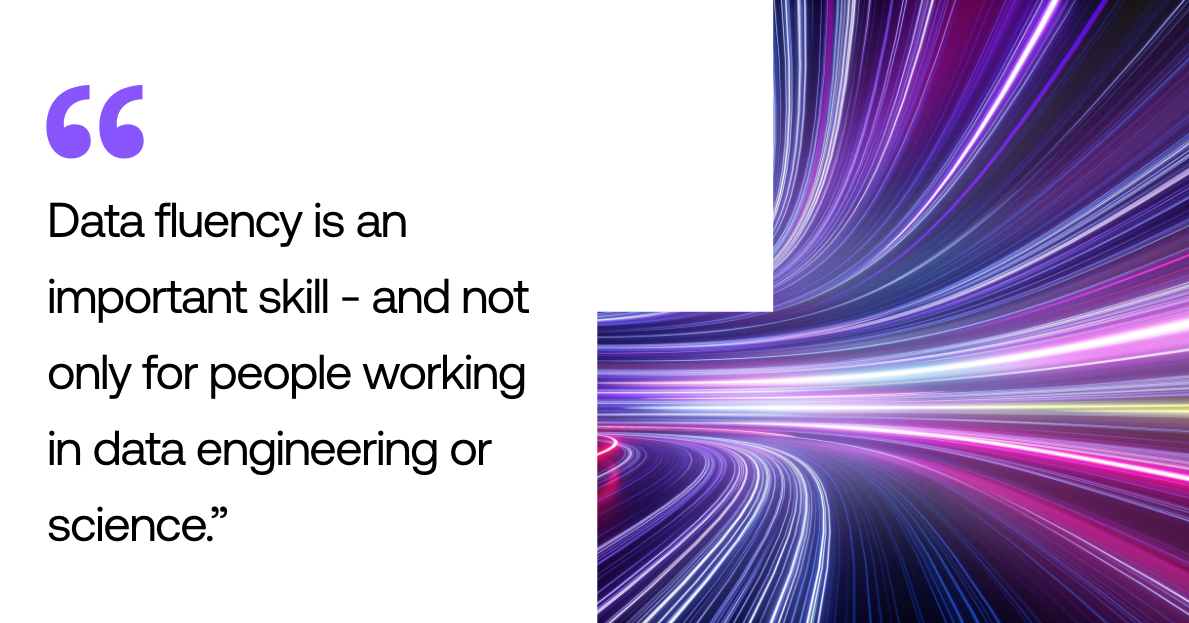 A day in my working life
A data engineer isn't confined to specific responsibilities so there's a lot of variety. My role involves much more than having technical knowledge in areas such as programming or software engineering – talking to people and problem solving take up the biggest chunk of my day, and doing my job well starts and ends with really understanding the purpose of my client's data. Being able to communicate complex data sets to a business audience means engaging with different people effectively, understanding and managing their diverse needs and expectations.
Data dashboards are also a great way for us to present information in a clear, visual format. These dashboards rely upon data pipelines, wherein raw data is moved and transformed from its source to its destination. That's where I come in, laying a foundation for large and complex sets of data to become accessible and understandable to a wide variety of stakeholders.
To help me unwind at the end of the working day, I love watching and playing football. I am a long-suffering Arsenal fan. We last won the Premier League in 2004 but I remain eternally optimistic! Cooking is also top of my list, followed by travelling.
My career highlights
I am proud of successfully managing a career change. After graduating from university, I worked as a civil servant for several years across different government departments. Following a knee injury, I grabbed the chance to learn to code on my sofa while recovering. After that, an opportunity came up in the data team. Fast forward to today, several years into my data engineering career, I am glad I took a risk by trying something new and seeing where that took me.
I've also had to adapt from my role in the public sector, to working in a consulting role. And I could not be luckier with my move to 6point6. There's always someone around to offer support and everyone has been extremely welcoming. I'm blown away by my colleagues' willingness to help – there's so much knowledge in the team, and some people have been programming way longer than I've been alive!
For me making a positive difference is a rewarding part of the job. A good example of this was writing a script to improve data infrastructure for a client, which led to 20% savings helping them keep costs down.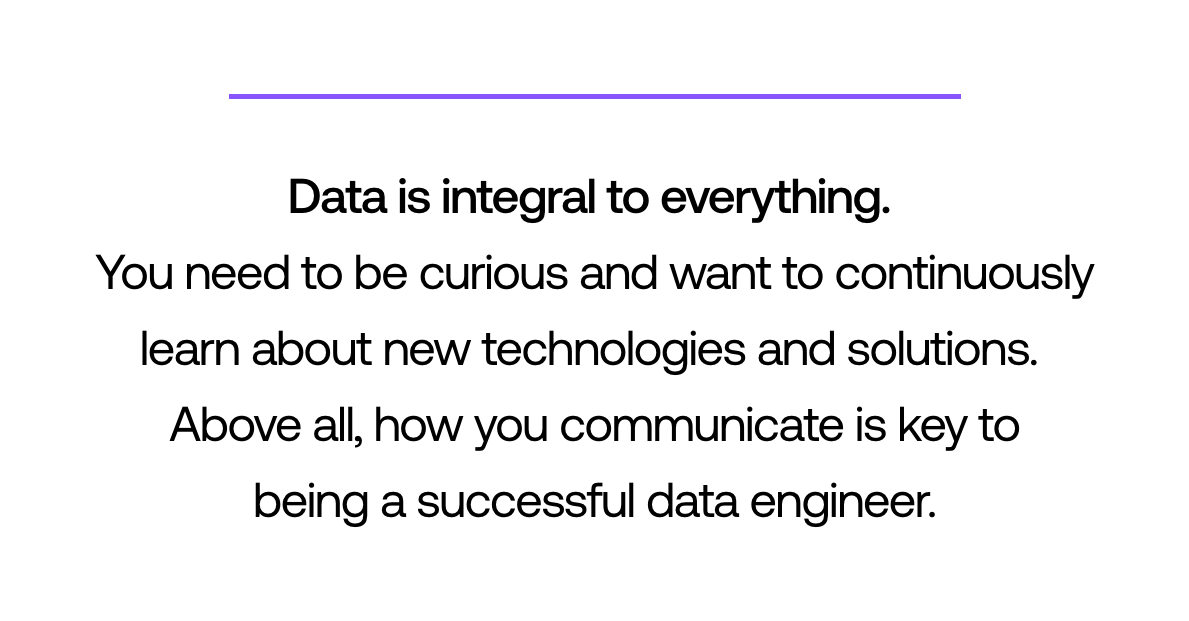 Data engineering is one of the best jobs in the world because…
The team-working element is the best part of my role. I get to collaborate with multiple stakeholders with different expertise, skills and from a variety of business areas. It's that variety of perspectives, coming at the same problem in different ways, which leads to innovative solutions. Working in this environment allows me to bring out the best in myself and others – and unlocks amazing opportunities to learn from those around me.
Being on top of technological changes and new solutions is a key part of what I do. There is always something new to learn and work on, so every day is a school day! From developing cutting-edge solutions to solving hard technical problems and progressing my understanding of technology, there's no chance of growing bored in this role.
A data engineer is both the builder and fixer of often complex data infrastructures to ensure our clients can leverage data. We're also the data health checkers – we give it a clean bill of health safe in the knowledge it will generate valuable and accurate insights. It's a role where we can make a meaningful impact and apply our skills to make a real difference.
---


Larry Adeyemi, Data Engineer
Larry has extensive experience working on data migration projects with both public and private sector clients. His ability to quickly develop relationships with digital partners makes him a strong team leader, while his expertise in data engineering and data architecture enable him to help our customers address some of their most complex data questions.
Interested in a career at 6point6? Explore our current opportunities.