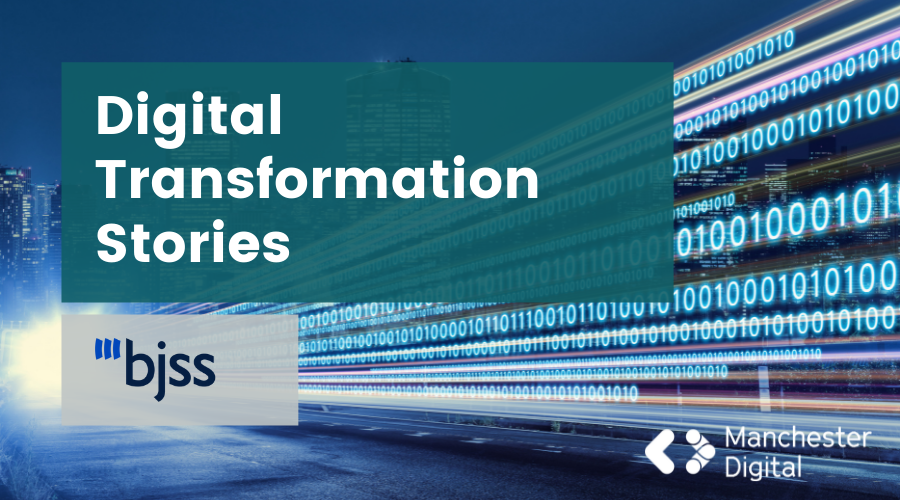 Digital Transformation Stories is a new series of interviews Manchester Digital is conducting with our members, ranging from those who help facilitate digital transformation processes to those who have been through or are going through a transformation themselves, to find out more about their experiences of digital transformations and share their advice.
Joining us this week are BJSS, a highly experienced and innovative technology consultancy with presence all across the UK, including here in Manchester.
Could you tell us about your organisation and how you support businesses who are going through a digital transformation?
BJSS is a global technology consultancy with over 27 years' experience of transforming how businesses digitise. We are headquartered in Leeds, but have offices all over the UK, including a fast-growing office in Manchester.
Our digital transformation process is based on a true partnership approach to support businesses from strategic change to delivery. This is made up of four core phases:
Create – We take a client's strategy and ideas and create a programme of achievable goals to make them a reality.
Build – We help the client build the right architecture, tools, people and processes to support the strategy.
Deliver – We support the delivery of the transformation programme.
Support – A period of transition to help the client continually improve and innovate, with long-term support to help manage the digitised business according to its needs.
What impact do you think the Covid-19 pandemic has had on how businesses approach digital transformation, and what trends do you think we'll see fuelling digital transformations post-pandemic?
We all live in a new reality, one in which changing market demands, consumer habits and the ever-increasing digitisation of business processes, including product and service delivery, mean that standing still is not an option. Digital transformation is now every organisation's immediate need and strategic focus in order to thrive in this new reality.
Customer expectations have shifted in alignment with the way our consumption habits have changed over the last year. People have become used to endless choices, low prices, and fast delivery, meaning customer experience is becoming the main – sometimes only – differentiator. According to Gartner, more than two-thirds of companies say they are competing mostly on customer experience.
The biggest trend within customer experience right now is achieving the best data view, which provides a better understanding of customers and their needs. This in turn allows business to create more customer-centric strategies, delivering potential and existing customers more relevant and personalised products and services. The world of data is where the battles for customer loyalty will be fought.
What do businesses need to consider when mapping out their digital transformation journey?
Leaders need to understand that digital transformation is about much more than integrating the latest advanced technologies, adopting the most innovative software solutions, or finding the right ERP to ensure your team can work from home. Digital transformation touches every aspect of a business and technology is the enabler of this journey.
You need to be looking holistically at how the business operates and delivers customer value. Digital transformation is a process of evolution that always has the end-customer at heart. A full understanding of organisation-wide challenges and opportunities will enhance the success of any digital transformation initiative and therefore improve overall business value.
What role does culture have to play in digital transformation, and how can businesses create a culture that embraces digital and mitigate risks?
Digital transformation is the key to unlocking the possibilities of perpetual reinvention. However, businesses need to understand that digital transformation is as much about people, culture, and strategy as it is about digital tools and technology. You cannot embark on a technology project to change the organisation without working on these other areas first, or it will be set to fail.
It's therefore important to create a digitally minded workforce in which everyone is engaged to be a part of the change and empowered to collaborate. Once you have this in place, future evolution is much easier - your business is more agile, which facilitates faster innovation and adaptation. This kind of digitally-empowered workforce is also more productive, as everyone uses the right tools to collaborate more effectively and streamline workflow significantly.
How can businesses learn where they should be focusing their efforts and navigate roadblocks?
One of the consistent reasons digital transformation projects fail is the inability of businesses to scale digital innovations beyond the early pilot and testing phases. This can be for to a multitude of factors, from technology shortcomings where the capabilities that support a trial are not sufficient for scaling, to fast-paced roll-outs that overwhelm the workforce.
Typically, as any transformation commences, the workforce is going to be subject to greater workloads and higher stress levels. So, instead of massive overhauls, consider managing risk with a slower, multi-phase rollout. This not only allows for a more effective adoption and understanding of the nuances of a new workflow, it will also identify gaps in the processes and operations that need to be addressed. This approach also enhances the ability to revector or add resources as needed.
We advise our clients to pick a lighthouse programme of work that will be quick to implement, create impact, and foster engagement across the organisation. We often work through a rapid prototyping approach with our clients to solve a single problem, showing them their potential as a team and what is possible with a new, high-performing, digital way of working.
How can businesses measure ROI on digital transformation?
To be able to measure ROI, the goal must always to be to create a digital transformation initiative based on current and future needs, using up-to-date data aligned with business objectives.
Then, identify current gaps and inefficiencies, as well as how a digital transformation can be phased in to best meet the needs of the business and its customers and clients. Look at how interactions with customers occur today and how they could or should occur, including the touchpoints along the purchase funnel that could be made more effective through digital.
The more you question, revisit, and view the strategic as organic, the more value, traction, and success you'll achieve - and it will be easier to measure, too.
How can businesses keep pace with changing technologies to ensure that they're delivering the best possible service?
Stay flexible and develop an atmosphere that fosters creativity. Continually challenge the status quo in a productive, positive fashion. Experiment, seek feedback, and stay open to new ideas.
At the same time, don't get caught up in the newness of something or succumb to chasing market hype. If current technologies are working just fine, don't fix what isn't broken. This also helps create a stable environment for employees where they can flourish and focus on productivity.
The ability to continually learn, re-evaluate, and innovate can take a company from surviving, to thriving, to industry-leading.
If you could give one piece of advice to a business at the start of their digital transformation process, what would it be?
Although digital transformation may sound like a major undertaking, developing a digital strategy does not need to be daunting and should be undertaken iteratively. The "big bang" approach just doesn't work.
To find out more about BJSS, click here.
Want to tell your digital transformation story?
If your company would like to feature in a future edition of this series, contact thom@manchesterdigital.com for more information.