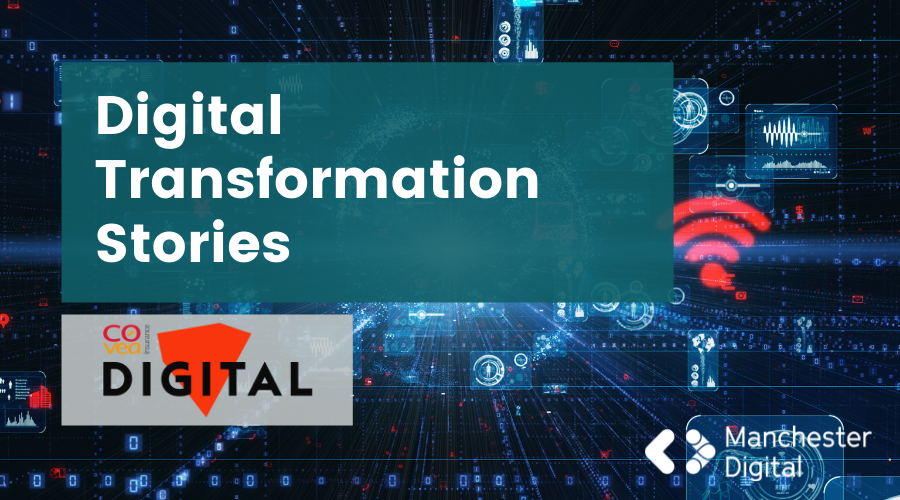 Digital Transformation Stories is a new series of interviews Manchester Digital is conducting with our members, ranging from those who help facilitate digital transformation processes to those who have been through or are going through a transformation themselves, to find out more about their experiences of digital transformations and share their advice.
This week, we are speaking to Covéa Insurance - a midsize general insurance company who have embraced digital in order to transform their products and make the business more agile.
Could you give us some background on your business and where you currently stand on the path to digital transformation?
We're a mid-sized multi-product insurance company who specialise in partnerships with brokers and high-street brands to provide insurance services across a range of areas from home, pet and motor to life and commercial insurance. We also operate in the insurtech space, working with start-ups and scale-ups
We're semi-mature in terms of digital transformation, we're well underway with our migration to a hybrid cloud solution which will see us radically transform how insurance is done through our new insurance as a service platform. In addition this will enable dramatically improved digital workplace solutions for our people, giving them much greater flexibility and life / work balance.
What drove you towards developing and implementing your digital transformation strategy?
There were two key components – the changing needs of our customers and clients, and the ever developing risks around cyber security.
We want to provide the best possible customer experience and digital transformation allows us to do that across channels and platforms safely and securely. This also makes life better for our people too as they benefit from enhanced digital workplace technologies and more focus on community and culture.
What are the key components of your digital transformation strategy and how do they differ to old processes or ways of working?
Our Insurance as a service platform is the major component, it's really going to enable us to change the game in the insurance market. It's a scalable, future-proofed, cloud-native technology that enables bespoke partnership offers; from full turnkey solutions for those businesses wanting to start offering insurance products to their customers to simply providing claims and customer service support for those with an established product and presence, and everything in between.
Our API gateway is a key part of this too, it will act like a sort of universal adapter, allowing us to offer really flexible integrations with partners tech stacks and platforms.
And of course our digital work place, giving our colleagues across Covéa the capability to work from anywhere, on any device, safely and securely. Our people are our business so making sure they have the tools they need is fundamental to their wellbeing and fitness.
What roadblocks have you experienced along the way and what lessons were learned as a result?
As with most insurance companies we currently have a large number of legacy platforms and although they are rich in data it can be quite a challenge to extract this data and get it into a format or solution where it can be utilised. We have been through a number of different iterations of our data approach and built out to try and resolve these issues. We've learnt a lot about the importance of quick value delivery and ensuring that you tie in incremental value at every step of the way.
Has there been a need to shift the culture of your organisation to embrace and advance digital ways of working and new technologies, and if so how have you gone about this?
Digital transformation is really all about culture change – that's where the real advantages are. For us at Covéa that's about changing how insurance is done and disrupting the market place to benefit everyone. Moving from transactional, product based relationships with our customers to something much more linear and service focused.
Putting the customer at the heart of our services is something everyone understands so we start there and build out the tools and processes our people need to deliver the best customer experience every time. That shared goal allows everyone in the business to stand shoulder to shoulder and move in the same direction.
Can you tell us how your digital transformation strategy has helped your business to increase efficiency, achieve its corporate strategy or keep up with changing market demands?
Our digital transformation strategy is very closely aligned to the overall business strategy and so is predicted on driving efficiency with the operations teams and enabling the business to quickly and relatively inexpensively transition to operating in new or different markets. By aligning the two strategies this enables us to flex our direction and move with market changes (as we found out in this last 12 months!) without having a detrimental impact on either approach and also closely aligning business benefit tracking of the transformation with the business plans.
Have you got any advice for businesses at the start of their digital transformation process?
Focus on your culture and ways of working, relationships can get tested in big change programmes so having real trust in each other and your processes will mean those moments don't throw things off track.
Make sure you stop now and again to give everyone the big picture – people want to know where they're going and how what they're doing fits in to whole vision. That sense of purpose will help everyone stay on track even when things are tough.
And accept that things will change along the way. Transformation is an iterative process, so it's natural that there will be route alterations, but transparency and good communication will allow you to keep moving in the right direction.
To find out more about Covéa Insurance click here.
Want to tell your digital transformation story?
If your company would like to feature in a future edition of this series, contact thom@manchesterdigital.com for more information.