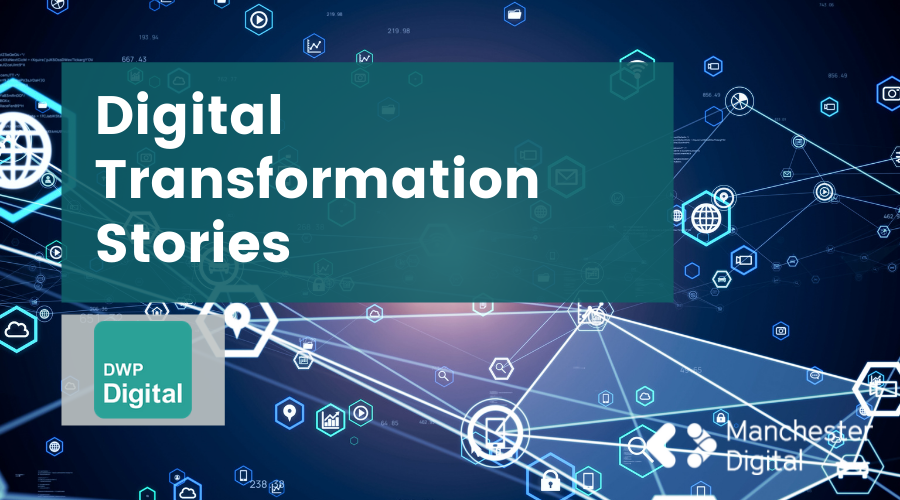 Digital Transformation Stories is a new series of interviews Manchester Digital is conducting with our members, ranging from those who help facilitate digital transformation processes to those who have been through or are going through a transformation themselves, to find out more about their experiences of digital transformations and share their advice.
Joining us this week is Craig Eblett, Digital Delivery Director at the Department for Work and Pensions (DWP) to tell us about their digital transformation story so far.
Could you give us some background on your business and where you currently stand on the path to digital transformation?
We are the Department for Work and Pensions (DWP), the UK's largest government department with over 100,000 employees across 800 sites. We have a long history of delivering major government services through digital technology, some of which is classed as critical national infrastructure, essential for the country to operate. We have over 20 million customers, and, on behalf of the government, pay out around £176 billion pounds each year in benefits.
Digital transformation is not new to us. We've had several efforts over many years to transform and keep pace with technology and the expectation of our customers, colleagues and taxpayers. In recent years however, it's become very clear that the pace of transformation demanded is accelerating - so we have to go further and faster than we ever have before.
Our 'acceleration' has been exemplified by our response to the COVID-19 pandemic. In the last year, we went from a situation where around 6% of our people worked remotely and everyone else was in the office. We now have 90% of our colleagues able to work from home, that's around 90,000 people. This was an enormous challenge to achieve in 12 months and involved a huge scale deployment of devices and a massive upgrade to our infrastructure.
Also, due to COVID-19, we had to cope with a very significant upsurge in demand for our services including customers claiming Universal Credit where we saw a 10-fold increase in the number of claims being made at the peak of the pandemic.
Alongside scaling our digital services to cope with that massive increase, we also had to support many other parts of government to provide critical services to citizens in this pandemic situation.
During the last 12 months we accelerated transformation; some services that historically would have taken around 12 or 18 months, were transformed within four to six weeks. A huge achievement, due to hard work and dedication from everyone across the organisation and also a collective focus to deliver and remove blockers – not just in DWP Digital but across the department. This is definitely one of the most impressive things that we realised as a result of the pandemic, and something we're looking to learn from so we can keep up the pace of transformation in the future.
What drove you towards developing and implementing your digital transformation strategy?
DWP has been on a journey of transforming individual products and services for more than a decade now and, along with many parts of government, we made the transition to Agile delivery, so we focus on user needs to drive that transformation. That's worked really well. We have some fantastic examples, like Universal Credit, which embodies our new approach.
Around 30% of our customers, however, need more than one service from us. These services are not as joined up as they should be and customers are often required to tell us the same information multiple times. This is very time consuming and repetitive for them, and also for the department itself. So, what's driving our business now is to really put the customers at the heart of our collective DWP business, not just an individual service or product, to make their lives easier. This will help us provide a much more efficient service for our customers, colleagues and the taxpayer.
What are the key components of your digital transformation strategy and how do they differ to old processes or ways of working?
Our new digital transformation strategy is fully aligned, and is a fundamental part of, our business strategy for DWP. The digital transformation strategy is not separate from the rest of DWP; it's all connected and we're all pulling in the same direction.
One of the key differences that is helping us put our customers at the heart of all of our services, is the way in which we're identifying and building reusable application components, making them available via APIs, to be reused across many services.
Previously, we would do a complete end-to-end build of all aspects of a new service, often leading this to be delivered in a silo'd approach. The difference now is we're identifying those common aspects and building these in order to reuse over several products or services. This means that we'll have a lot of the common components in place and transformation can happen much quicker as we're not having to build everything from scratch each time.
A good question is "Why are we doing this now and why didn't we decide to do that, say, five years ago?". The answer is that, in DWP Digital, we've been on our own transformation journey. This journey included building our own internal IT capability, recruiting and developing top digital talent to comprehensively own the services we provide to DWP. This means we're able to develop these shared components with far better value for money and agility than we could have done previously.
What roadblocks have you experienced along the way and what lessons were learned as a result?
There's a school of thought which is, you must take a service end-to-end and transform that service, irrespective of constraints in the current digital landscape. It's a philosophy that has worked in the past. However, there are other approaches which are equally valid and start with a hypothesis of the future and work towards it – rather than have it emerge on a service by service basis. The trick for us is finding the right approach to build various parts of this newly transformed digital landscape. What we've already learned is that it's going to take many different methods to do this, some of which are very much focused on agile user need delivery, however that is not the only way of transforming services. So, it's not necessarily a roadblock, but it's trying to understand the landscape and get right blend, whilst also making sure we take our digital colleagues on the journey with us.
The other thing that's really difficult for us is the sheer scale in which we operate. We are a huge organisation; the world hasn't stopped moving and it certainly didn't stop through COVID-19, but our priorities needed to change. Just as an example, in March 2020, DWP employed 13,500 work coaches to help customers find work, over the next 12 months to March 2021 we doubled that workforce. We have to support these new colleagues with equipment and training and make sure that they're completely embedded in the ways of working and culture within DWP. We have to do that, but we also have to transform at the same time.
Has there been a need to shift the culture of your organisation to embrace and advance digital ways of working and new technologies, and if so how have you gone about this?
DWP more generally has been on its transformation journey for quite a long time and, everything that we start today to transform or build new will be done by focusing on user needs, delivered through multi-disciplinary teams – this now part of the DWP DNA. Our Permanent Secretary, Peter Schofield, has given us all a leadership priority to collaborate and deliver through multi-disciplinary teams; something that is perfect for agile adoption.
With that degree of support from the Permanent Secretary, it makes life a lot easier because we already have that commitment and that's becoming much more apparent. The approach of "show and tell" has become much more important at all levels in the organisation too.
The next culture shift, is the need to put the user at the heart of all of our services so we don't build in siloes.
Can you tell us how your digital transformation strategy has helped your business to increase efficiency, achieve its corporate strategy or keep up with changing market demands?
We have always had some generic reused applications which are at the core of many services, so this is not completely new ground for us. We have achieved significant benefits in the approach and our focus now is going further and faster, making crucial changes such as, taking an API first approach and keeping delivery teams small (12 – 15 max).
In the last few months, we have been running pathfinders and experiments based on the new approach and we're now confident we're on the right track. We have more learning to do through experiments and delivery in the coming years.
This financial year we're ramping up our commitment, with more finance and capability focused on the transformation of putting customers at the heart of all of our services; I'm really looking forward to seeing where we get to.
Have you got any advice for businesses at the start of their digital transformation process?
Agility and multi-disciplinary teams are not the preserve of the IT department or digital function, nor digital transformation for that matter. Maybe think in terms of "it's business transformation using digital approaches, techniques and technology".
Do not underestimate the value of experimenting and learning and maintaining high degrees of agility. It's all too easy for digital transformation to become the size of an inedible elephant. Avoid giving long-term commitments like "the transformation will be completed in three years". Try to get the position of seeing it as a 'continuum', as a journey of transformation.
Covert the deliverable from an output to an outcome for the business. This helps everyone maintain focus on what is important to the business and critically enables empowered agile multi-disciplinary teams the space to operate in.
Thank you Craig!
To find out more about DWP Digital, click here.
Want to tell your digital transformation story?
If your company would like to feature in a future edition of this series, contact thom@manchesterdigital.com for more information.