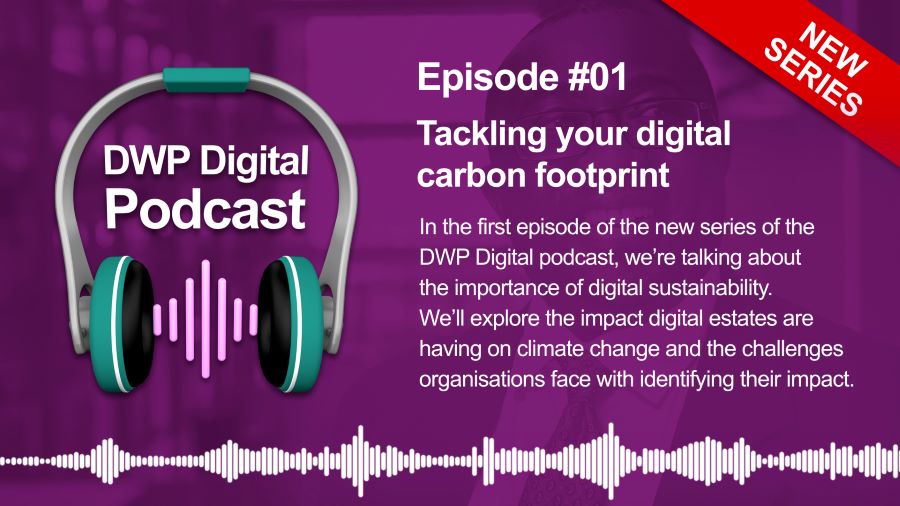 We're back! In the first episode of the new series of the DWP Digital podcast, we're talking about the importance of digital sustainability. We'll explore the impact digital estates are having on climate change, the challenges organisations face with identifying their impact, the government's plans to help organisations reduce their overall emissions and what can be done to reduce our digital carbon footprint.
In this episode, DWP Digital's sustainability lead Tony Sudworth will be joined by Helen Hayes, the deputy director for DWP Digital's Health and Disability Benefit Supporting Services team, Adam Tuner, head of sustainable technology for UK government departments, and Ewen Anderson, CIO of PX3.
A full transcript of the episode can be found here.
Don't miss an episode
Over the next few months we'll be speaking to more of our in-house digital experts and leaders about some of the exciting projects we're working on that are helping transform experiences for millions of people.
Make sure you don't miss an episode by subscribing to the DWP Digital podcast on Apple Podcasts, Google Podcasts and Spotify and by following #DWPDigitalPodcasts.
And if like what you hear, don't forget to give us a 5-star rating.