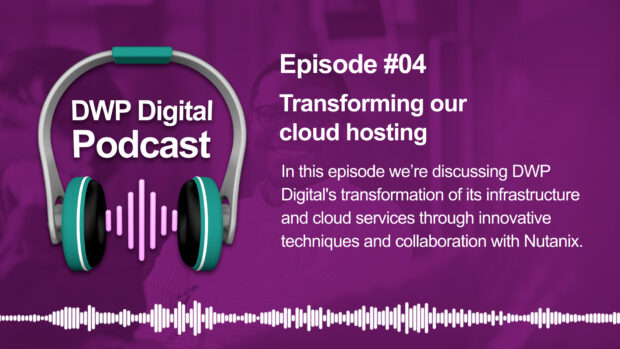 For over 25 years, DWP outsourced its IT services to many different suppliers. Over the last few years we've been on a journey to bring these services back in-house, allowing us to move to building cloud native services ourselves.
In the latest episode of the DWP Digital podcast, Jamie Faram from our hybrid cloud services team is joined by Ian Moore and Stuart Jennings from Nutanix, to talk about the transformation of cloud services. You'll hear all about the platforms and software used to enable such a large transformation and the lessons learned along the way.
A full transcript of the episode can be found below.
Listen now
You can listen now on:
Don't miss an episode
Over the next few months, we'll be speaking to more of our in-house digital experts and leaders about some of the exciting projects we're working on that are helping transform experiences for millions of people.
Make sure you don't miss an episode by subscribing to the DWP Digital podcast on Apple Podcasts, Google Podcasts and Spotify and by following #DWPDigitalPodcasts.
And if like what you hear, don't forget to give us a 5-star rating.
Careers at DWP Digital
Visit our Careers site to find out more about joining us.