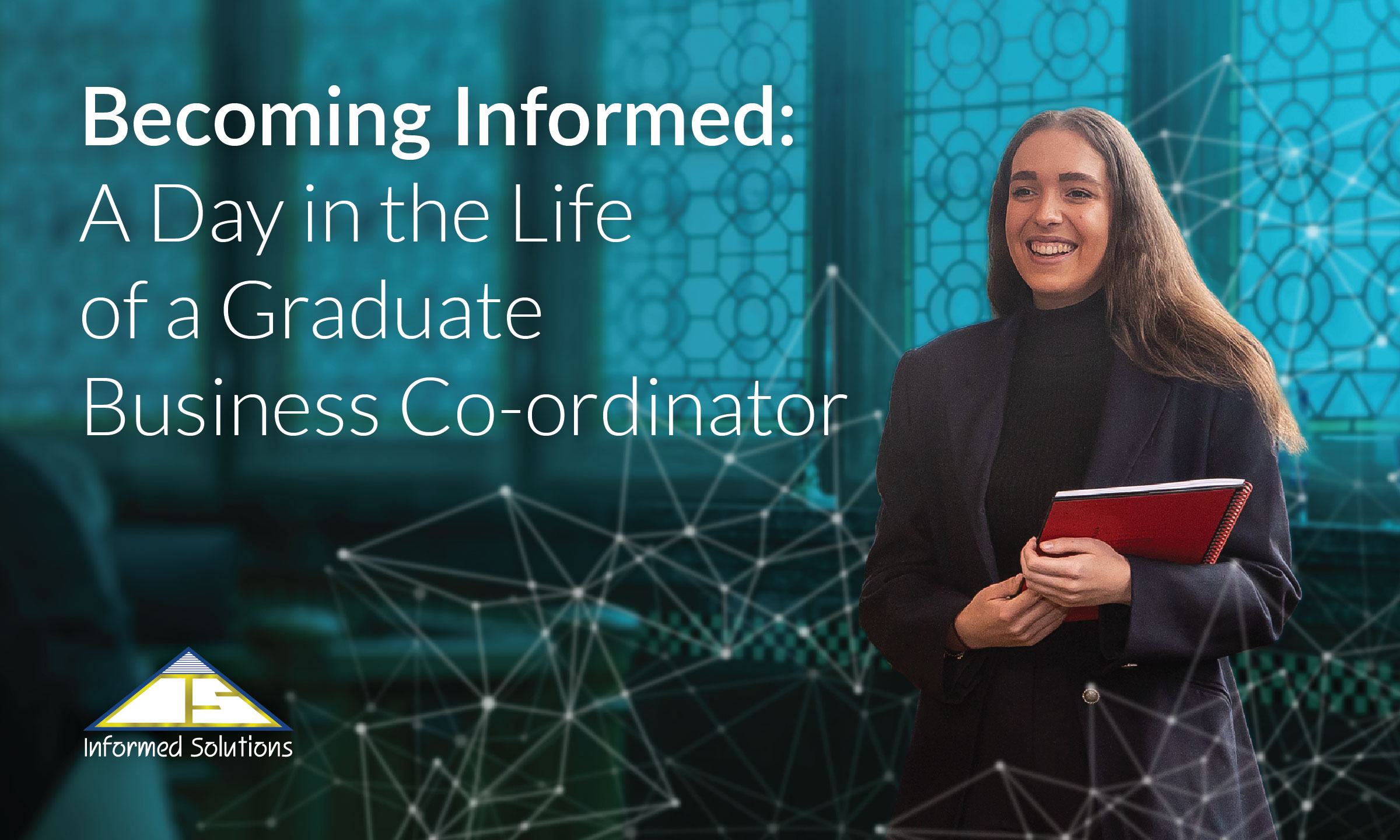 It has been a challenging 18 months for all graduates entering the jobs market. Whether you are unsure about which sectors spark your curiosity, struggling to meet experience requirements, or facing a tough job market - navigating a career path as a graduate can be a real challenge.
As an English Language and Linguistics graduate from Leeds University, I was advised that the only jobs that would suit my qualifications would be either teaching or journalism. Not wishing to go down either route, I explored my options and applied for a graduate role at growing international digital consultancy Informed Solutions. Having been at the practice for 4 months, I have found that my English language qualification and writing skills are an increasingly important asset for my role as a graduate business co-ordinator, where my main responsibilities are to search for new business opportunities as well as supporting and co-ordinating our public sector bidding process.
For those of you who do not know what bidding is, I hope that you can gain some insight by joining me on a typical day at work. I have picked a Tuesday.
7.15am – The alarm goes. First thought: Coffee.
9:00am – Informed Solutions has access to several frameworks, which are used by the government to advertise their upcoming projects, opportunities, and contracts. I start off my morning by sifting through the framework procurement portals, searching for potential opportunities that align with our consultants' expertise in digital service design, agile delivery, and software development. Almost every major government department uses these portals as a channel through which to procure digital services from strategic suppliers like Informed.
If I find any opportunities that align with our capabilities, I share them with the business management team who decide whether we will bid for the opportunity or not.
10:00am – Time for a second coffee to set me up for a supplier briefing. These are virtual events held by buyers to give suppliers like us the option to ask questions and discover more about the frameworks or opportunities that they have released. My role is to take notes and relay key information to the business team, ensuring that they can make informed decisions about whether to bid for the opportunities. These events can also provide some insight into the problems that government bodies are experiencing and their initial plans to plan to solve them.
11:00am – The team has decided to bid for a new opportunity, so I have scheduled a bid kick-off meeting. These take place so that the teams can discuss the bid requirements, decide who can contribute to the responses and establish a bid completion timeline, working backwards from the delivery date. First draft deadlines and review cycles bring my English skills to the fore.
1:00pm – A well-earned lunch break after a busy morning.
2:00pm – We hold fortnightly sector development meetings to ensure that our company name is prominent in the right places. I help the team by conducting research on selected markets and coordinate our teams' efforts to encourage conversations with important market influencers.
4:00pm – Time for prospect tracking. By tracking our prospects (new work) accurately, our teams can make informed decisions (based on resourcing and capability) whether to bid for new or additional work. This activity lets me take advantage of the valuable excel skills I have learned.
Once I have activated the excel functions and let them do their magic, I send the trackers over to our commercial teams ready for review.
5:00pm – Every week, we have a service group team meeting to discuss how everyone is getting along and if they require any support. I spend the next 30-minutes catching up with the team, talking about our recent work, and planning the following day to ensure that I complete any urgent, deadline-driven tasks.
That's the end of my snapshot of a day as a Graduate Business Coordinator. The times I have listed are just examples - every day brings something different to the role. This is more an indication of the kinds of activities I have been able to work on, whilst learning more about my company and my colleagues' talents and developing new skills of my own.
Bidding and business co-ordination is a fast-paced, deadline dependent role, which can be stressful at times. However, it also affords me an opportunity for accelerated development through the experience gained from working closely with highly trained, experienced colleagues. Although I have listed a few tasks from a day in a week, the varied nature of the role means that I am given the opportunity to explore different aspects of profile raising and business development, all whilst making a contribution to teams that drive innovation through the ethical use of digital technology to create a healthier, greener, cleaner, and safer world.