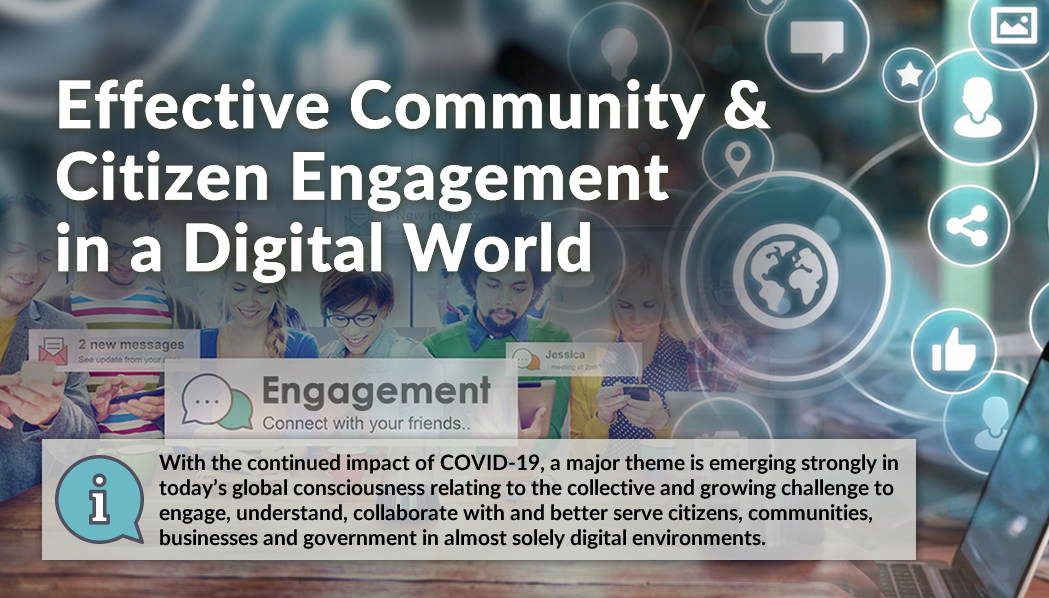 Blaise Hammond, Director Communications and Engagement, Informed Solutions
With the continued impact of COVID-19, a major theme is emerging strongly in today's global consciousness relating to the collective and growing challenge for government and organisations to effectively engage with, understand, collaborate and better serve citizens and communities in almost solely digital environments.
It is an inescapable truth that the ongoing effects of COVID-19 have accelerated tensions and challenges with regard to citizen and public engagement. These effects, primarily the need for increased social distancing and remote working and living have also prioritised the need to accelerate the development of, and access to, a connected, converged world that enables all, and that reaches and includes everyone, in every community.
This pandemic has also highlighted the importance of both government and private sector organisations engaging and remaining in more effective and frequent touch with the sentiments and views of society. Citizen involvement is one of the most important factors to consider when seeking to improve public services and implement projects, expand social integration, and increase the level of public confidence in local, regional and national governments, especially through challenging times. To this extent COVID-19 is a catalyst that is forcing us to be more innovative in using digital technologies to engage citizens more effectively.
Putting People First
With regard to the development of digital services, significant emphasis has been placed on user centred design, which puts the citizen or service user at the heart of digital service creation.
The key to making any piece of user research a success relies on how insights are used to engage users in the iterative design and refinement of excellent digital experiences. These insights drive the development of actionable, prioritised recommendations that produce effective digital experience platforms that people can easily navigate and interact with.
Capturing this insight allows organisations to accurately articulate the complex problems that require solving and most importantly work collaboratively with project stakeholders to align user and organisational needs. This alignment and putting people first is what helps ensure that a digital design succeeds the first time around.
It's important to remember that an inefficient interaction process (a poorly constructed or overly complex application form for example) will still be inefficient if simply transferred to a digital format for online consumption. This same principle will apply to citizen engagement. Poor design will scupper engagement, just as legacy technology will slow and hinder the pace of digital success regarding the sophisticated delivery of a public product for increasingly discerning digital consumers of content. Good user research drives the design of a good digital experience, which increases the likelihood of effective engagement.
Engaging and Interacting Digitally
It is interesting to note that through the early stages of COVID enforced lockdown, social media engagement rates across Instagram, Facebook and Twitter were the lowest they had been in 2020 to-date. According to social media research* in the UK - a downward engagement trend occurred between March and July for issues that weren't related to significant international social movements. Whilst it might have felt like a spike in activity as friends and family connected in ways that had previously been supplementary, but were now primary due to lockdown, organisations were (and are) finding it difficult to engage unless there is significant and shareable local and regional community support, or specific guidance and health-related content.
From May onwards, posting frequency reduced from the majority of major consumer and B2B brands with a shift of emphasis towards less frequent, but more authentic community engagement and support messaging, which led to improved engagement rates. This natural and more authentic content encouraged people to re-serve and share content.
Just as engagement fluctuated and changed, so did social media content consumption times: Facebook's busier times were Monday, Wednesday and Friday between 10am and 11am with a drop off after 6pm as people shifted from online work life to new normal home life activity. Popular times on Instagram remained Monday Tuesday and Friday at 11am. Friday morning remained popular for twitter users, and LinkedIn usage patterns remained similar, however peak usage shifted back an hour from 8am to 9am with many people no longer managing their professional or career-related social media while commuting.
Understanding the user centred design advantages of online services, combined with more intimate understanding of shifting social media and content consumption trends outlined above will help organisations continue to make engagement gains. Demographic targeting and more effective identification and engagement with local and regional online community will not only help elevate the importance of those groups as communications conduits, but will increasingly encourage people to use and trust those groups and communities as effective pathways to important digital service engagement.
Inclusive Approach – Don't Leave Anyone Behind
In the UK, 1 in 5 people have a disability, be that visual, hearing, motor or cognitive (affecting memory and thinking). The concept of accessibility doesn't just apply to the ability impaired – all users will have different needs at different times and in different circumstances. To this end, accessibility becomes about making sure services can be used by as many people as possible. Considering this at the outset of service design will help make sure that no-one is excluded at the outset - identifying services that aren't accessible and designing solutions that bridge those gaps in the short-term.
With a structured and inclusive approach, real-time data capture and analysis of feedback, reinforced by sentiment analysis will continue to inform, shape and improve consultations run by both public and private sector organisations. It is important to note that the way new technologies are applied, and how data is stored and used must be transparent and easily understood in order to build trust in digital engagement channels.
As the winner of a Queen's Award for Innovation, we work with some of the world's largest and most respected organisations, delivering digital services that are used by millions of people every day. In the uncertain, pressured and evolving social and economic circumstance we live in today, it's vital to give every citizen a voice and capture their issues, concerns and views in a way that securely connects and makes relevant their feedback to leaders.
Designing effective customer experience platforms that can be easily accessed through a combination of the most relevant, effective and inclusive digital, social and physical communications channels is critical. Designing authentic and engaging content that include relevant and appropriate calls to action (CTAs) will then play a role in attracting and guiding citizens and communities towards effective and user-friendly engagement services.
This approach to designing services for better citizen and community engagement also serves the aim of building trust between more transparent, listening and caring organisations and the communities and citizens they interact with – but only if the digital service design allows and encourages engagement to happen, and that the engagement is simple, natural, authentic and effective.
*https://sproutsocial.com/insights/covid19-social-media-changes/ (20,000 sample size)