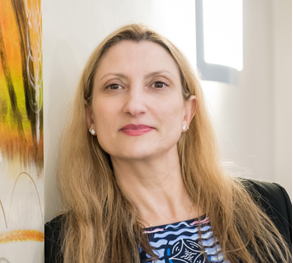 Manchester - October 10th 2020: Informed Solutions Group CEO, Elizabeth Vega has today been awarded the title; Officer of The Order of The British Empire for Services to International Trade and Digital Transformation.
Under Elizabeth's inspirational leadership, Informed Solutions has developed world class capabilities in creating enterprise level digital platforms and solutions that transform complex, high stakes business operations. The company won a Queen's Award for Innovation for its digital experience platform, which has been adopted by many of the world's leading public and private sector organisations, delivering user centred digital services that meet the needs of millions of people every day in a connected and converged world.
Informed's Australian operation has seen the company trade successfully at scale, delivering award-winning digital services for whole-of-government environmental data platforms, as well as supporting Australia's Digital Transformation Agency through expertise in User Centred Design and whole-of-government digital platforms delivery. The Australian team led innovations have now been brought back to the UK and incorporated into next generation solutions for Scottish government were they have the potential to both protect unique world heritage listed habitats, whilst transforming national sustainable land asset management.
Elizabeth's role as Department of International Trade Northern Powerhouse Export Champion over the last five years has seen her encourage a generation of scale-up businesses and entrepreneurs to expand their operations through trading opportunities in Commonwealth and overseas markets. Informed has recently been selected to join the Department of International Trade's first Export Academy, as it seeks to develop new trading relationships across South East Asia.
Elizabeth Vega comments: "I am delighted and humbled for this huge honour and in particular to be recognised for work across what I believe are two vitally important areas that will support and leverage recovery for the UK and ease the transition as we leave the European Economic Community. Digital technology and data used ethically, that better serves people, drives greater engagement, delivers more personalised services and improves the lives of people and communities, can help us solve many of the social, health, environmental and economic challenges that we all face.
"The UK's drive to be open to new and broader international trade relationships and the positive ambitions of forward-thinking companies to go out and do mutually advantageous business with other nations improves our competitiveness, standard of living and economic resilience. I am particularly keen to see the negotiation of modern, forward-thinking Free Trade Agreements that embrace the growth and economic development potential contained within the knowledge and digital sectors. Equally important, is that small and medium sized businesses have access to and benefit from all these opportunities. Government policy, efficient and proportionate regulations, and more modern Free Trade Agreements can enable small and medium sized businesses to scale-up and more easily trade internationally. This is how we can incentivise entrepreneurs to trade globally and create a more diverse, competitive, innovative supplier marketplace, as well as more adaptive, agile and resilient regional and national economies.
"I'm delighted to be recognised with this OBE but there is still so much more that I'd like to contribute to and progress that I'd love to see happen."
Sir Graham Brady, MP for Altrincham and Sale West comments: "Elizabeth Vega is an impressive businesswoman making an outstanding contribution locally, nationally and internationally. For almost 30 years she has been CEO of Informed Solutions, an international company headquartered in Altrincham, winning the Queen's Award for Enterprise and Innovation along the way. Elizabeth now advises the Cabinet Office and is a DIT Export Champion. All in all, her impact has been immense, and I am delighted that her contribution has been recognised".
Robin Knowles, CEO Digital Leaders
comments: "It is hugely appropriate our close partner, Elizabeth receives an OBE for services to international trade and digital transformation. Aside from her expertise and advocacy for international trade and the digital transformation of public services for an increasingly connected world, she has been a key supporter of Digital Leaders and tirelessly supports the industry in its efforts to overcome key challenges that face our industry, from diversity and inclusion to helping address and close the skills and talent gap, so that we might become a leading nation of digital significance within a global economy"
Julian David, CEO techUK comments: "Elizabeth Vega has long championed UK tech and innovation internationally and I am delighted to see her leadership recognised. Her passion has always shone through and will be key as we look to navigate this changing landscape for trade. Her knowledge and focus on SMEs and how to build tech businesses here in the UK and around the world has been a huge benefit for our work at techUK and I am proud to work alongside such an inspirational leader."
David McCredie, CEO, Australia Britain Chamber of Commerce comments: "On behalf of the Australian British Chamber of Commerce I am delighted to congratulate Liz on this recognition of her "Service to International Trade and Digital Transformation". As an active and engaged Member of the Chamber, we have seen first-hand her strong leadership in driving projects that will improve services, deliver better outcomes for business and taxpayers alike and bring the antiquated into the 21st century.
"Whether it is through her engagement with the Chamber, her advisory roles particularly championing the offering of SME's to Government, or through her work as Group CEO of the Queen's Award winning Informed Solutions, Liz continues to find ways to leverage the resources of our community to deliver better outcomes for all. We are immensely proud of her work and the passion for improvement she has shown for Altringham, the UK and here in Australia, and we congratulate her on this well-deserved honour".
Catherine Woo, CEO, Australia-United Kingdom Chamber of Commerce comments: 'The Australia- UK Chamber of Commerce is thrilled to hear that Elizabeth's contributions to the business community have been recognised through one of Britain's highest national honours – being awarded an OBE.
"As a close collaborator and friend of the Chamber, Elizabeth is a dedicated supporter of the Australia-UK bilateral relationship and a vocal advocate for the many benefits that greater connectivity, particularly in relation to technology and innovation, can bring to both countries. I have witnessed first-hand Elizabeth's passion and commitment to unlocking new dimensions of the bilateral relationship through digital innovation and championing the interests of SMEs, underpinned by her open and collaborative approach to sharing ideas, skills and solutions. Congratulations to Elizabeth."