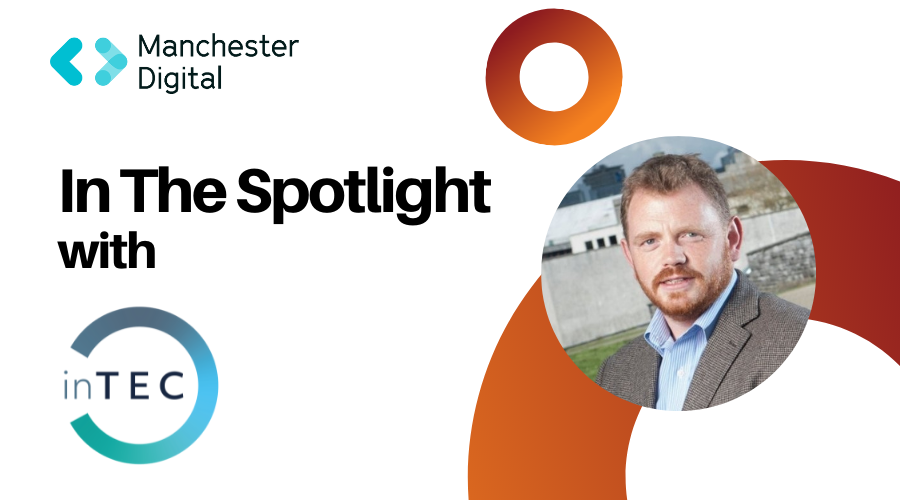 At Manchester Digital we like to interview our members to find out a bit more about what they do and their work in the Greater Manchester digital and technology sphere. This week we're speaking with Ray Bell, Chief Technology Officer at inTEC.
What does your organisation do?
inTEC is a UK wide group of ICT specialists enabling businesses to work smarter through technology.
Specialising in the design, implementation and support of a wide range of Cloud services and business applications including I.T. managed services, I.T. infrastructure support, hosted collaboration and communication solutions, we are an end-to-end independent technology consultancy helping businesses understand and see real value from their technology systems and investments.
What do you think is currently the biggest issue facing the tech industry?
There are a number of issues causing challenges in the tech industry at present including supply chain problems and the availability of raw materials but cyber security is the biggest issue for all businesses. As many hastily set up make-shift home working solutions at the start of the Covid pandemic last year, they opened themselves up to numerous security vulnerabilities. Many companies still haven't established a long-term secure hybrid working solution. This, coupled with the increasing presence of cyber criminals, means businesses need to act now.
What is your organisation's biggest achievement?
As well as remaining fully operational during all the Covid-19 lockdowns and supporting our many clients with their own remote working challenges, the inTec Group has grown considerably. Since our inception in 2016 when we started with just two people we now employ a fantastic team of around 80 staff across six locations in the UK.
What would you consider to be your organisation's biggest challenge?
As we grow predominantly through acquisition it's a constant but interesting challenge to align ourselves operationally, join up our systems and continue to enhance our successful company culture. We really enjoy onboarding new teams into the inTec family.
What do you think the future looks like for Manchester's tech sector?
We firmly believe that Manchester is a great place for businesses to be born and thrive. With the support from organisations like Manchester Digital we can only see the landscape improving further. It's so encouraging to see the great younger people in Manchester who will undoubtedly become business leaders driving growth in the years to come. We are particularly excited to see the increase in female entrants into the technology sector which we feel is long overdue.
Tell us something that we might not know about your company?
As well as supporting customers directly and acquiring great businesses we also have some very well-established partnerships with other like-minded organisations where we can work with them to supply technology solutions to their client base, even on a white label basis.
To contact Ray Bell, please call 0345 565 1767 or email ray.bell@intecbusiness.co.uk.
For further information about the inTec Group, please visit: www.weareintec.co.uk
Want to raise your business's profile? If you're a member, contact thom@manchesterdigital.com to discuss featuring your content on our site, social media or newsletter. If you're not a member, get in touch today to discuss the benefits of membership.