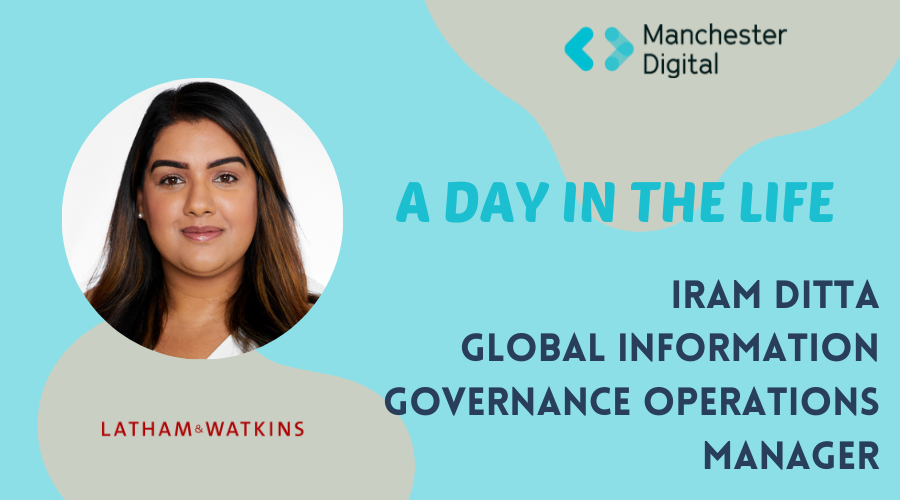 Ever wondered what it's like to work at one of Greater Manchester's leading tech employers or what specific job roles get up to each day?
Iram Ditta is a Global Information Governance Operations Manager at Latham & Watkins.
We spoke to her to find out more about this role, her experience at Latham & Watkins, and what an average day looks like.
Name: Iram Ditta
Job title: Global Information Governance Operations Manager
How did you get into your current role?
After completing my undergraduate in Law and Criminal Justice and gaining an LLM in Professional Legal Practice, I was searching for opportunities in the intersection between Law and Technology. I was approached for an information governance operations role at Latham & Watkins. At the time I was working as a research and knowledge analyst at another law firm so there were transferrable skills, but that role was still quite different from what I do now.
What do you enjoy most about working at Latham & Watkins?
The first thing I enjoy most about working at the firm has got to be its people, I dare say they are the kindest and friendliest people you will ever meet, and make Latham a special place to work. Second, to its people is the firm's culture of valuing its people and providing exciting opportunities.
What does a typical day look like for you?
I am responsible for a global team of information governance analysts who provide operational support to the firm and clients on large file intakes, file releases, file destructions, retention & disposition, and data hygiene projects.
My day-to-day is quite varied, I start the week by assessing my workload, responding to emails, organizing the week ahead, and having check-ins with each member of my team across Manchester, Los Angeles, and Washington DC to help strategize together on project work and deal with any concerns they may have. I spend the remainder of the week working with a mix of colleagues across our offices on several projects and initiatives as well as assisting in the coordination and delivery of information governance support.
What skills are required in your daily work?
Attention to detail, effective listening, and communication and time management skills are key in my role.
What is the most exciting thing you have worked on?
Creating my team, the Global Information Governance Operations Center from the ground up. This was a real growth opportunity, as not only was I new to the firm and the role, but I was also new to information governance. I contributed to the creation of the vision and strategy for this new team, recruited a team of analysts, identified opportunities to create operational efficiencies across the information governance programme, rolled out a global service offering, and marketed the services of the new team.