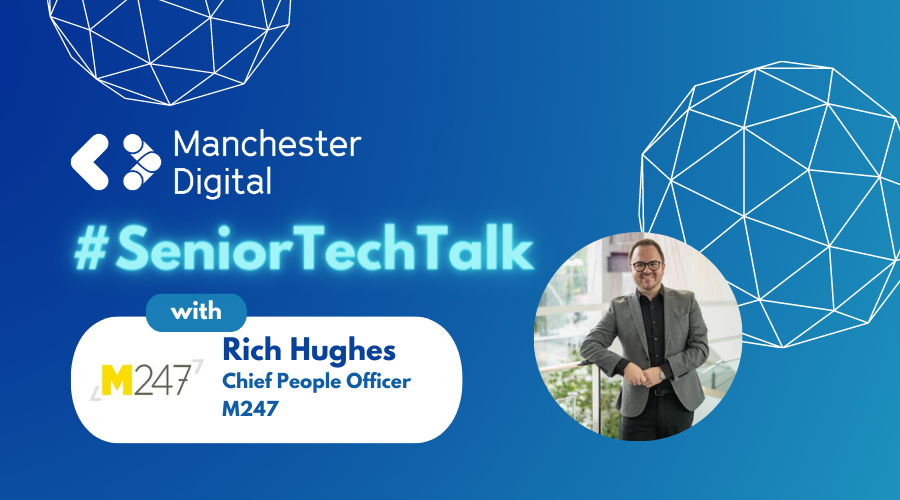 Rich Hughes, Chief People Officer, M247
M247 is a leading connectivity-led cloud services partner, who transform businesses with technology.
We recently caught up with their Chief People Office, Rich Hughes, to find out more about their business and their people strategy.
Could you tell us a bit about M247 and your goals as an organisation?
M247 were originally founded in 2000, and we are a leading UK business-to-business services provider who offer both connectivity and advanced services solutions to our customers.
Our portfolio aims to bring together service innovation and robust technology partnerships, and our goal is to enhance business transformation journeys and enterprise public sector organisations in the new digital economy.
Our solutions are driven by customer and market demand. The need is generally automation and optimization of technology, operation cost, data management and networking.
And what is your role within the company?
I'm the Chief People Officer here at M247, and that means I'm the board representative for the people of our business.
I'm responsible for the people strategy for the group and also oversee all operational aspects of that too. This covers a broad range of topics including employer brand, hiring and retaining best talent, growth, L&D, performance management, employee relations, D&I, ESG, health & wellness and many others.
I've been here for a year now and as I look back at my initial year in post, I'm incredibly proud of what we've achieved as a team.
What are the main challenges you face from a people/skills perspective?
There are many theories around being a fully office based business in a world of remote work, particularly in the tech space. One of our biggest challenges over the last year has been returning our workforce to the office. We felt it was essential to better support our people and offer improved wellbeing, collaboration and performance.
We took the decision a year ago to return our workforce and a year in, we've actually found ourselves with an unrivalled sense of community in our office. Naturally, we remain very flexible and people are allowed to choose one day a week where they can work from home. But that sense of community and support, I feel is really unmatched now.
Attrition was another big challenge for us. A year ago, we were in a very uncertain time as an organisation, as was the wider market. We've managed to drive our attrition down massively since then, with a monthly attrition average of 0.89% now (down from 7.19% last year!).
It's been a similar journey with our employee engagement. Our Employee Net Promoter Score has been driven over the last 18 months from -7 to +17. So that shows the journey that our people have gone on and the positive place we now find ourselves in.
What steps does M247 take to attract and retain top talent, and could you tell us a bit about your company culture?
In terms of talent attraction, most of our recruitment is done by organic advertising and direct sourcing in a relatively passive market. We have great partnerships with organisations like Manchester Digital, and we also work with a company called Socially Recruited. For early talent, we operate out of careers fairs to actually meet candidates directly at the very start of the process.
In terms of actually bringing in the majority of our new hires, they come via referral and word of mouth which is quite unique for our sector. We have a great referral scheme, and this is where the majority of our external hires come from.
Internal progression is also a really big thing for us. We've had 77 promotions in the last year, which is a number that we're really proud of. We recruit the majority of those external roles at the earliest stages, with most of our development and succession happening internally. This means it's a really nice environment to come into and not just spend 12/18 months as some younger techies do, but actually build a career here and plan what the next five years looks like for you, which is something that we're really proud to be able to support with.
In terms of the culture, I've mentioned a few things already but on top of that we have a great social calendar, our employees are really engaged and we really listen to them. We've created a workforce and a work environment that we believe supports their aspirations and needs.
We also support our employees financially. For instance, we've made two cost of living payments in the last 12 months to support with the burden of additional costs in this climate. And we do anything that we can to support our individuals personally, as well as professionally.
Do you have any early talent programmes in place?
We do indeed. We run a few different campaigns to encourage early talent from all walks of life to join our business, and these normally come in via different routes.
We welcome apprentices into a number of our technical and back office departments. This predominantly includes sales and operations roles. The individuals that come in via this route often stay with us in a professionally qualified capacity and then can develop through the ranks.
We also support graduate recruitment, from multiple sources as well. These graduates generally come into areas like finance, HR and commercial. Again, they tend to forge out a three to five year career plan with us.
And we've got lots of success stories, which is really positive. For those who join us via these routes, we have a really clear development plan and in that early stage of their time with us we really focus on their wellbeing and development. It's a major part of the appraisal process, and it's been really successful for us over the last 12 months.
How important is it to M247 to play an active role in Greater Manchester's digital community?
It's really important to us. Although we're an international outfit, we do operate our headquarters from Manchester, which is of course the birthplace of our business.
We're really proud that we can offer careers at all levels to local people, it's really important to us. Most of our clients and partners are also local to us so our operation contributes significantly to the local economy.
In addition, over two thirds of our senior management and the executive and people teams are all Manchester based. We're all super passionate about delivering new products, and collaborating and networking with other tech organisations in Manchester.
Finally, what are your hopes for M247 going forwards?
Our vision is for M247 to be the digital growth and innovation partner of choice, underpinned by our heritage in connectivity and unified communications, and advanced by our passion for cloud and application based innovation.
We enable our customers to grow and compete in the digital era. We don't want to lose sight of our Manchester routes, and we want to be recognised as an employer of choice by our colleagues and partners.
Thank you Rich!
Find out more about M247 here.