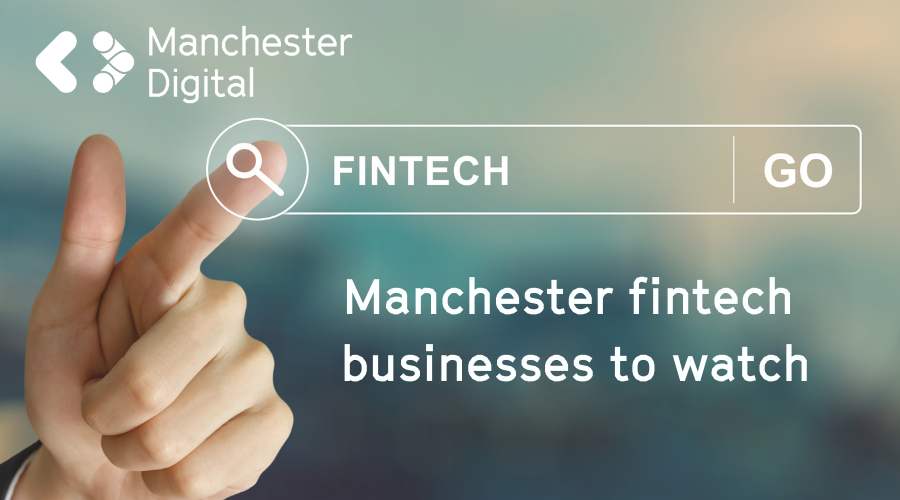 The development of Manchester's thriving fintech sector is well documented, as it's become the largest regional fintech ecosystem in the UK.
With a wide selection of financial technology businesses choosing the region for their operations, from disruptive startups and scaleups to more established firms, we've selected some of the businesses to keep an eye on over the next 12 months...

AccessPay
AccessPay is a key fintech business to watch for 2021.
The payments and cash management automation firm has revolutionised how corporate businesses connect their back-office systems to their banks. With 'one portal for all payments' the secure platform takes the everyday pains out of manual uploads and processes, freeing up finance and treasury teams for more meaningful work.
Manchester-based AccessPay was founded in 2012 and has been growing ever since, with around 75 full-time staff and ambitious plans for 2021. It is led by CEO Anish Kapoor, a tech entrepreneur and former finance director, who co-founded Europe's largest data centre operator Telecity.
AccessPay provides a secure digital connection to thousands of banks and payment schemes worldwide. And the fast-growing fintech has helped hundreds of corporate clients transform their finance function including Imperial College London, ITV, NSG, and the AA.
In 2020 AccessPay expanded, as home working meant that many firms needed a cloud-based payments solution with remote access.
Anish explains:
"When many employees are remote working, it is essential that they can transfer files around their network just as securely as they were able to in the office. But the risks posed by team members using their own devices to access sensitive payments and collections data, means that firms must take extra precautions."
Growth is AccessPay's main objective for 2021 as the business continues to serve a number of international subsidiaries/banks and is backed by transatlantic investor Beringea. The fintech scale-up is also pioneering a new Treasury solution for corporates using Open Banking.
By partnering with a leading Open Banking provider the new integration will enable AccessPay users to connect and aggregate their entire corporate banking estate at the click of a button. And, as ever, all this innovation is taking place at the Manchester HQ in City Tower where the growing business is based.
Speaking of AccessPay's place in the UK fintech scene Anish said:
"The North West is a hive of tech innovation and we are proud to belong to this regional ecosystem. Our very existence shows future talent that you don't need to move to London to forge a successful career in FinTech. It's possible right here."
Find out more about AccessPay here: https://www.accesspay.com/

AJ Bell
The £62 billion fintech on your doorstep.
Salford-based online investment platform AJ Bell is a great place to start and build a tech career with 130 tech-focused employees and eight digital apprentices developing their skills currently. Set up in 1995 and now with over 346,700 customers, AJ Bell's main aim is to make investing simple and easy for everyone.
AJ Bell have two main channels where customers manage their accounts such as ISAs and pensions; AJ Bell Youinvest is a direct to customer platform and AJ Bell Investcentre is set up for advisers to manage their clients' assets. As an online-only platform, accounts can be set up in 15 minutes and trading completed online, removing complicated paperwork and stuffy meetings with stockbrokers. Both channels offer iOS and Android apps with features developed and added to them regularly.
As the average age of customers continues to drop, AJ Bell are keen to keep developing their tech team to add more features to their platform and improve their existing proposition. The company recently acquired Adalpha, a mobile focused platform for financial advisers and are continuing to work with great tech talent to build a mobile-led offer for advisers.
As a company, AJ Bell is a FTSE 250 listed firm and has strong financials to back up the platform, regularly reporting excellent growth and profit; which means they can invest this straight back into the technology that supports the entire operation. At the end of December 2020, they saw their assets under administration hit £65.2 billion, an increase of 14% over the last 12 months. This is despite the challenges the pandemic has caused as the company were quickly able to get staff working from home safely so they could keep serving customers.
AJ Bell are determined to continually make sure their products and service are among the best available, cut out the jargon, and put customers' interests at the heart of everything they do.
Open tech vacancies at the business currently include software developers, API developers, test engineers, automation engineers and mobile developers.
Find out more about AJ Bell here: https://www.ajbell.co.uk/

Collctiv
Collctiv is a rapid-growth fintech company based in Manchester, founded by Amy Whitell and Pete Casson. Collctiv exists to simplify the payment journey of consumers who need to buy, book or pay as a group. By enabling merchants to collect payments from groups of customers in a simple, social and viral way, Collctiv helps drive increased revenue and new customers. Consumers can also collect money directly from their group of friends in the same effortless way using the Collctiv app.
Launching in September 2019, this startup has already received two rounds of investment, processed over £2million in payments, and simplified over 10,000 commercial transactions.
Being a social organiser herself, the CEO Amy experienced the challenges involved in collecting money from friends and keeping an overview of who paid what, when trying to organise something for a group of friends. This problem is one that is also faced by businesses who sell to groups.
With the latest release of their B2B platform, Collctiv wants to work with more event & activity companies to streamline their sales and bookings process and reduce the number of lost sales due to website bounce at checkout. By allowing an organiser customer to choose to pay as a group at checkout, the organiser can make quicker purchase decisions on behalf of the group, knowing they're not going to be at risk of being out of pocket if their mates don't pay them back.
According to one of their customers, the platform also helps event companies to keep a better track of the sales process when hugely relying on their customer, the organiser:
"It gives me a really good touch point with the customer to say 'Oh you're nearly there now, you've got to make three more payments', where previously I've never known that".
Dave Richardson, MD of SLT Tours
Collctiv also offers a straightforward and risk-free solution to create an offer and get new sales through their CrowdPay feature.
By combining consumer buying behaviour triggers such as urgency and scarcity - set by the company themselves - with Collctiv's innovative tap-to-pay group payments technology, CrowdPay is designed to spark viral, social selling. This drives a company's sales and new customer acquisition. Previous campaigns have seen up to 90% of bookings/purchases from brand new customers and an increase of up to 370% in sales.
The transaction based model implemented by Collctiv allows companies to use their software without any upfront costs. This means a Collctiv customer will only pay if Collctiv actually drives any new sales for them.
After a difficult year for event and activity companies, Collctiv is excited to help drive sales for this market, and enjoys helping businesses and their organiser customers to focus on the fun part of group activities over the pain of collecting funds.
Collctiv has accounted for a significant 100% growth each quarter throughout 2020 and is excited for international expansion and additional technological development in 2021 that will benefit its merchants and consumers by further simplifying group payments.
Find out more about Collctiv here: https://www.collctiv.com/

Finstant
Finstant is a white label fintech company based in Manchester. They are solving the problem of seeing into the future through data. Finstant is the data aggregation, calculation, and generation engine that turns conversations into financial forecasts.
Finstant's mission, when they started out, was to make financial forecasting quick and easy for startups. Any startup owner, no matter how good at finances they are, can create a cash flow forecast using Finstant in under 10 minutes. The ability to see your business journey has never been quicker or easier.
Data is generated through white label chatbots living on partner websites that create financial forecasts and reports. Finstant therefore uses chatbots in order to deliver these reports. While most businesses use chatbots for FAQ sections to check customer orders, Finstant is able to create complex financial models in them that take only a few minutes to create. Chatbots provide a unique technology that allows us to collect necessary user info on the front end in an easy to use method, and match that with complex accounting and forecasting on the backend, while delivering an easy to read pdf or excel file to the user.
Finstant began doing this on Facebook, and created the first financial forecasting tool built on that platform. They've since moved this to a website service that allows them to work with great companies to support their clients on their site.
Finstant's products have always been built with startups and financial institutions in mind. When the coronavirus outbreak began, they quickly pivoted and added another product to support businesses during this time. They used their connections into the banking and finance community to build this service in line with the government support, such as the CBIL scheme, and Bounce Back scheme. In using these contacts, Finstant ensured that their clients were getting the best possible support and forecast for their company.
Having been a part of a number of UK based startup programmes, Finstant recently got accepted into the Qatar FinTech Hub, giving them the opportunity to expand services internationally with some global partners after previously looking at other english speaking markets like Canada and New Zealand.
Finstant have also begun white labelling our services this year with a number of clients already onboard. Significant partners include Manchester Digital, Boom & Partners, and the ADAPT programme for East Cheshire business owners. Their solution can be fully customised and implemented in just a few days, making it the quickest way to deliver excellent forecasting value to your SME clients.
Find out more about Finstant here: https://finstant.co.uk/
Or, try the Manchester Digital cash flow forecasting chatbot here.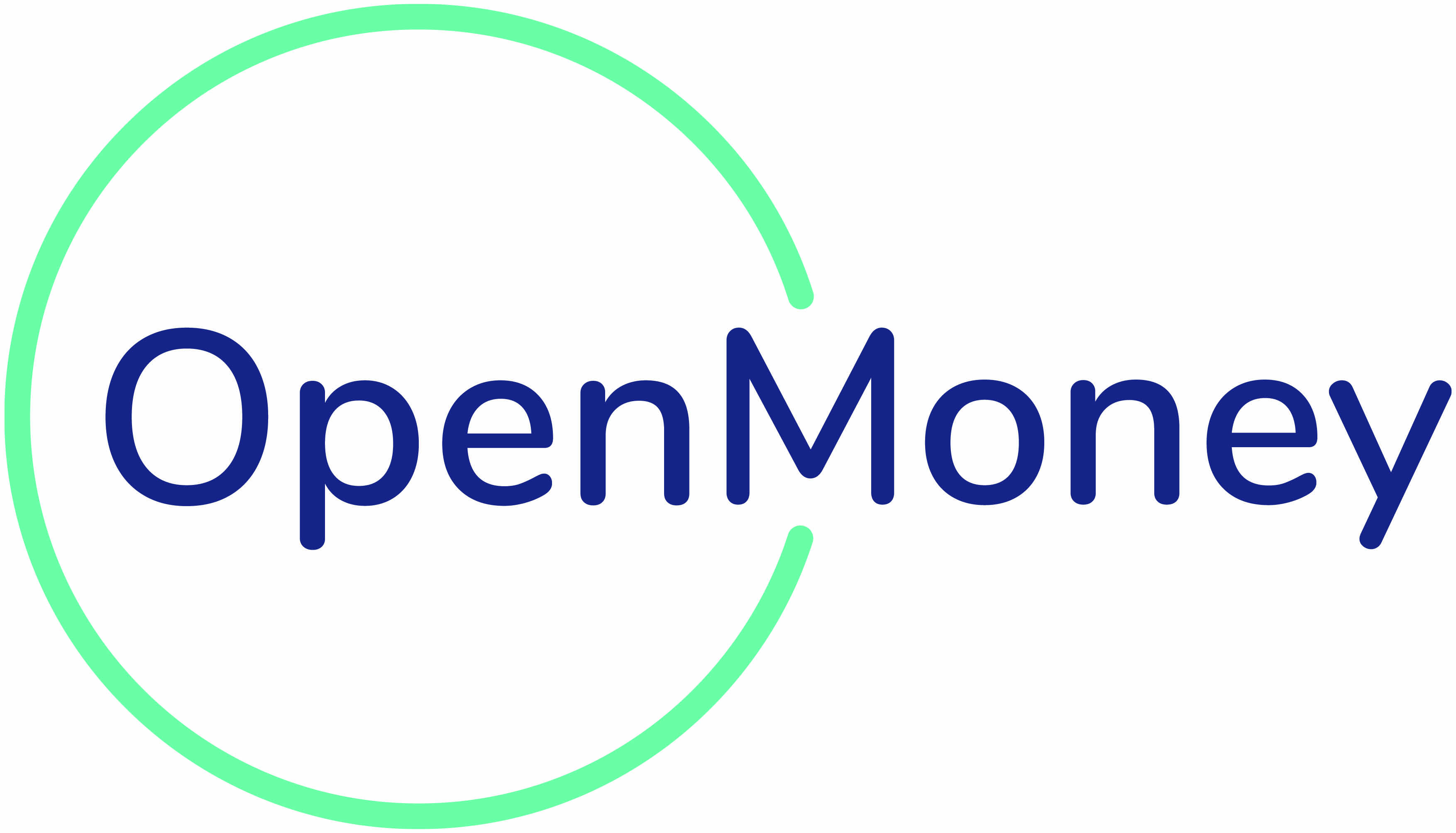 OpenMoney
OpenMoney is a low-cost and easy way to access financial advice online. Their Advice Gap report with YouGov highlighted that 20.8 million people in the UK can't access or afford traditional financial advisers.
OpenMoney are plugging this advice gap by offering affordable advice online, that is truly in the best interests of the customer. They'll only recommend investing to someone if it's right for them. In fact, they tell 2/3rds of their customers that they shouldn't be investing. This could be due to their debts, need to save a cash buffer or also because they aren't comfortable with the risk investing brings.
Not only revolutionising financial advice as it's traditionally known, OpenMoney are widening what financial advice means to the everyday consumer to help these people get on a path to long term investing.
This year, they've already put a lot of focus into their account aggregation and money management app, as they continue to add and update new features to help customers move forward with their finances. The app gives users the tools and advice they need to help to cut costs, save money and work down their debts.
Earlier this year OpenMoney also launched Worklife, their employee benefits platform, to give SME employees the chance to enjoy workplace benefits usually enjoyed by larger firms. Soon they'll also be moving into the mortgage space with Home by OpenMoney and will be providing first time buyers with mortgage expertise, alongside financial advice, to give them the complete home buying solution.
Whether they're offering advice on investments, money management or even mortgages, OpenMoney is proud to be helping customers make the most of their finances and continue working towards their mission of making financial advice affordable and accessible to everyone.
Find out more about OpenMoney here: https://www.open-money.co.uk/

Planixs
Planixs is the global leader in cloud-based treasury software solutions that deliver real-time cash, inventory and liquidity management capabilities to leading financial institutions.
Founded in 2011, they utilise the latest technology, analytics and data science to develop and enhance their award-winning Realiti® software suite – a set of solutions that provides treasuries with advanced analytical tools for liquidity management and real-time liquidity control.
Following the financial crisis of 2008, global regulators identified that the lack of intraday liquidity was a major risk to financial stability across the industry, and that banks failing to manage their liquidity intraday posed serious risks to the integrity of the entire banking system. In response, intraday liquidity has become an increasingly important issue on the global regulatory agenda.
Global regulators require banks to have a real-time view of cash and securities usage across all their central and correspondent bank accounts and submit BCBS 248 reports to ensure compliance. Where banks lack an accurate intraday view, the regulator typically takes a very risk averse approach, requiring the bank to hold costly reserves in the forms of intraday liquidity buffers.
Real-time liquidity control is difficult to achieve. The required data must be captured, cleansed, computed and transacted in real-time for millions of individual transactions per hour.
Since their inception in 2011, Planixs have had very clear objectives – to help financial services companies gain this real-time view of their cash, collateral and liquidity, and optimise their critical decision-making using insight gained through the use of their next generation technology.
To meet these objectives, they developed the Realiti® product suite - a real-time intelligent insight solution that runs on internal or external cloud architectures, consuming extremely high volumes of transactions with market-leading performance. Working with some of the most recognised global banks to tackle the intraday liquidity challenge, Planixs have honed their solution to ensure that it is the best-in-class real-time liquidity management platform in the world.
Realiti® by Planixs is a complete suite of modules built to deliver real-time intelligent insight across the entire treasury business – including funding, liquidity, compliance and risk. Realiti® helps firms to comply with global BCBS 248 regulatory requirements including stress modelling (incorporating UK PRA, US Fed and European Banking Authority regulations), whilst automating treasury processes and mitigating risk.
Realiti® is designed and architected to continually process very high data volumes and provide instant visibility demanded by an organisation's various user communities. Realiti® delivers both intraday control and regulatory compliance to large banking firms and financial services organisations.
Clients can select the most appropriate combination of modules to address their needs. Modules include Intraday Liquidity Management, Funding & Forecasting, Regulatory Reporting, Intraday Stress Modelling, Intraday Reconciliation, Intraday Balance Forecasting, Payment Control, Collateral Management and Vostro Management.
Planixs' clients range from tier one global banks to single entity firms - just some of their customers include Santander, Allied Irish Bank, Lloyds Bank, Banque Internationale à Luxembourg (BIL), Landesbank Baden-Württemberg (LBBW), SIX, The Bank of Nova Scotia, Zenith Bank and Ghana International Bank.
What's more, their innovation and dedication has seen them recognised as a UK tech leader in the prestigious Sunday Times Fast Track Awards and a leading RegTech solution provider both in UK and North America.
Find out more about Planxis here: https://www.planixs.com/

Total Processing
Total Processing is a Manchester based fintech that has expanded their local roots on an international scale, as they continue to grow month on month following an incredible increase of 247% in annual growth in the year ending 2020.
Following the substantial investment of £5 million from BOOST&CO in September 2020, Total Processing can now be seen offering a range of custom payment processing and gateway solutions across online and in-store commerce channels across the UK, Europe and the newly expanded into, MENA region with the addition of their new HQ in Dubai, UAE.
Speaking to Head of Strategy Cameron Lee, the company attributes their rapid scale up to the assistance of multiple partnerships such as the Global Scaleup Programme and KPMG.
Operating a unique business model to better serve businesses with payment requirements, Total Processing flexes the freedom of choice in creating optimised customer experiences and cost-effective processing lifecycles for businesses. Atop of their business partnerships, Total Processing is proudly affiliated with Visa and, partnered with Code Nation and various e-commerce agencies, in order to deliver a consistent full scope of services to their clients.
As 2021 announces a new pathway to businesses out of an unprecedented preceding year, Total Processing continues to make waves; processing their largest volumes to date with a continuously varied and innovative portfolio of global businesses on the books.
Find out more about Total Processing here: https://www.totalprocessing.com/

Zuto
Zuto are a car finance broker who are on a mission to transform the car finance industry with simplicity and integrity.
With offices in Manchester and Macclesfield, Zuto recently celebrated a major milestone; 2021 marks the 15-year anniversary of the business.
James Wilkinson CEO:
"When we started the business, it was to bring trust and transparency to buying a car. As the years have gone by our purpose has got bigger, believing that we can make a bigger difference to society. We wholeheartedly believe that if we are going to live in a better / fairer society, it's down to businesses to make this happen and we are excited to be part of this movement. 2021 looks set to be an exciting year for the business and we look forward to celebrating many more milestones over the coming years."
Zuto are proud to have supported local recruitment in the midst of a pandemic, with over 100 new employees joining the business since June 2020, and a number of roles still available across sales, product, analytics and tech.
With the end of lockdown in sight, and dealerships due to open back up on 12th April, interest in the market is picking up and Zuto continue to consistently break records.
Zuto are currently working on some exciting digital projects, and hope to introduce new, transformative customer journeys over the next 12 months.
Find out more about Zuto here: https://www.zuto.com/
Manchester Digital's next Fintech Forum takes place on Thursday 29th April 2021 and be taking an in-depth look at the rise of Buy Now Pay Later schemes, as we're joined by speakers from Collectv, OpenMoney, Auden and AND Digital.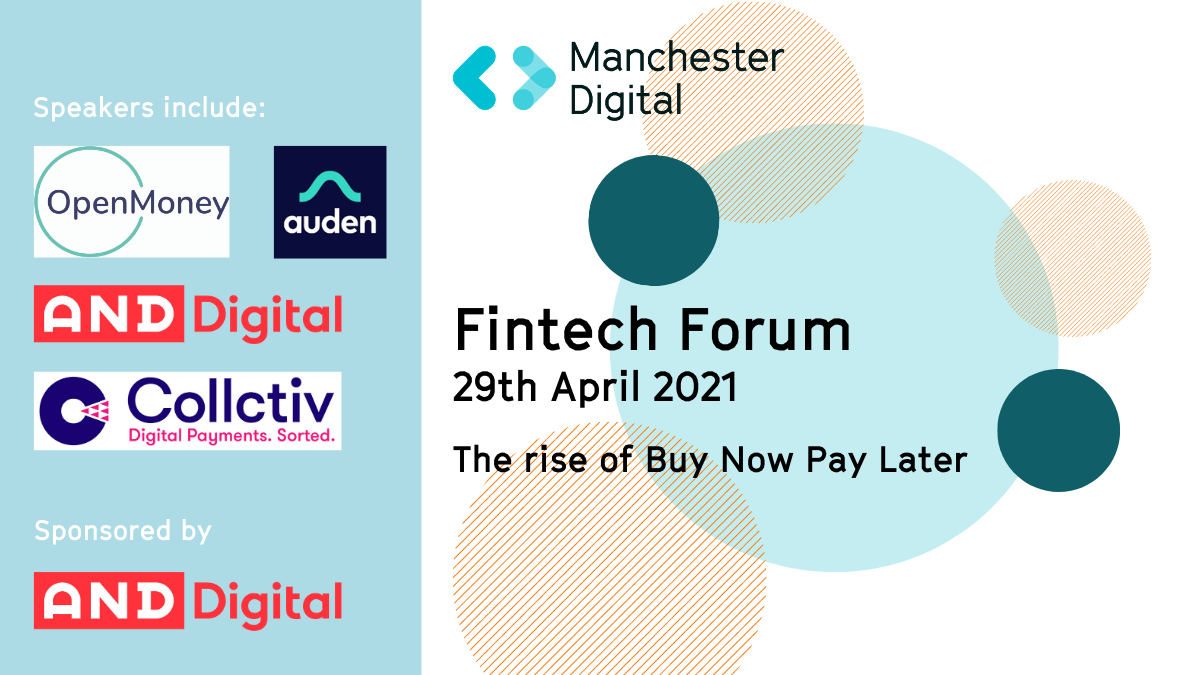 Click here to find out more and register your place at this event.