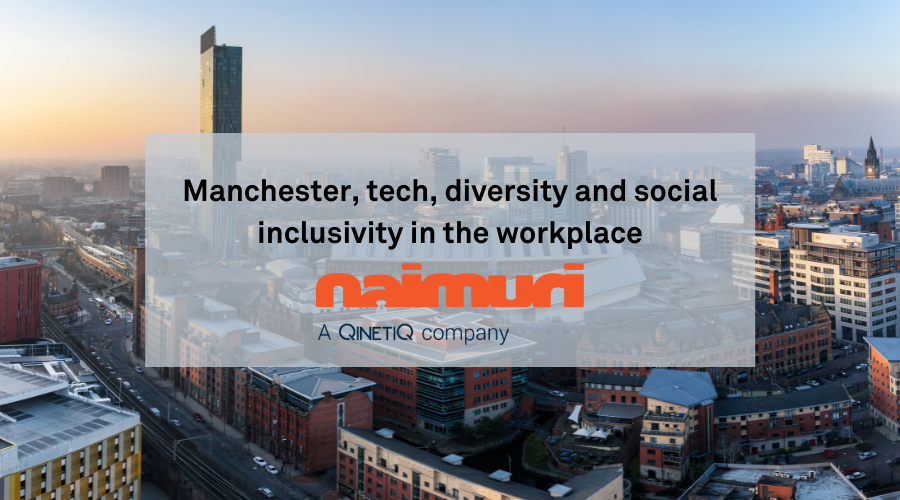 Manchester, the city famous for its football, music, the birthplace of the computer and the suffragette movement, has become the epicentre of the tech industry in the UK.
As the number of start-ups being born and global brands moving in and around the city continually rises, so does the fight to find, nurture and retain the finest tech minds.
It is a great time for technology graduates as they navigate their way through the marketplace and strike a deal with a company that meets their values, salary expectations and thirst to learn and grow.
For businesses in that ecosystem, like ourselves at Naimuri, we are faced with on-going challenges to stand out from the crowd and find talent eager to join us on our continued mission to make the 'UK a safer and better place'.
Diversity — or the lack thereof — has long been a fundamental issue in the technology sector and sadly women are still very much under-represented, with a recent Tech Nation report stating, only 19% of the British tech workforce is female.
We are proud that 40% of our senior leaders are female, and we are continually looking for ways to improve our gender ratio within the business as a whole.
Diversity and inclusivity can too often be a tick box exercise, but for a business to continue to evolve, like ourselves here at Naimuri, ensuring we create a diverse and socially inclusive workforce - is key to enabling our growth.
Uniting talented minds and personalities from culturally diverse backgrounds is fundamental to continuing to collaboratively solve our clients problems and deliver ingenious solutions and our well-being power group helps in doing just that. It is run by Naimuri people to help shape and implement our approach to the well-being of our team ensuring we are an inclusive business, both internally and externally.
Attracting and nurturing talent from all walks of life, is also a great way of aspiring younger generations and showing them that regardless of the social circumstances they are born into or their background, gender, sexuality, religion or race, there are opportunities within the working world, which will allow them to have a fulfilling career in an area they are passionate about - like tech.
The pandemic has left a whole host of people without jobs and a younger generation missing out on vital educational opportunities.
As a business part of a growing sector, we need to work collectively with peers, partners, organisations and academia to inspire future talent, create new opportunities and new pathways into the industry.
Apprenticeship schemes are a great way of nurturing eager talent and we have been fortunate to see many of the talent on our schemes go on to take up senior roles within Naimuri.
Opportunities to retrain or upskill and mentoring programmes can all play an important role in ensuring gaps are closed and we work to create an inclusive and diverse workforce.
Let's continue to evolve to inspire and motivate talented people to help our tech sector continue to thrive.
Written by Carl Roberts, Managing Director