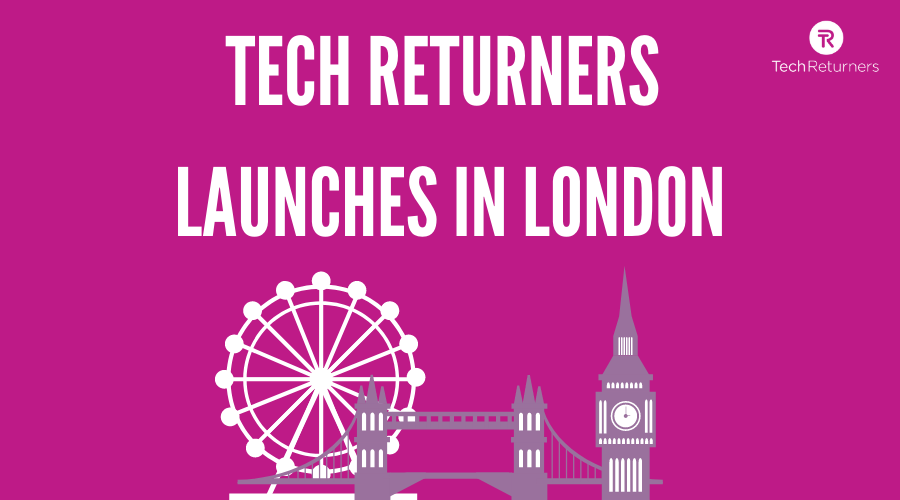 Tech Returners is bringing its successful returner programme to London starting in August.
The Your Return to Tech programme provides skilled tech professionals returning to industry accessible opportunities to refresh their skills and reignite their career but it doesn't stop at learning and development, the organisation works closely with businesses who recognise the value of industry returners and who are passionate about creating diversity and inclusivity in their teams to provide an innovative tech talent solution.
The 8-week programme recognises the need from businesses growing their teams to bring tech talent to the market quickly and with the skills in place to hit the ground running in mid-senior level technical roles. The entirely remote learning experience boasts a curriculum which includes refreshing existing tech skills, front end frameworks 'React' (Hooks, Context, API) alongside Cloud technologies (AWS tooling), delivered alongside platform engineering skills such as infrastructure as code CI/CD and monitoring.
Uniquely the programme will connect with businesses looking to hire from the programme who will provide live briefs for our returners to work on throughout the 8 week period. Interested businesses can sponsor places on the course at a cost of just £4,500 per returner making it an affordable and competitive option versus traditional recruitment agency fees.
It's a model which has proved successful in the North West of England, since 2017 the organisation has empowered returners into mid-senior level technical careers with businesses like AutoTrader, Booking.com, Lloyds Banking Group, ANS and Infinity Works and has worked exclusively with the BBC in Manchester and London respectively with 95% of returners on those programmes successfully hired into roles at the BBC.
The programme is open to anyone returning to a technical career or who has a technical qualification and who have taken a career break from tech for six years or less. Applications are open now for the programme starting in August 2020.
Speaking about the programme CEO Beckie Taylor said
" We've seen some amazing returners come through our ranks as a result of our work in the North but we know there are so many more out there and with our remote learning model, location need no longer be a barrier to talent. Working with London based businesses was the next natural move for us, we know the returner market is there and we're here to deliver the talent to forward-thinking businesses who are focused on diversity and taking a fresh approach to tech talent"
One of the sponsors of the programme Dr Lewis. Z. Liu, Co Founder and CEO of Eigen Technologies said
"With everything going on in the world today, we are rethinking what we can do to ensure we recruit from a truly diverse talent pool. Those wanting to return to our industry after time out face significant challenges and represent a group that is often overlooked by tech companies. We are delighted to be joining the Tech Returners programme in London supporting this brilliant initiative and sponsoring someone's career journey back into their chosen industry"
Businesses interested to learn more about sponsoring returners on the programme can do so here https://www.techreturners.com/sponsorship/your-return-to-tech or sign up to join a free information event on Thursday 9th July https://share.hsforms.com/1nDOXcLuyRo-ufJoPJbGOkw2g8p6
Individuals looking to apply to the programme can find out more here https://www.techreturners.com/programmes/your-return-to-tech