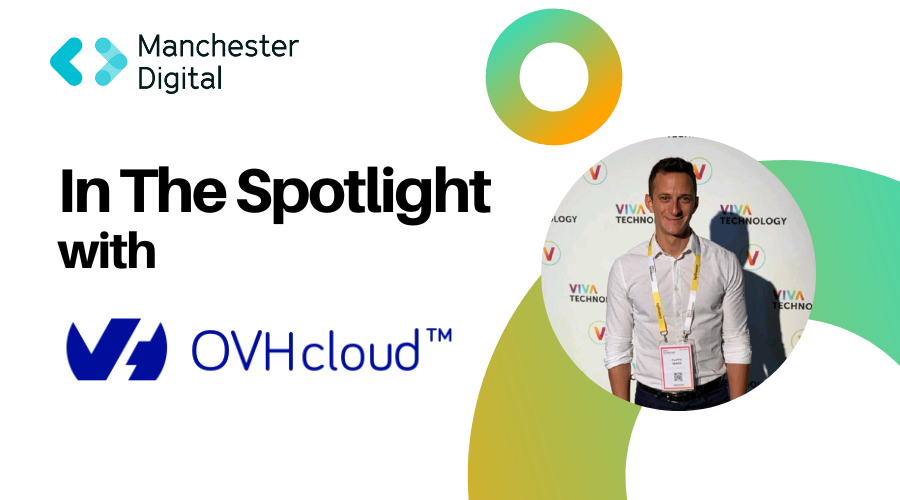 At Manchester Digital we like to interview our members to find out a bit more about what they do and their work in the Greater Manchester digital and technology sphere. This week we're speaking with Filippo Sanesi, Startup Program Manager at OVHcloud.
What does your organisation do?
Our aim is to provide an open cloud that is reversible and interoperable. This belief empowers our 1.6M customers across 140 countries, as we continue to build on our global footprint of 33 datacentres with the latest generation of private, public and web cloud services.
We have developed an integrated and sustainable business model where we design cutting edge technology to assemble our water-cooled servers that are housed in our purpose-built datacentres. This value chain enables us to offer the best market prices when comparing like for like performance. Plus, our transparent price book means that our customers can predict their costs and won't get bill surprises!
Our 32 Tbps fibre-optic global network across 38 points of presence with real-time monitoring and anti-DDoS is optimised for stability, redundancy and availability keeps our customers businesses operating efficiently and safely. It was this network that repelled one of the largest DDoS attacks ever recorded.
What do you think is currently the biggest issue facing the tech industry?
Access to scarce skill sets / great resignation is real!
Dominance of the American big tech hyperscalers
Data mobility & regulatory compliance
End to end service quality / user experience / Automation / Impact of AI
Data centre / Edge 5G / IT, Nwk & Security Blur
Org design & changes to buying behaviour / usage of IT changing
Delivering ROI from digital / data
Sustainability: The green agenda is driving change in all sorts of ways
What is your organisation's biggest achievement?
Making successful a new model for doing business in the tech industry i.e. opensource, transparent pricing, no vendor lock-in,
IPO
Sustainability leadership: our green credentials are amongst the best in the industry
What would you consider to be your organisation's biggest challenge?
Brand awareness outside France
What do you think the future looks like for Manchester's tech sector?
Manchester is already a centre of the regional hub for FinTech which drives innovation and technology. The tradition of Manchester born inventors still thrives today!
Tell us something that we might not know about your company?
Our sustainability credentials are extremely good!
We have operated in the UK for over 10 years
Thank you Filippo!
To find out more about OVHcloud, click here.
Want to raise your business's profile? If you're a member, contact thom@manchesterdigital.com to discuss featuring your content on our site, social media or newsletter. If you're not a member, get in touch today to discuss the benefits of membership.