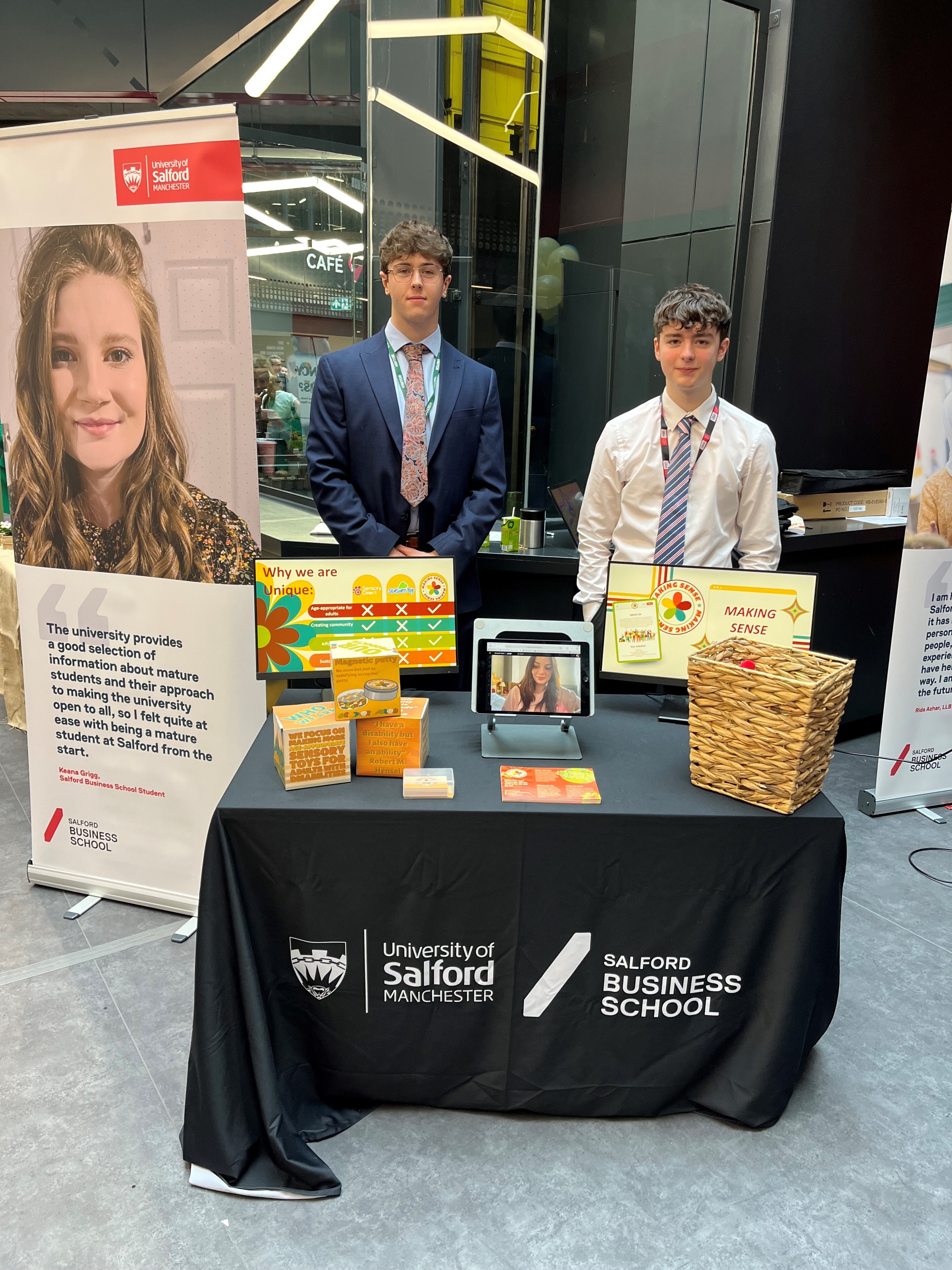 L-R: Oliver Scragg, Thalia Guest and Samuel Ball at the Young Enterprise North West Start-Up Final.
Three University of Salford Business School students have been crowned North West finalists and will now progress to the Young Enterprise UK Start-Up Final 2023 with their business Making Sense, which provides sensory toys for adults with disabilities.
Making Sense, which is led by second year students, Thalia Guest, Oliver Scragg and Samuel Ball, follow in the footsteps of last year's European winners. In 2022, Salford Business School students, Jake Naylor, Jordan Hall and Arran McDonald, went on to win the coveted top prize for their biodegradable and affordable ear protection business, hearNprotect, beating fierce competition from 375,000 students from 42 countries across Europe.
The foundation for Making Sense is driven by an incredibly important cause, which is close to the team's heart. The inspiration for the business comes from 22-year-old, Renee, who is Thalia's boyfriend's sister and has Angelman Syndrome, a genetic condition affecting the nervous system which causes severe physical and learning disabilities. The business' mission is to empower adults with disabilities, while removing any stigma by creating positive awareness of conditions of this nature.
"We really didn't think we would get to this stage, so it really has been an incredible journey which we hope will go the distance. When we initially started to conceptualise the business model, we knew it had the potential to be something huge and because we've developed something we're all passionate about, due to the personal connection, it's only given us more drive to succeed," commented Making Sense's Oliver Scragg, who is currently studying BSc (Hons) International Business Management.
The North West final, which took place at UA92 (University Academy 92), welcomed 13 teams of student entrepreneurs from the likes of Manchester Metropolitan University, Liverpool Hope University, Edge Hill University, University Campus Oldham and UA92, with just five teams going on to represent the region in the UK final.
Judges for the charity's 2023 North West Final included DWF LLP's Tim Scott, Avanade's Vinny Leach, The Marketing Trust's Nigel Coates, The Institute of Leadership and Management's Jay Ludditt and Becky Martin, The Institute of Export and International Trade's Marcel Landau and Gary Wattley, as well as Salford Business School students and 2022 winners from hearNprotect, Jake Naylor, Jordan Hall and Arran McDonald.
Gabi Round, Lecturer in Enterprise at Salford Business School, who works with Young Enterprise at the University alongside module leader, Dr Jonathan Owens, commented: "The entrepreneurial mindset of our students never ceases to amaze me, so it's great to see Making Sense has been recognised as one of the best groups of student entrepreneurs in the region. Through their business model, they've really encapsulated purpose with commercial drive and I have no doubt they'll go on to do great things."
Making Sense has also already been credited for having a firm hold on recognising the importance of ESG (environmental, social and governance). During the first stage of the competition earlier this year, they won the Sustainability Award based on the business' returns policy which paves the way when it comes to reducing environmental footprint. Essentially, customers who order from Making Sense but no longer wish to keep their product(s), can return and, upon receiving any returns, the company will then clean them before donating them to charity.
"While we know we're competing against some other amazing entrepreneurs, we're hopeful we'll be successful as the home team here at the Business School come May for the UK final," concludes Oliver.
The Young Enterprise UK final will be held at the University of Salford's Peel Park campus on 10 May 2023 and will welcome student entrepreneurs from across the UK to pitch their business to a panel of respected judges.
For more updates from Salford Business School, visit: www.salford.ac.uk/news.