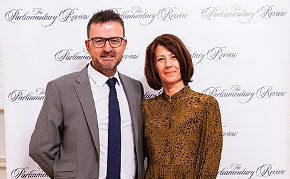 The Parliamentary Review is a comprehensive document that shares best practice between policymakers and business leaders. Businesses are hand-picked and invited to contribute to the review. Each edition of the review covers a range of topics across specific industries, featuring commentary from leading journalists and politicians, and content is tied together by the former world trade editor of the Financial Times, The Rt Hon David Curry.
The review highlights significant developments and concerns for business leaders up and down the country and this year's foreword was penned by The Rt Hon Elizabeth Truss, the Secretary of State for International Trade.
Inclusion in the review follows a strong year for Access, which has seen it deliver a number of global and UK-wide projects and add a number of high-profile new business accounts to its client portfolio.
Within the report, Access' Managing Director, Simon Landi, provides specialist commentary on some of the areas that have helped to drive success. He highlights how remaining agile and independent has enabled the agency to adapt to ever-changing client needs. An employee-centric culture was also cited as the lifeblood of the agency, with ongoing investment into nurturing and developing talent highlighted as business critical.
Simon was also invited to attend the Parliamentary Review Gala dinner earlier this year, where the launch of this year's review took place which included guest speakers from all areas of government and industry.
Introducing Access' feature, Lord Pickles and Lord Blunket said, "The ability to listen and learn from one another has always been vital in parliament, in business and in most aspects of daily life. But at this particular moment in time, as national and global events continue to reiterate, it is uncommonly crucial that we forge new channels of communication and reinforce existing ones. The following article from Access is an attempt to do just that."
Access's article can be viewed here, with copies of the review available from the agency on request. https://www.theparliamentaryreview.co.uk/organisations/access
The report is now being distributed to more than 500,000 directors, CEOs and business leaders throughout the UK.