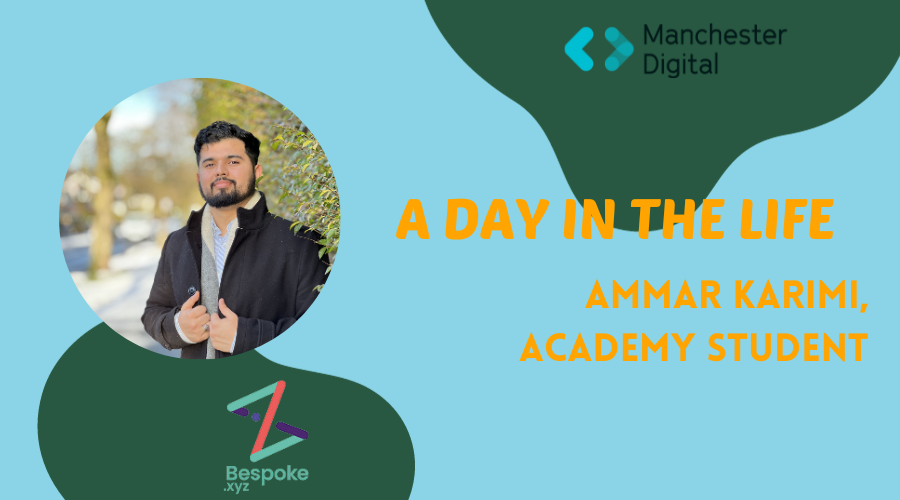 Ever wondered what it's like to work at one of Greater Manchester's leading tech employers or what specific job roles get up to each day?
Ammar is an Academy Student at Bespoke.
We spoke to him to find out more about this role, hris experience at Bespoke, and what an average day looks like.
Name: Ammar Karimi
Company: Bespoke
Job Title: Academy Student
Describe a typical day as an academy student.
My typical day as an academy student at Bespoke involves a mix of structured learning and hands-on practice. Every day I attend a stand-up meeting to review the day's agenda and any outstanding questions or roadblocks. I then spend the day learning about a new Power Platform topic by following the materials which are within the Bespoke Academy App. There are expert developers in Bespoke who are available for support and feedback when I need them.
How do you manage your study for your certifications?
I manage my study for my certifications by creating a study plan. From there I then break down the material into manageable segments and focus on one topic at a time. I use a variety of resources given to me to study, including Microsoft Learn modules, online tutorials, and practice exams. I also schedule regular study sessions with other academy students or my mentor. Additionally, a helpful resource has been intense study sessions during the week before the exam with Adrian, our CTO.
What resources or support systems are available to help you?
I have access to a variety of resources and support systems available to help me with academy studies at Bespoke. I have access to a team of experienced developers and mentors who are always willing to help. Additionally, Bespoke provides me with access to a variety of training resources which are compiled in the Bespoke Academy App.
Are there any challenges you have overcome since your studies with Bespoke?
Initially, delving into the new Microsoft technologies posed a challenge for me. I had limited prior exposure to this tech stack, which made the learning curve seem rather steep. However, the support and guidance provided by the instructors proved invaluable. Their patient mentoring enabled me get to grasp the intricacies of the Microsoft ecosystem, empowering me to seamlessly apply my newfound knowledge of the Power Platform. We were given the task of creating a Booking system app and I got the chance to apply my knowledge of Power Apps and Power Automate to build this project, consolidating key concepts through practical implementation.
What are your goals and aspirations for your academic journey as an academy student?
During my academic journey, my primary goal is to become a certified Power Platform developer. Besides certifications, I aim to leverage my newfound skills to work on projects that have real world value. I am eager to delve into advanced Power Platform topics to broaden my understanding and expertise. This pursuit is driven by my desire to contribute meaningfully to the field and continuously enhance my abilities.
Can you share a highlight for you as an academy student so far?
One of the highlights of my academy experience at Bespoke is the exceptional workplace culture. The team is down-to-earth and approachable, which has given me confidence to ask for guidance. There is mutual respect and I feel that I can actively contribute and share my ideas. A lot of the credit for making me feel included and comfortable in the team goes to Zen, my manager. The fact that my opinions are genuinely valued here has been a personal highlight, making my time as an academy student not just educational but also incredibly rewarding.
How has being an academy student impacted your future goals and career prospects?
Being an academy student at Bespoke has had a profound impact on my future goals and career prospects. It has allowed me to upskill myself and earn valuable certifications, including PL-900 and PL-100, with PL-200 on the horizon.
Moreover, this experience has fueled my excitement for the future. I am eager to be working on exciting projects with Bespoke's diverse range of clients. The practical experience gained during my academy journey so far has given me the confidence and skills necessary to tackle real-world challenges.
Overall, my time as an academy student has not only equipped me with the right knowledge but has also ignited my passion for the exciting opportunities that lie ahead in my career.
Can you share your thoughts on the value of your academy experience in shaping your future?
I believe that my academy experience has been invaluable in shaping my future. The academy has taught me the skills I need to succeed as a Power Platform developer. Additionally, the academy has helped me to develop a strong work ethic and to learn how to work effectively in a team environment.
I am confident that my experience will help me to achieve my future goals and career aspirations. I am grateful for the opportunity to have attended Bespoke Academy and I would highly recommend the academy to anyone who is interested in becoming a Power Platform developer.