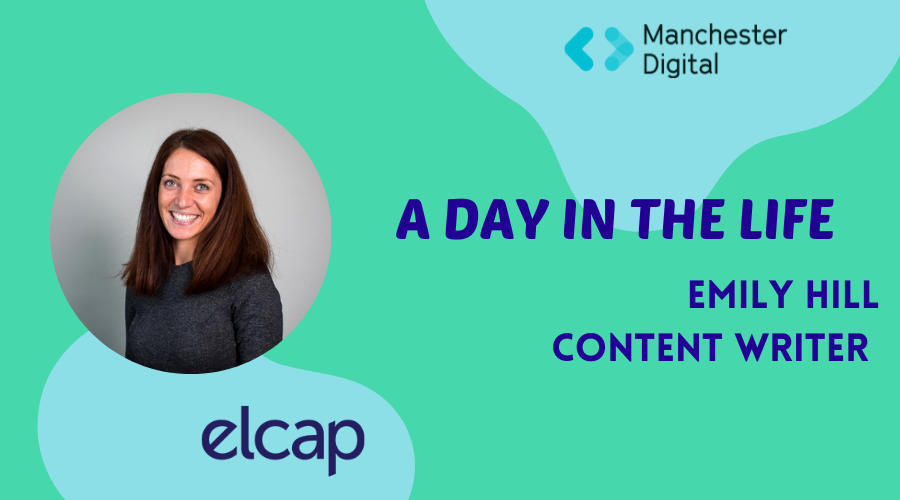 Ever wondered what it's like to work at one of Greater Manchester's leading tech employers or what specific job roles get up to each day?
Emily Hill is the Content Writer at elcap.
We spoke to her to find out more about this role, her experience at elcap, and what an average day looks like.
Name: Emily Hill
Company: elcap
Job Title: Content Writer
How did you get into your current role?
I've known Andy, elcap's founder and UX-strategist, for about 7 years.
Our paths crossed whilst I was working client-side for a high-growth compliance software start-up. I was managing their marketing, and Andy headed up UX at a well-known B2B marketing agency in Manchester.
Andy worked on a project to transform our brand and relaunch our website. I was blown away by his approach to processes and UX design – it's a real niche and few people have that skillset.
When Andy started his own agency, elcap, we commissioned his team to build a custom pricing calculator tool that would integrate data with HubSpot. It was fantastic, and more than trebled our late-stage deal conversion rates.
When Qualsys was acquired and I was looking for a new opportunity, I had some conversations with Andy about joining the team. It was a gradual process to refine how my demand generation skills would add value to clients and how we packaged up services for clients.
I started doing some freelancing for the team, and then officially came on board with elcap in January 2022.
What do you enjoy most about working at elcap?
There are lots of things I enjoy about working at elcap. The team, our clients, processes, and the projects we work on are all fantastic. There's a positive and productive work environment.
One of my favourite things is the freedom to get on with the job.
Many of our clients are on retainers, this means they have a set number of hours e.g. 30 hours a month, for us to use on the mixture of marketing activity to help them to achieve their goals. Our clients get multiple specialists helping them to drive growth, for the same cost as a junior full-time employee.
We use ClickUp and that helps our clients to keep track of where their hours are being spent: clients can login to send suggestions or see what we've planned for the next month. The visibility helps with communication between our team and our clients. This means that we are a strategic partner. We can focus on the results, not just checking a box. And this approach must be working – we haven't lost a client yet and all our clients are seeing strong growth!
What content does your organisation typically undertake, and what are the typical project goals and objectives?
Content starts with the spark of an idea. The good idea comes from all sorts of sources – a conversation, customer feedback, a report finding, trends, user generated content.
Content sits at the centre of any good marketing campaign or project. Whether you're opting for inbound or ABM, you need killer content.
If you're launching a new website, a PPC campaign, or a social media post, content is King and it's the make or break of your growth success.
Content tells the story of your company – what do you do? Who are you? How do you help? Why you?
Content is about being the brand journalist and getting the Voice of Brand out there.
The format isn't just lots of words. Powerful content comes in a mixture of media – this might be a template, presentation, animation, video, survey, statistic, graph, quote, gif, or a meme. Content is about evoking the right emotion and driving your prospects to action.
What does a typical day look like for you?
I work three days a week, so when I'm at the desk it's all systems go.
Today, I fire up the laptop and check Click Up to see the jobs assigned for the day.
I finish a couple of articles I'd been working on, troubleshoot a HubSpot workflow / data import query, schedule some of our client's social media posts, brief some landing pages with design, pop together an application to an industry award, send some emails with campaign ideas to clients, research ideas for a new product launch, plan some more social media posts, call with our UX-designer to discuss a new mega navigation for a website, and then a quick catch up with our HubSpot representative to find out what new releases are coming in the tool.
Have you developed new skills whilst being in the role?
I'm continually building on my marketing skills. One of the great things about elcap is our network of specialists. This means that if a client needs something very specific, we can call upon this best-in-class network to advise, and we also learn more in the process.
What excites you the most about the work?
There are three things that really excite me:
- The field we operate in: I love B2B marketing. We work with businesses doing some seriously cool stuff. Operational Group, for example, go into factories and improve the efficiency of their processes and it cuts out more CO2 emissions in a year than 100,000 trees will absorb for more than 20 years. I get to tell that story and that is awesome.
- Happy sales teams: If sales teams are not busy, their diary isn't packed with customer calls, or deals are not moving through their pipeline, then the marketing isn't working hard enough and we need to work on their demand generation or lead nurturing strategy. With all our clients, I work closely with the sales teams to ensure they have all the resources they need to sell.
- The lines going up: Impressions, clicks, enquiries, pipeline value, AOV, LTV... I get excited by our customer's growth and how we're helping them on their journey.