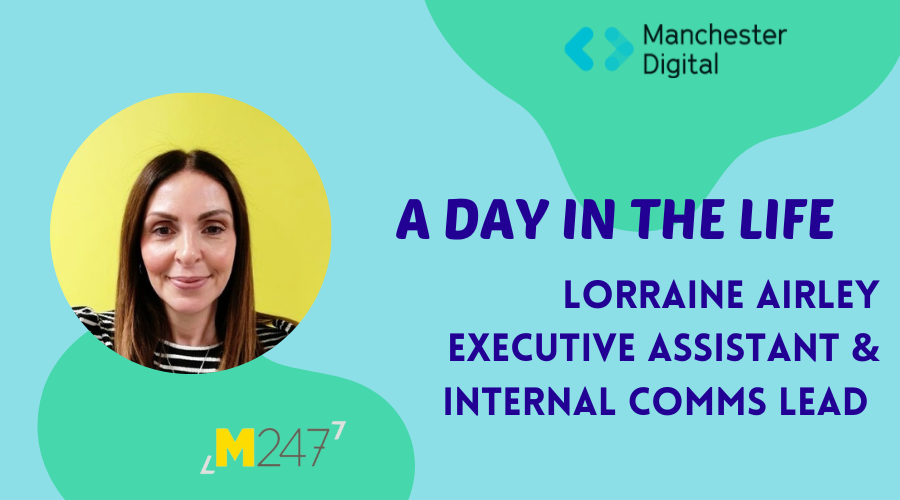 Ever wondered what it's like to work at one of Greater Manchester's leading tech employers or what specific job roles get up to each day?
Lorraine Airley is the Executive Assistant and Internal Comms Lead at M247.
We spoke to her to find out more about this role, her experience at M247, and what an average day looks like.
Name: Lorraine Airley
Company: M247
Job Title: Executive Assistant and Internal Comms Lead
How did you get into your current role?
I had been made redundant from my 20-year role as an Exec Assistant to the CEO of an Advertising Agency. It was a shock, but I didn't want to rush my next move. I got an interim role as a Covid-tester whilst I pondered on where to go next. Advertising had been an amazing industry to work in, but I didn't want to pigeon-hole myself into just working in a Creative industry. After all, assistants can use their skillset in any profession.
A friend of mine was working at M247 and let me know that an Assistant role had become available. I felt that having Tech experience under my belt would be extremely beneficial, but I also knew that it would be a learning curve. I had an interview with the CPO, got the job and although the prospect of being an assistant again was slightly terrifying, I have never looked back.
What do you enjoy most about working at M247?
You would think that being part of a large organisation you would feel like a small cog in a large clock but not with M247. Wellbeing and inclusion is a part of the everyday mantra here. Also, helping is second nature to me, and brings great joy. I'm the glue that keeps the team going. Essentially, everything that I do adds value to their daily lives.
With every single goal I achieve, I make a positive impact on the company. Whether it's a travel problem solved or a well-managed calendar, there's no other perk that delivers joy like knowing that you made a difference in the lives of others.
What does a typical day look like for you?
I always prepare my to-do list for the next day at the end of each day. This ensures I don't forget anything the next morning when I walk into the office. I look at my CEO's diary first thing and check that things are as I left them the day before. I find that things often go pear shaped when I let him manage his own diary (!) so I double check for meeting clashes and that he has adequate time between meetings.
My day can consist of event coordination, liaising with customers and other senior colleagues, office management, booking travel, arranging meetings and conferences, even getting someone a cup of coffee.
My day would not be half as fulfilling without the people that I work with and I would not be able to do my job without the support of my colleagues.
What is it like starting a new job post-pandemic?
I was quite fortunate in my start date as lockdown measures had eased slightly and I was able to visit the office on my first day. This was obviously massively beneficial in my induction process as I was able to meet face to face with my line manager and the CEO. The work life balance that flexible working brings has been interesting and gives me the ability to work around my own personal life.
What excites you the most about the work?
My main goal at the end of the day is to keep the Exec team afloat by acting as the gatekeeper to manage their time effectively whilst doing whatever it takes to keep their lives running smoothly. I am hardworking and try and solve problems before they even get in front of one of the Execs. My work feels like a hobby, not a job and I thoroughly enjoy keeping all the plates spinning.
I enjoy representing the exec and let my happy nature set the tone for the workplace.
As I support the whole Exec Team this gives me access to a wealth of knowledge everyday. I have a unique relationship with them and I feel I am able to make my opinion known and I have a voice. They also listen to me and my opinion matters.
Have you learned anything new since you started?
Not everyone has the chance to work closely with some of the high-level people in the company and be privy to how important business decisions are done.
This is one of the best ways I have picked up business acumen and understanding of how those in the inner circle think. I have a goldmine of resources at my disposal when it comes to learning how to think the way the bosses do and I am constantly learning. This is one of the best benefits of being an executive assistant .