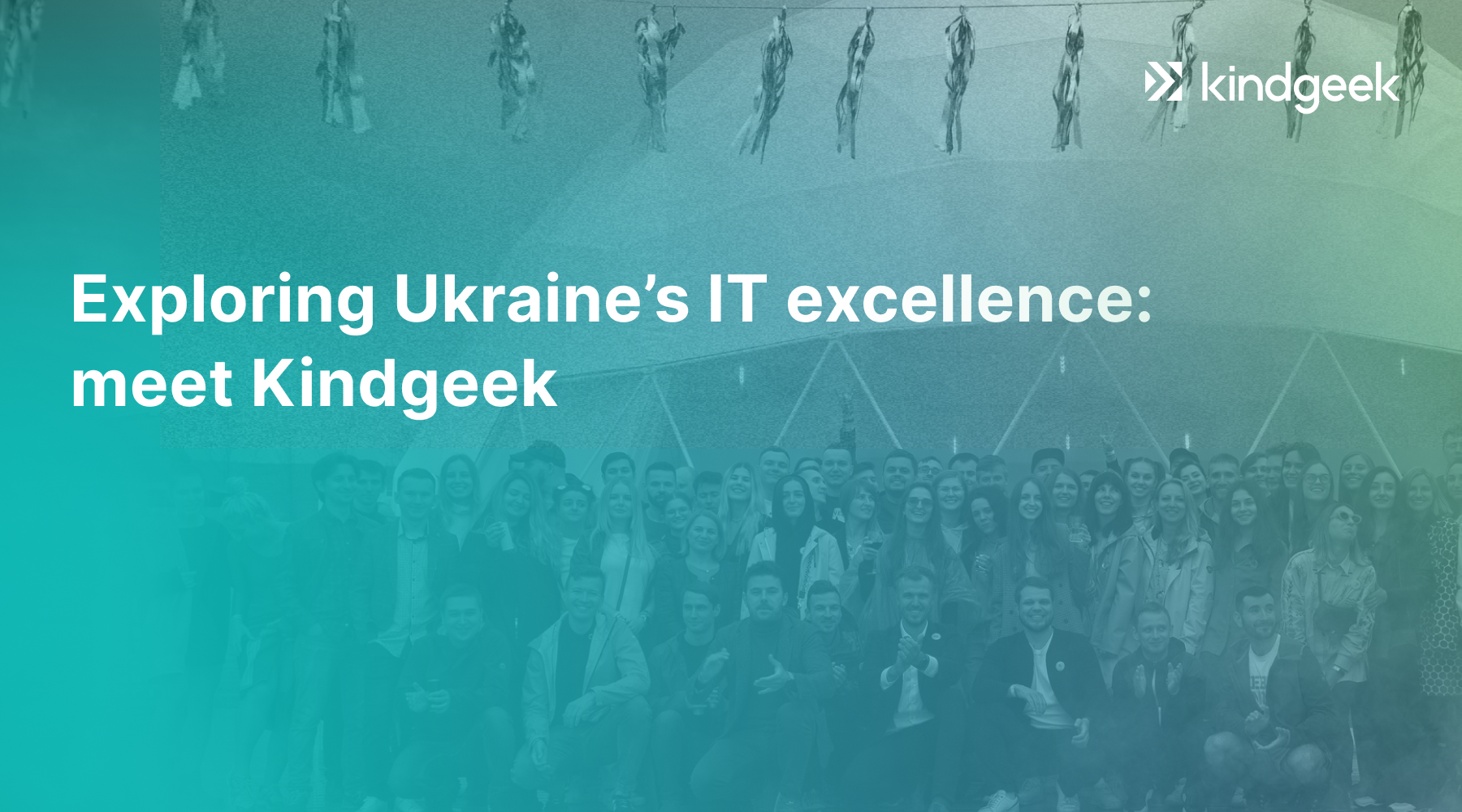 With a rich pool of talented software developers, Ukraine has established itself as a hub of technical expertise, creativity, and innovation. According to the Washington Post, one in five Fortune 500 companies has worked with Ukrainian IT experts before the start of 2022.
Even though the war hit suddenly, Ukraine's tech sector has remained strong and thrives despite all odds, playing a crucial role in supporting the economy.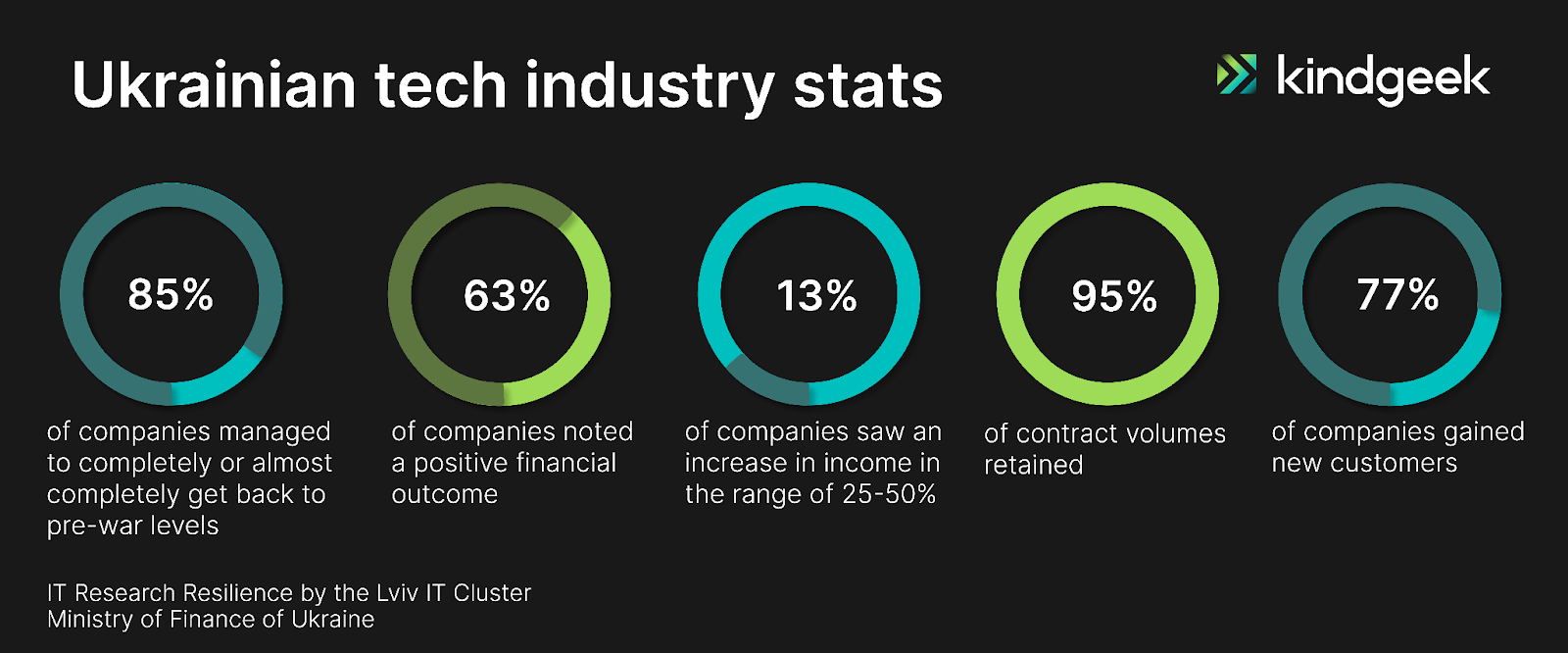 Despite air alarms and power outages, Ukrainian IT companies reaffirm their unwavering commitment to delivering world-class services as they continue working on projects and sign contracts for new ones.
We at Kindgeek are proud to exemplify our homeland's resilience. Let's get to know each other!
From Lviv to the world: introducing Kindgeek
We are Kindgeek, a full-cycle software development company located in one of the last hidden gems of Europe, in Lviv, western Ukraine. With over 80% of our projects lying in fintech, this is our key expertise area. Yet, we also actively develop solutions for industry leaders in the field of education, healthcare, media, and retail.

Being on the market for eight years, we have grown into a mature company of 200+ ambitious and passionate professionals who share the same values and push themselves to be better on behalf of our company, themselves, and our homeland, Ukraine.
Breaking barriers, overcoming adversity: our story
Through eight years of work, Kindgeek has already experienced three major crises. At the very start – the beginning of war in the east of Ukraine. A few years later – the Covid-19 pandemic. Now – it is a full-scale war. Yet, none of them has affected our growth. Throughout all of that time, Kindgeek continues to show stability and expands.
Being headquartered in Lviv, where everything is calmer – over 600 miles from active hostilities and 43 miles to the Polish border – we helped our employees from other regions to relocate to the west or abroad.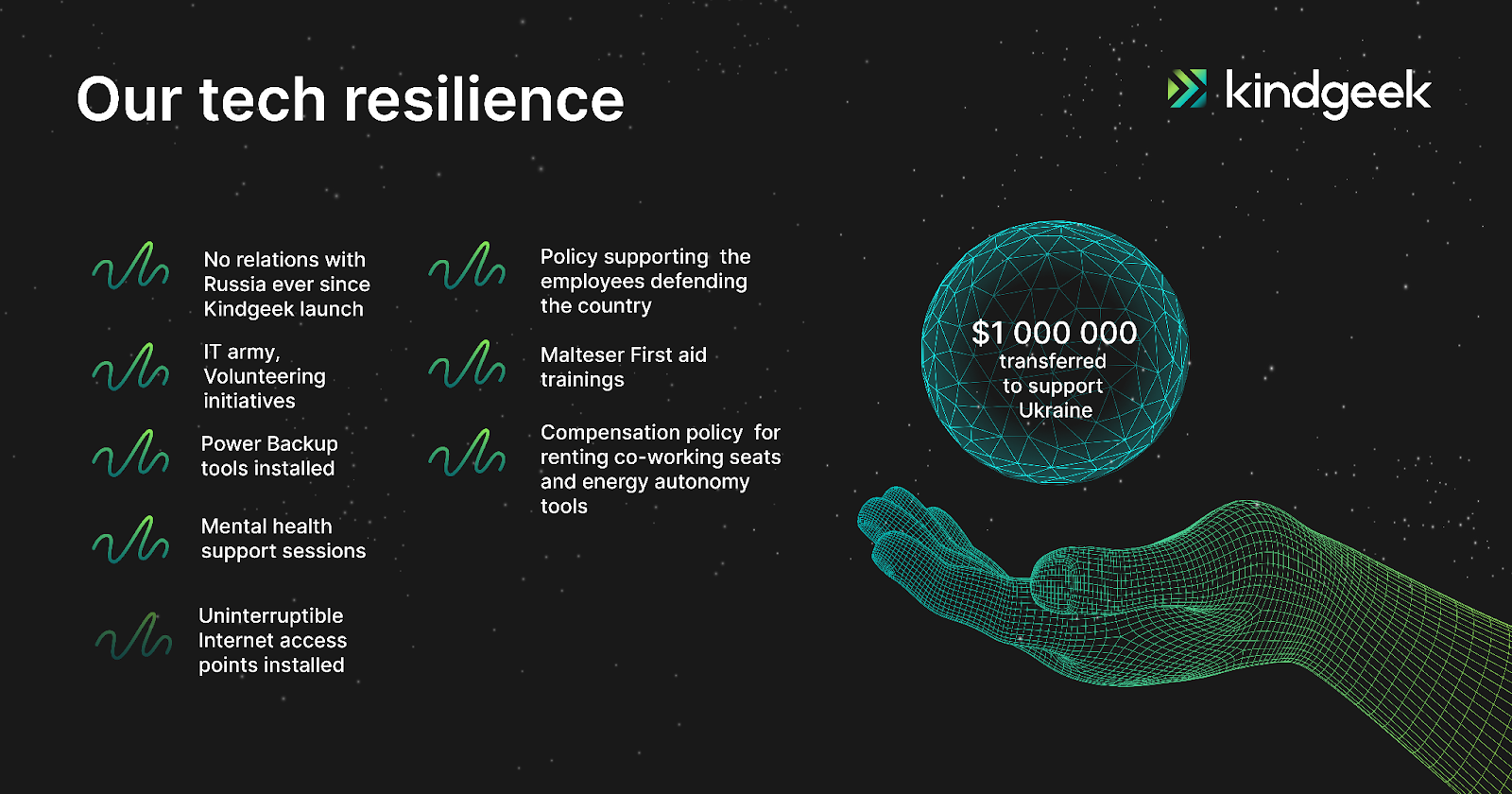 While the safety of the people has been goal number one, goal number two has been to ensure that the company continues delivering high-quality services to its clients. To ensure flawless workflow in case of power outages, we installed a generator for backup power in our office along with several uninterruptible Internet access points. Besides that, we are also planning to open a few other working locations very soon.
To support employees from other cities, Kindgeek has launched a policy offering compensation for renting a co-working space and arranging a workplace, including purchasing power banks, batteries, and other equipment to ensure energy autonomy.
Values at the core, even amidst war
For us, company values are not just fancy words – that's something we stand for, and these principles lay the groundwork for everything we do.
Now, in the face of war, we firmly continue to stand for what we believe in and are proud to reaffirm our values once again.


Trust and transparency
For Kindgeek, trust and transparency go hand in hand and always remain at the core. And we are pleased that our clients keep positively remarking on these points as we continue working on projects and sign new contracts.
"From our side, we openly communicate with our clients about the circumstances of each particular project." – Yuriy Gnatyuk, co-founder and COO of Kindgeek.
We have also shifted to even closer engagement with our clients and employees to ensure smooth operational work and customer satisfaction.
Social responsibility
In Kindgeek, we have always strived to positively impact our community, city, country, and, consequently, the rest of the world.
Apart from being a member of WEP, launching the social project LvivLand, and several educational initiatives for local universities, we also actively support Ukraine in today's reality. We fight in the IT army, transfer funds to Ukrainian Armed Forces, donate to charity funds, and launch our own charity initiatives.
But most importantly, we support our country through what we can do best – developing innovative solutions for our international customers.
Sense of beauty
As a company, we seek to create software that not only meets our customers' functional and business needs but also delights and excites the user, being visually appealing. We believe that a sense of aesthetics can elevate the user experience and set our products apart from the rest.
In Kindgeek, we have always held aesthetics in high regard and show this through the work we do. But this year, we have taken it a step further and launched our new branding project that we are increasingly proud of.
Unveiling our new look for 2023 and beyond
Last week, we celebrated 8 years since the bold idea of two young professionals turned into reality.
This year's rebranding is a major milestone for us to mark years of sustainable growth, celebrate numerous international achievements, and a more improved focus.
It embodies our unique path, eventually highlighting who we truly are and what we stand for.
Yes, the times the world goes through are challenging. But the greatest are those who stay resilient no matter what, keep fighting for a better tomorrow, and bring value whenever and wherever they are. And we are proud to be among such people.
The future
With more than 200 industry experts on board, we continue to expand across all areas of the company. Over the years, our industry expertise got deeper and capabilities broader. We offer full-cycle product engineering services from business idea to implementation.
Being passionate about innovations, we are constantly leveraging new technologies and growing into a fintech product and services ecosystem. We match innovative technologies, such as blockchain, bots, AI, AR/VR, and NFT/WEB 3.0 with the specific business needs of our clients and partners.
We firmly step into the future with our unwavering commitment to being a platform for positive changes, building long-term partnerships based on trust and transparency where we benefit and scale altogether.