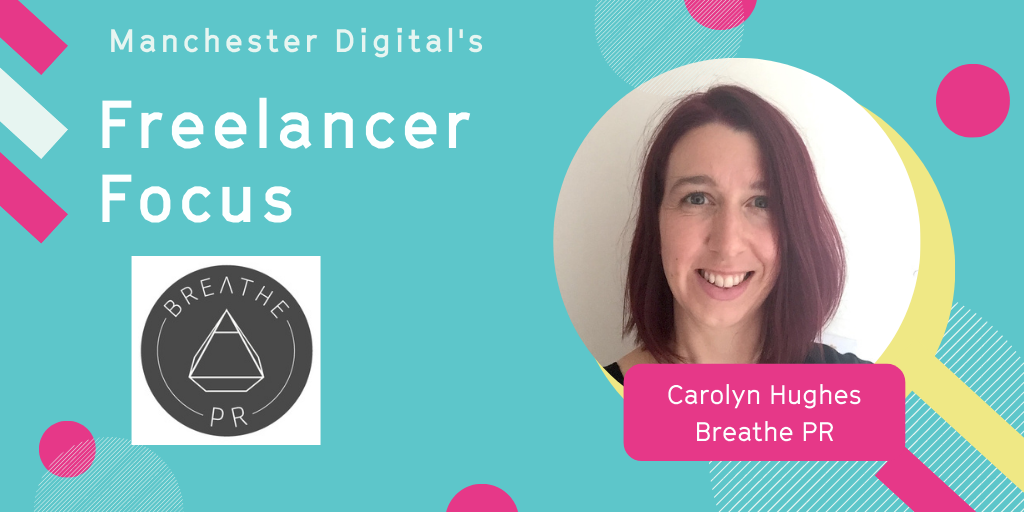 Manchester's tech and digital ecosystem is blessed with a host of talented freelancers. Our series, Freelancer Focus aims to give our freelancers the chance to raise their profile via our digital community.
Today's Freelancer Focus meets Carolyn Hughes of Breathe PR – an independent PR and communications consultant, who has previously worked for a number of large Manchester agencies.
Tell us about your company
I am a freelance PR and communications consultant, based in Stockport, who works with innovative companies who want to showcase their work, communicate their values and stand out from the crowd.
Over the years I've worked with tech companies, large agencies and household brands, as well as smaller arts organisations and independent businesses.
Back in 2017, I changed my business name to Breathe PR as I wanted to reflect my love of nature and plants as well as the importance of just remembering to breathe in a busy job.
What led you to set up your own business?
I had wanted to be self-employed for a long time, so when I got made redundant from an editorial role, I decided to go for it. That was 11 years ago now and I've never looked back.
I had already started to make important contacts and I had just completed (and passed!) a CIM marketing diploma, so it all came together at the right time.
There is an amazing freelance community in Manchester. Immediately, there were people who took me under their wing, offering vital advice about how to get started.
Now that I'm that more experienced freelance consultant, I'm always happy to chat with people who are thinking about making the leap. I still benefit with chatting with other freelancers I know about the industry and how best to deal with various issues.
Do you have a unique proposition?
I offer traditional PR and comms, but also bring those skills together with SEO, digital PR and social media.
Additionally, I initially trained and worked as a journalist, so from the start I understood how the media works and how storytelling is at the heart of every PR campaign.
Strangely for someone who works alone, I actually love working with other people collaboratively. I really enjoy being an extension of a small team or finding other creative freelancers to work alongside on a joint project.
What is your company's biggest achievement?
I think it's to have kept growing, developing and adapting my business to suit both the wider industry and my personal situation. To still be happy after 11 years and still looking forward to the future is all I could have really asked for.
I've worked really hard to know exactly what my offering is, and what my strengths are. If a job is not right for me then I have the confidence to turn it down or recommend someone else with better compatibility.
What do you think the future looks like for Manchester's digital and tech sector?
Well, none of us are going to forget 2020 in a hurry. It's been a strange time because for every freelancer who saw their work grow, there's been someone who works in a particular sector who saw their work disappear overnight.
Overall, the digital and tech sector can only grow. If it wasn't obvious to businesses already, then tech, digital and the online space are vital to us all. We simply cannot live without them. Since March my life has been lived online – I work online, I socialise online and I shop online.
Technology has allowed small businesses to pivot during the pandemic quickly and reasonably easily. It's also shown us which retailers have outdated IT systems (who wants to join a virtual queue to shop online, certainly not me!).
It's actually a great time to be a freelancer or own a micro-business because we have the flexibility to adapt really quickly during economically tough times. Freelancers always have an amazing network of other freelancers or micro-businesses they work with, who have complementary skills.
Manchester is an amazing city for tech and digital and will continue to be so. Importantly, young people are our future, so let's hope we see the investment they need to be able to live here, work here and stay here.
Tell us something we might not know about you or your business?
As well as delivering PR and comms, I'm also a qualified horticulturalist, so if you need a garden designing and planting up at the same time, I'm your person.
In all seriousness though, I love working with environmental organisations, so I have deliberately ensured that my love of nature and the environment very much ties in with my day-to-day work.
Thanks Carolyn!
Are you a freelancer that would like to raise the profile of your business?
If so, contact myles.hamilton@manchesterdigital.com for more details.