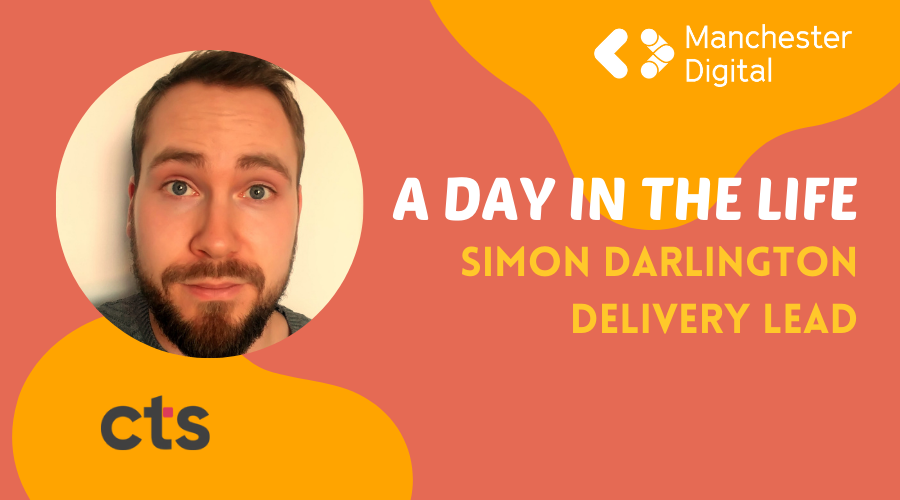 Ever wondered what it's like to work at one of Greater Manchester's leading tech employers or what specific job roles get up to each day?
Simon Darlington is a Delivery Lead at Manchester based CTS, the largest dedicated Google Cloud practice in Europe.
We spoke to him to find out more about this role, his experience at CTS and what an average day looks like.
Name: Simon Darlington
Company: CTS (Cloud Technology Solutions)
Job Title: Delivery Lead
Time in Role: 6 months
How did you get into your current role?
I actually started my career as an iPhone/web application developer – a skill that I had no previous experience in. University taught me the core principles of programming, such that when I joined a large IT consulting firm after graduating I was able to feel *fairly* confident I could learn how to program iPhone apps on the fly.
From my base as a junior developer I saw steady progression over the years in my role and responsibility -> feature lead -> team lead -> build lead -> application lead -> project lead -> program lead. And after nearly 10 years with the same company out of university, it was actually someone who once worked for me who recommended me for a role at CTS.
I trusted this person's opinion so I met with CTS about the role and the rest is history.
What do you enjoy most about working at CTS?
Although somewhat cliché, it's the PEOPLE who make CTS great. Everyone is incredibly friendly and awesome at their jobs which makes collaboration (especially while remote) a breeze.
What does a typical day look like for you?
My days typically revolve around 2 strands – 1) how are things running right now? and 2) what's coming up in the near future and how do we prepare for it?
To go into detail for part 1) As well as running my own projects, I run a team of several experienced delivery managers who are all busy with a wide array of their own projects. My role here is to ensure everyone on the team is happy with how their projects are running and that ultimately the client on the other side is also happy with how we're doing. By working across the whole team I try to create and drive process improvements across the delivery space and ensure we're all tackling our projects in the best way possible - with joined up approaches on project management, resourcing, agile delivery and more.
For part 2) I'm typically involved in writing/reviewing the next projects that we'll be working on. Using my experience in IT, the cloud and agile delivery I help shape requirements, designs and the delivery methodology for upcoming work that both CTS and the client will be able to get behind!
What was it like starting a new job remotely/during the pandemic?
Honestly, it was fine! CTS were great with their onboarding and instantly made me feel settled and welcome.
I made sure to get a list of people I'd be working with in the role and set up a bunch of introduction calls to say 'hi' and have a chat. This goes back to my previous point about everyone being incredibly friendly at CTS – of the 15 or so people I spoke to in that first week every single one of them gave me a warm welcome and were happy to help in any way they could to get me settled in.
What excites you the most about the work?
As a professional services/consulting company the thing that always excites me is the sheer variety of the work. On the one hand you might spend a couple of months working with a retail-based client on their data platform, before next sitting down with a large hotel chain or bank and figuring out how their monitoring and reporting infrastructure will look. This is certainly not the kind of role where you will do the same monotonous thing day in, day out and that's what gets me excited - there's always new and interesting challenges to solve with our clients.
Have you learned anything new since you started?
Tonnes! I came into CTS as an AWS specialist so it was a learning curve to get up to speed with all things Google. Getting to grips with Google's cloud offerings has been great and given me the chance to expand my knowledge in an area that's always interested me.
Thank you Simon!
To find out more about CTS, click here.
If you're a Manchester Digital member and would like somebody at your company to be featured in our A Day In The Life series, contact thom@manchesterdigital.com.