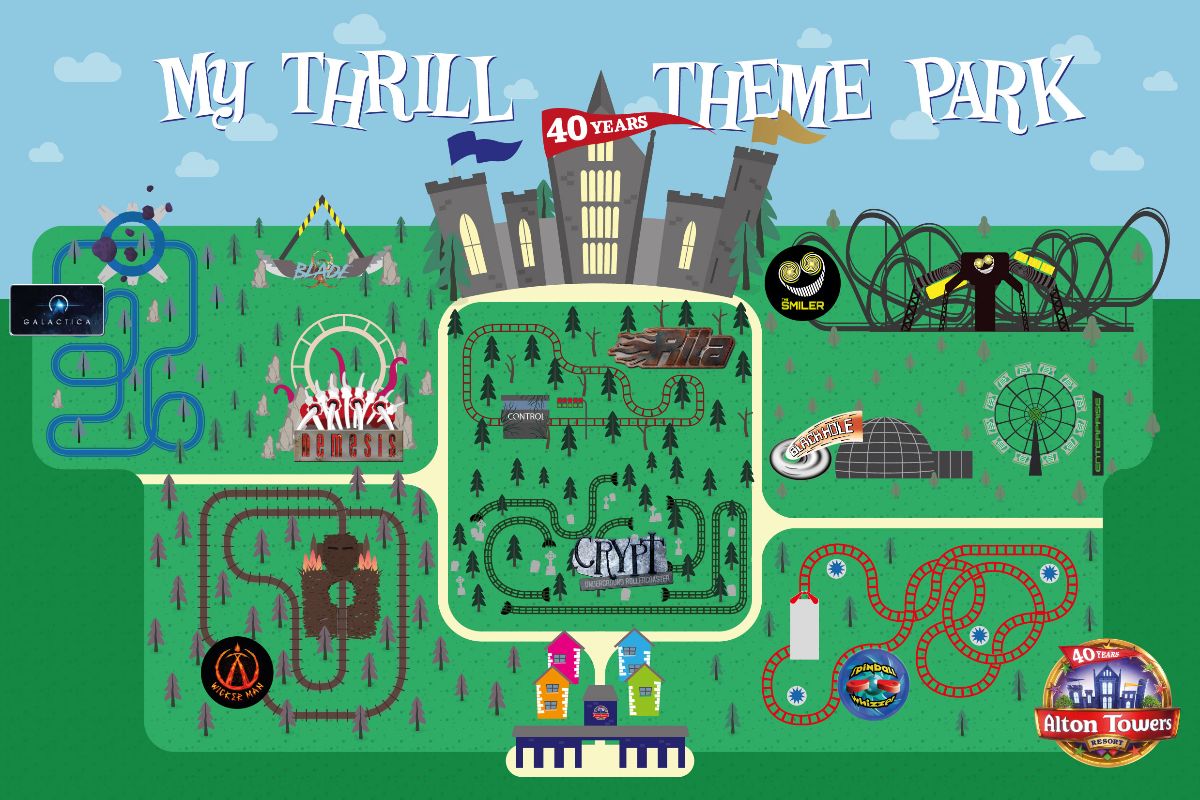 The first in a series of creative content campaigns for 2020, Model My Map is an interactive quiz that invites users to design their own ideal theme park. Users can choose thrill rides and activities from the past, present and potential future of Alton Towers, to reveal a personalised illustrated map. In the first week since launch, more than 3200 people have engaged with the feature, marking an impressive 95% completion rate.
This campaign stems from close collaboration between the digital marketing team at CTI, and Alton Towers' marketing, PR, social media and design teams. The interactive map feature comes in tandem with Alton Towers' "through the ages" video timeline, created by LMC. CTI's feature compounds this dramatic video announcement, offering an engaging extension for a vast variety of audiences and enthusiasts.
Collaborating with interactive experience partners, Apester, CTI have taken this idea from conception to fruition in line with a challenging timeline. This fast-paced, agile approach will enable Alton Towers to commission regular content campaigns throughout the year.
Working with the SEO and content marketing team at CTI since 2018, Alton Towers saw an impressive increase in organic revenue, representing the largest online channel for revenue growth in 2019. Following this success, the leisure industry giants continue to work closely with CTI as part of their 40th anniversary campaign.
James Wilkinson, Director of Marketing at CTI Digital, comments: "We are really excited to be involved with Alton Towers' 40th birthday and impressed with the line-up of events for the year ahead. We are looking forward to developing several other creative content ideas, to engage with Alton's audience and to mark this major milestone in the resort's history. Working alongside the team at Alton Towers, we can't wait to build upon the great results we saw from last year's award-nominated SEO campaign."
Charlotte Castille, Head of Commercial Marketing at Alton Towers, comments: "We were really impressed by all of the creative ideas that CTI pitched for our 40th birthday celebrations. Working with their SEO team for the past year, we have been impressed by their innovative approach to improving search rankings, and really pleased with the results we've seen so far."
View the feature for yourself and model your own Alton Towers map on the Alton Towers website. Look out for further upcoming campaigns from CTI, Alton Towers and partners throughout this 40th anniversary year.
For more information please contact Kirstie Buchanan, Sales and Marketing Director at CTI Digital, on 0161 826 4875.