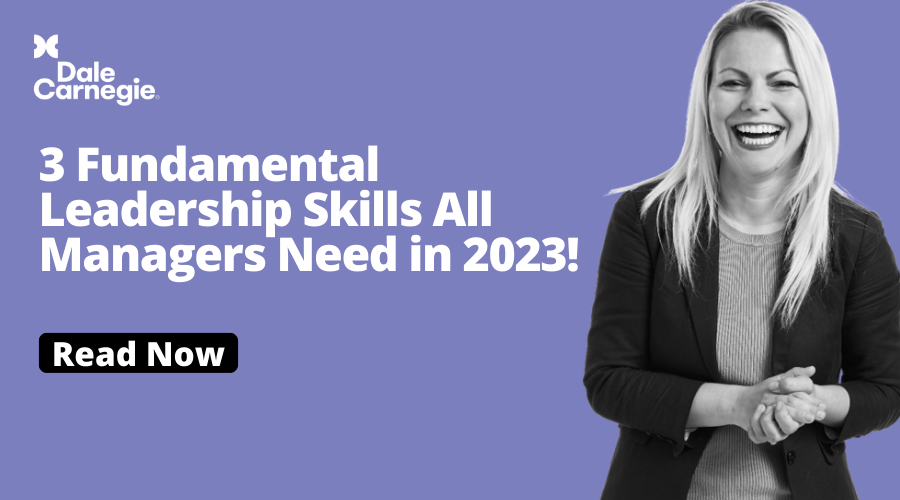 As managers continue their steady forward march through the shifting realities of the new business environment, here and now seems like the perfect place and time to consider the leadership fundamentals needed for success in an ever-evolving landscape.

Trophy-laden athletes, artists, and chefs establish strong foundational fundamentals to shine. Management and leadership is no different.

Let's generalise for a moment and think of 2022's managerial pursuits as post-pandemic Phase 1. 2023's Phase 2 then offers an opportunity for leaders to further shed remnants of pandemic rust, equip for today, and get ready for tomorrow. Recent years have been dizzying though. It stands to reason that many of us are uncertain of the requisite competencies for success in today's business world.

Whether you have been in a position of influence for 10 years or 10 minutes, taking time to deliberately hone your leadership and management craft will serves you in the moment and across your career."

We hope this month's recommendations offer food for thought on just a few of the building blocks for modern-day leadership success.


Critical Thinking
Critical thinking skills help us to understand ourselves, our thoughts, which in turn helps forge better relationships. This misunderstood skill helps us to avoid over simplistic explanations and to quote Dale Carnegie's Global Research Team,

the respectful examination of diverse perspectives without fear or bias."

Leadership success rests in large part on the quality of our decisions. Multiple sources agree that critical thinking has become a crucial contemporary skill in both life and business. In fact, a World Economic Forum study showed that employers see critical thinking as the top skill group to rise in prominence up to 2025.

Our research team determined, "When employees are skilled at critical thinking, they are better equipped to contribute to well-considered solutions to help steer their organisations through the rough waves of change, making the organisations they work for better at navigating — and succeeding in — the new normal and beyond."

The great news is that critical thinking is not exclusively an ability of scientists, CEOs, and academics. It is a learnable skill that can be encoded through practise.

Download our whitepaper Critical Thinking: The Essential Skill for Navigating the Future to learn the five phases for critical thinking and a deeper dive on this fascinating subject.


Agility
Agility is the key to rapid business change. Bureaucracy, slow process, internal politics, prolonged decision-making, silos, lack of leadership trust (in both directions), and poor communications are all natural inhibitors for agility. These and similar common challenges all sit under the leadership purview.

Agility deals with our ability to act, be adaptable, accountable, innovative, and resilient amidst continuous change. As our researchers put it,

Agility involves seeking out new information and embracing continuous change in a collaborative way – without resistance, bias or resentment."

Organisational agility sits firmly underneath clear organisational purpose. Its components are a blend of tools and processes, social intelligence, and resilience, combined with the capacity for leaders to take take meaningful action.

Agility thrives amid psychological safety, and agile leadership stimulates freedom to transform and innovate.

To understand the building blocks for organisational and leadership agility, download our whitepaper The New Competitive Divide: Building the Foundation for Organizational Agility.


The ability to engage, empower and retain
Strong leadership is a bedrock for employee engagement and empowerment. Given the pandemic, the resultant huge rise in remote working, and the 'great resignation', we could be forgiven for thinking these are fashionable skills. The reality is, the capacity to engage and empower have long been essential elements of a good leader's toolkit.

Positive cultures are borne of quality relationships with emotionally intellectual leaders, trust and belief in senior managers, and clear organisational purpose and direction.

Given the vital role leaders play in engagement, it is crucial that we adopt the tools, training and support we need to drive a positive culture where our colleagues feel emboldened, dynamic, and connected to their manager, their, team, and their organisation.

A scarcity of engagement negatively impacts retention, which can have a disastrous knock-on effect for productivity, team culture, and the bottom line. Emotionally adept, socially intelligent leaders, who operate in an environment of trust and psychological safety, communicate with clarity, listen effectively, and actively support and develop their teams, are crucial for cultural and commercial success.

Download our whitepaper Engage and Retain Empowered Employee for a practical guide on the emotional and organisational drivers for engagement.